The Socialist 26 September 2018
Militant was right - councils can fight cuts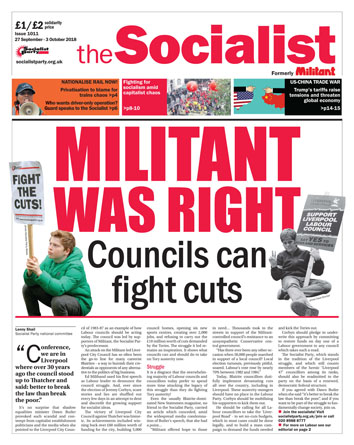 ---
Militant was right - councils can fight cuts
Fight for a democratic, socialist Labour Party
Fighting for socialism amid capitalist chaos
---
Students and workers unite and fight
Freshers fairs: socialist ideas chime with students
---
Private firms and toothless regulator to blame for trains chaos - nationalise rail now!
Fight plans for A&E appointment system - fight to save our NHS
Labour civil war rages in Enfield
---
Who wants driver-only operation?
Hospitality workers coordinate historic strike
Strike vote: college staff want a pay rise
Compulsory redundancies stopped at Leicester University
Safety-critical airport workers continue strike
Glasgow workers striking for equal pay
---
Victory for Sheffield Save Our NHS
Residents push back Barking estate landlords
Brilliant sales at Labour Party conference
Directors' contempt for repressed workers
Huddersfield campaigners keep their powder dry
---
Trump's tariffs raise international tensions
---
Powerful defence of the welfare state
PO Box 1398, Enfield EN1 9GT
020 8988 8777
editors@socialistparty.org.uk

Link to this page: https://www.socialistparty.org.uk/issue/1011/28012
Home | The Socialist 26 September 2018 | Join the Socialist Party
Subscribe | Donate | Audio | PDF | ebook
Non-fiction: Don't Let My Past Be Your Future
Powerful defence of the welfare state - but blind allegiance won't save it
Mary Finch, East London Socialist Party
Harry Leslie Smith, the World War Two veteran and welfare state campaigner, has crossed the supposed generational divide and issued a "call to arms" to young people to organise to change society.
'Don't Let My Past Be Your Future' paints a powerful and devastating picture of the absolute destitution faced by working class people through the story of his own youth in 1920s Yorkshire.
He describes the dark, damp, dilapidated housing he was born in, and which his family was regularly forced to flee because they couldn't afford the rent.
He was put to work at the age of seven - his family had no other choice. Harry's father had already lost his job and was struggling to find any employment following a serious injury.
1945 is a constant point of reference throughout the book. The sweeping reforms that workers won as a result of the threat of revolutionary struggle transformed lives. The creation of the NHS and the welfare state showed millions of workers where the potential power in society lies.
But although Harry is far-sighted on many issues, his book unfortunately misunderstands some of the key processes shaping today's politics.
Brexit, like 1945, is a regular feature of the book, looming over the whole narrative with a sense of impending devastation. Harry correctly recognises the alienation and frustration which led to the Brexit vote - workers were sick of paying for the bosses' crisis, and saw a way to express their frustration in the EU referendum.
Yet he seems to hope Britain will find a way to remain in the EU. This is understandable, given the failure of Jeremy Corbyn and the union tops to lead mass struggle and fight for an independent, socialist Brexit.
But socialists have explained from the beginning that the EU is, and always has been, a bosses' club. Capitalist governments created it to maximise the profits of Europe's capitalist classes, and defend against greater public ownership, the planned economies to the east, and international competitors.
Every supposed benefit for workers of being in the EU was actually won - and can only be defended - by workers' struggle, just like the NHS and welfare state which Harry so eloquently champions.
And Harry's frustration over Corbyn's lack of enthusiasm during the referendum campaign is still confusing. Why would Corbyn show any serious dedication to staying in the neoliberal EU, when - like Tony Benn - he previously always held the position that Britain should leave?
Corbyn only adopted a position of Remain under pressure from the Blairite wing of the party.
Later, immediately after the referendum results were announced, the Tories were on the verge of collapse.
A general election seemed imminent. But rather than press the advantage, the Labour right launched another coup attempt against Corbyn.
In reality, the Blairites are capitalist politicians, and as terrified of a pro-worker leader becoming prime minister as any Tory. Harry is therefore also mistaken to call for Labour's left and right wings to reconcile. Corbyn's leadership is untenable for the Blairites, and they will do anything to get rid of him.
It's clear Harry remembers Labour as the party the working class used to create the NHS. But millions of working class and young people remember far more vividly the terrible role of New Labour, including accelerating the privatisation of the NHS.
He also says he stuck with Labour during the Iraq war, at the same time as millions were taking to the streets in mass demonstrations against it. Young people and workers won't be convinced by blind allegiance. After a decade of austerity, we are demanding more.
The only way forward for Corbyn's Labour is to take the battle to the Blairites and fight for a democratic, socialist Labour Party which truly represents the 99%.
---
In this issue
---
What we think

Militant was right - councils can fight cuts

Fight for a democratic, socialist Labour Party

Fighting for socialism amid capitalist chaos
---
Socialist Students

Students and workers unite and fight

Freshers fairs: socialist ideas chime with students
---
News

Private firms and toothless regulator to blame for trains chaos - nationalise rail now!

Fight plans for A&E appointment system - fight to save our NHS

Labour civil war rages in Enfield

Them & Us
---
Workplace

Who wants driver-only operation?

Hospitality workers coordinate historic strike

Strike vote: college staff want a pay rise

Compulsory redundancies stopped at Leicester University

Safety-critical airport workers continue strike

Glasgow workers striking for equal pay
---
Socialist Party reports and campaigns

Victory for Sheffield Save Our NHS

Residents push back Barking estate landlords

Brilliant sales at Labour Party conference

Directors' contempt for repressed workers

Huddersfield campaigners keep their powder dry
---
International socialist news and analysis

Trump's tariffs raise international tensions
---
Opinion

Powerful defence of the welfare state

The Socialist inbox
---
Home | The Socialist 26 September 2018 | Join the Socialist Party