The Socialist 31 October 2018
Only a socialist alternative can end austerity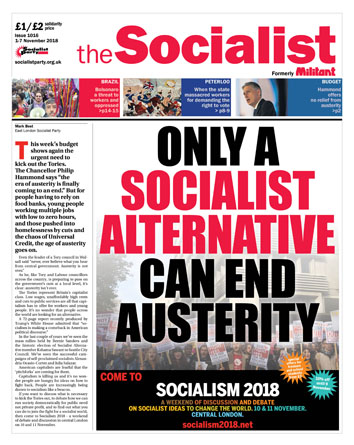 ---
Crisis Tory Budget brings no relief from austerity
---
Only a socialist alternative can end austerity
Homelessness, Universal Credit misery, high rents, cramped flats, isolated estates...end the housing crisis!
Philip Green scandal - bring him down like BHS
60% of wildlife wiped out - urgent action needed to save planet
---
Glasgow's equal pay uprising shows power of working class
CWU conference: Sharpen up our act? Yes. But weaken our democracy? No
Welsh college staff set to strike on pay and workload
UCU: General secretary censured but anti-union laws frustrate strike ballot
Driving London's buses - a laser in the eye and a boot up the bum!
PCS Left Unity election: ballot opens
National Gallery reps endorse Chris Baugh
Precarious workers march against gig economy
---
Peterloo: "If the people were to rise and smite their enemies, was not this the time?" Samuel Bamford, demonstrator
---
Bolsonaro - a threat to workers and all oppressed people
Parliamentary coup in Sri Lanka
---
Call to arms by Southampton council unions
Campaign building to save Scarborough and district hospitals
The Socialist sales successes in Leeds
---
'Lucas Plan' film tells story of workers who set out alternative to job losses
PO Box 24697, London, E11 1YD
020 8988 8777
editors@socialistparty.org.uk