The Socialist 6 March 2019
Cuts must stop - boot the Tories out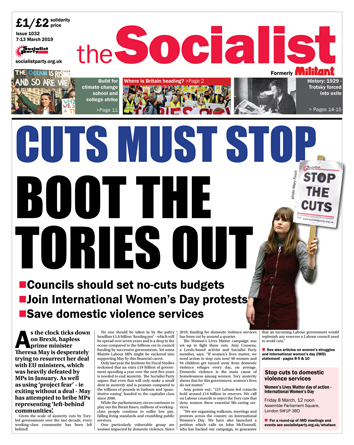 ---
No retreats: Corbyn must stand firm against Blairites
---
---
Boot out failing Grayling and the other Tory wreckers
Solidarity with Chris Williamson
Trade union action to end low pay now!
A&E 4-hour waiting targets scrapped - Save our NHS!
---
A socialist programme to end women's oppression
International Women's Day 2019: End oppression with fight for socialism
---
Leon Trotsky's struggle against Stalinism
---
Southampton: Fight council cuts
Cuts must stop - boot the Tories out
Wildfires hit Europe - build for 15 March student climate strikes
Swansea: Labour council tries to dodge no-cuts protest
Hull: support for anti-cuts policies at Corbyn solidarity rally
Hundreds of Tamils protest against death-threat brigadier
---
Women workers' militancy during the 'great unrest'
PO Box 1398, Enfield EN1 9GT
020 8988 8777

Link to this page: https://www.socialistparty.org.uk/issue/1032/28789
Home | The Socialist 6 March 2019 | Join the Socialist Party
Subscribe | Donate | Audio | PDF | ebook
Cuts must stop - boot the Tories out
Councils should set no-cuts budgets
Join International Women's Day protests
Save domestic violence services
As the clock ticks down on Brexit, hapless prime minister Theresa May is desperately trying to resurrect her deal with EU ministers, which was heavily defeated by MPs in January. As well as using 'project fear' - ie exiting without a deal - May has attempted to bribe MPs representing 'left-behind communities'.
Given the scale of austerity cuts by Tory-led governments over the last decade, every working-class community has been left behind!
No one should be taken in by the paltry headline £1.6 billion 'funding pot' - which will be spread over seven years and is a drop in the ocean compared to the billions cut in council funding by successive governments. Yet some Blairite Labour MPs might be suckered into supporting May by this financial carrot.
Only last year the Institute for Fiscal Studies reckoned that an extra £19 billion of government spending a year over the next five years is needed to end austerity. The Socialist Party argues that even that will only make a small dent in austerity and is peanuts compared to the trillions of pounds in bailouts and 'quantitative easing' handed to the capitalist class since 2008.
While the parliamentary circus continues to play out the Brexit fiasco, millions of working-class people continue to suffer low pay, falling living standards and crumbling public services.
One particularly vulnerable group are women impacted by domestic violence. Since 2010, funding for domestic violence services has been cut by around a quarter.
The Women's Lives Matter campaign was set up to fight these cuts. Amy Cousens, a Leeds-based activist and Socialist Party member, says: "If women's lives matter, we need action to stop cuts now! 90 women and 94 children get turned away from domestic violence refuges every day, on average. Domestic violence is the main cause of homelessness among women. Tory austerity shows that for this government, women's lives do not matter."
Amy points out: "125 Labour-led councils hold around £14 billion in reserves. We call on Labour councils to reject the Tory cuts that deny women these essential life-saving services.
"We are organising walkouts, meetings and protests across the country on International Women's Day. We have also launched a petition which calls on John McDonnell, who has backed our campaign, to guarantee that an incoming Labour government would replenish any reserves a Labour council used to avoid cuts."
Stop cuts to domestic violence services
Women's Lives Matter day of action - International Women's Day
Friday 8 March, 12 noon
Assemble Parliament Square, London SW1P 3BD
For a round-up of IWD meetings and events see socialistparty.org.uk/whatson
---
In this issue
---
What we think

No retreats: Corbyn must stand firm against Blairites
---
Workplace news

Stop post-16 education cuts

Interview with a shop worker

MPs boost their own pay

Workplace news in brief
---
News

Boot out failing Grayling and the other Tory wreckers

Solidarity with Chris Williamson

Trade union action to end low pay now!

A&E 4-hour waiting targets scrapped - Save our NHS!

Them & Us
---
International Women's Day 2019

A socialist programme to end women's oppression

International Women's Day 2019: End oppression with fight for socialism
---
Socialist history

Leon Trotsky's struggle against Stalinism
---
Socialist Party reports and campaigns

Southampton: Fight council cuts

Cuts must stop - boot the Tories out

Wildfires hit Europe - build for 15 March student climate strikes

Swansea: Labour council tries to dodge no-cuts protest

Hull: support for anti-cuts policies at Corbyn solidarity rally

Hundreds of Tamils protest against death-threat brigadier
---
Opinion

Women workers' militancy during the 'great unrest'

The Socialist Inbox
---
Home | The Socialist 6 March 2019 | Join the Socialist Party