The Socialist 6 March 2019
Cuts must stop - boot the Tories out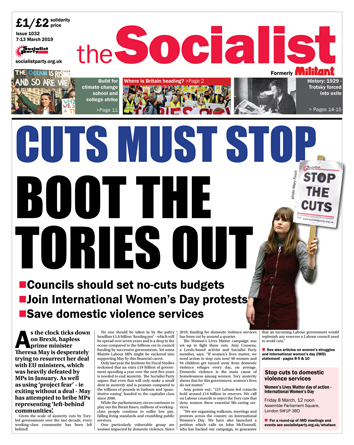 ---
No retreats: Corbyn must stand firm against Blairites
---
---
Boot out failing Grayling and the other Tory wreckers
Solidarity with Chris Williamson
Trade union action to end low pay now!
A&E 4-hour waiting targets scrapped - Save our NHS!
---
A socialist programme to end women's oppression
International Women's Day 2019: End oppression with fight for socialism
---
Leon Trotsky's struggle against Stalinism
---
Southampton: Fight council cuts
Cuts must stop - boot the Tories out
Wildfires hit Europe - build for 15 March student climate strikes
Swansea: Labour council tries to dodge no-cuts protest
Hull: support for anti-cuts policies at Corbyn solidarity rally
Hundreds of Tamils protest against death-threat brigadier
---
Women workers' militancy during the 'great unrest'
PO Box 1398, Enfield EN1 9GT
020 8988 8777

Link to this page: https://www.socialistparty.org.uk/issue/1032/28792
Home | The Socialist 6 March 2019 | Join the Socialist Party
Subscribe | Donate | Audio | PDF | ebook
Editorial of the Socialist issue 1032
Attacks on Corbyn supporters ratcheted up
No retreats: Corbyn must stand firm against the Blairites
With Jeremy Corbyn now in his fourth year of leadership of the Labour Party and the Tory government deep in crisis, no time can be lost by Corbyn and his allies in Labour's leadership in preparation for winning a general election.
This won't be possible on the basis of making serious concessions to the pro-capitalist Blairite Labour MPs, such as the suspension from party membership of left Labour MP Chris Williamson.
Rather than focusing on democratising the Labour Party and getting out socialist policies, their present stance is one of retreat in the face of the right wing's further avalanche of allegations of antisemitism.
The right have been spurred on by the recent split from Labour of nine of their co-thinkers, no doubt partly designed to step up the pressure against Corbyn inside Labour.
The suspension of Williamson, following a false charge of antisemitism, was the culmination of an onslaught by the Labour right to achieve that end as part of their project to isolate and damage the leadership of Jeremy Corbyn and John McDonnell.
Their assault was backed up by the capitalist media, right-wing GMB union leader Tim Roache, and even in parliament by Tory leader Theresa May, who joined the chorus of demands for Labour to take action against Williamson.
Windrush
This is the same Tory prime minister who last year presided over the Windrush scandal, which showed how racist her party and policies can be. But when she flung a manufactured accusation of racism at Williamson, unfortunately Labour's leadership did her bidding.
The ruse for attacking Williamson was a speech he had made in which he rightly said that Labour's response to accusations of antisemitism has been "too apologetic". In the same speech he referred to antisemitism as a "scourge", making it clear that he in no way defends it - his argument was that the Labour Party does counter it and isn't a racist party.
While action should always be taken against any genuine cases of antisemitism in any political party or elsewhere in society, there hasn't been any research evidence that Labour has a particularly high incidence of it.
The party's general secretary, Jennie Formby, has reported that, over the last ten months, 453 party members have been investigated for antisemitism, which is less than a tenth of 1% of the membership. And these were investigations rather than members judged as guilty.
Last Sunday's Observer carried a shock-horror exposť that "senior officials" in Labour had "opposed the suspension of some members accused of antisemitism". So for the baying hounds of the capitalist media, accusations alone are sufficient grounds to justify suspension, without consideration of the nature or severity of the comments or deeds.
Labour's deputy leader Tom Watson, who spearheaded the assault in the parliamentary Labour Party, said on the Andrew Marr Show on 3 March that it ought to be the "Jewish community" and "not Labour Party members" which is the judge of whether Corbyn eradicates antisemitism.
His "Jewish community" is not the many Jewish people - with Rabbis among them - who reject the slur of antisemitism against Corbyn, but a layer of right-wing, anti-Corbyn Jewish people who concur with Watson's purpose.
Outrageously, Watson has argued that Wavertree MP Luciana Berger had been "bullied out of her own party by racist thugs". The court convictions for serious antisemitic attacks on Berger have been of neo-nazis, not Labour members, and the executive committee of Wavertree Labour Party stated that any suggestion that it is a party to bullying and antisemitism is a "false and slanderous accusation".
The pressure on Berger from her local party was due to her continually criticising Corbyn, as Wavertree party members also explained.
The departure of the nine deserters has been used by Watson to launch a rallying call to anti-Corbyn Labour MPs to join a new "social democratic forum". Sunday Times deputy political editor Caroline Wheeler commented that this grouping "is already committed to carrying out new policy work and could eventually have its own spokespeople and even separate whipping arrangements, which could make it easier for the group one day to declare its independence from Corbyn's leadership and morph into a new party".
No quantity of concessions from the leaders of Labour's left - other than complete capitulation to a pro-capitalist agenda - will reconcile these right-wing plotters to accepting Corbyn's leadership and the pro-working-class policies he stands for. If Labour is to be transformed into a 100% anti-austerity party, the only way to respond to them is to launch a counter-offensive.
Mobilise support
Corbyn and McDonnell - along with others in Labour's leadership who they can convince to take this approach - above all need to mobilise the support of the hundreds of thousands of party members and workers outside Labour who want to see them win a general election and deliver bold socialist policies.
Several constituency Labour Parties have passed motions supporting Chris Williamson, viewing the right's smears for the travesty that they are. And more could be won to a strategy of exposing and fighting such attacks.
The Blairite saboteurs can and must be replaced, through democratic reselection of candidates and withdrawing the Labour whip if they defy the Labour leadership in key votes. The nine who split saw the writing on the wall. Four had already faced successful no confidence motions in their local parties.
The right-wing majority of Labour MPs don't represent Labour's rank and file - they are a product of the years during which the party was transformed into Tony Blair's capitalist New Labour Party, organisationally and politically. If Labour is to become a mass workers' party - in tune with its founding aims - the anti-democratic changes to the party structure must be reversed and trade union influence significantly stepped up.
The capitalist media and politicians promote the myth that Labour won't be able to win a general election if there are defections by its MPs, but the opposite is the case: it won't be able to win if pro-working-class policies are undermined and dismissed by these careerist, pro-big-business Blairites.
The Socialist Party's call for the convening of a labour movement conference to draw together all socialist fighters, trade unionists and anti-cuts activists to discuss and debate how the Labour Party can be transformed has never been so urgent. Chris Williamson has a recent record of actively campaigning for democratisation of Labour and could help to organise such a conference as well as participating in it.
One organisation he can't look to for support is the Corbyn-supporting Momentum, the leader of which, Jon Lansman, has been disgracefully tail-ending the right's attacks. So-called lefts like Owen Jones and Novara Media's Ash Sarkar have also failed to support Williamson.
The class-based dividing line in the labour movement becomes ever clearer. A Labour Party that is 'two parties in one' will not be able to deliver Corbyn's policies. It is necessary to stand firm in fighting for one that can.
---
In this issue
---
What we think

No retreats: Corbyn must stand firm against Blairites
---
Workplace news

Stop post-16 education cuts

Interview with a shop worker

MPs boost their own pay

Workplace news in brief
---
News

Boot out failing Grayling and the other Tory wreckers

Solidarity with Chris Williamson

Trade union action to end low pay now!

A&E 4-hour waiting targets scrapped - Save our NHS!

Them & Us
---
International Women's Day 2019

A socialist programme to end women's oppression

International Women's Day 2019: End oppression with fight for socialism
---
Socialist history

Leon Trotsky's struggle against Stalinism
---
Socialist Party reports and campaigns

Southampton: Fight council cuts

Cuts must stop - boot the Tories out

Wildfires hit Europe - build for 15 March student climate strikes

Swansea: Labour council tries to dodge no-cuts protest

Hull: support for anti-cuts policies at Corbyn solidarity rally

Hundreds of Tamils protest against death-threat brigadier
---
Opinion

Women workers' militancy during the 'great unrest'

The Socialist Inbox
---
Home | The Socialist 6 March 2019 | Join the Socialist Party