The Socialist 6 March 2019
Cuts must stop - boot the Tories out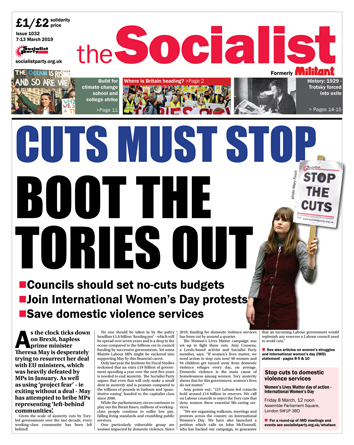 ---
No retreats: Corbyn must stand firm against Blairites
---
---
Boot out failing Grayling and the other Tory wreckers
Solidarity with Chris Williamson
Trade union action to end low pay now!
A&E 4-hour waiting targets scrapped - Save our NHS!
---
A socialist programme to end women's oppression
International Women's Day 2019: End oppression with fight for socialism
---
Leon Trotsky's struggle against Stalinism
---
Southampton: Fight council cuts
Cuts must stop - boot the Tories out
Wildfires hit Europe - build for 15 March student climate strikes
Swansea: Labour council tries to dodge no-cuts protest
Hull: support for anti-cuts policies at Corbyn solidarity rally
Hundreds of Tamils protest against death-threat brigadier
---
Women workers' militancy during the 'great unrest'
PO Box 1398, Enfield EN1 9GT
020 8988 8777

Link to this page: https://www.socialistparty.org.uk/issue/1032/28795
Home | The Socialist 6 March 2019 | Join the Socialist Party
Subscribe | Donate | Audio | PDF | ebook
Boot out failing Grayling and the other Tory wreckers
Simon Carter
What does it take before one of the most incompetent government ministers in modern times is sacked? I am of course talking about transport minister Chris Grayling.
The Tory cabinet member has cost the public a small fortune over the recent Brexit ferry fiasco.
His department has had to pay Eurotunnel £33 million to avoid legal action by the Channel Tunnel operator - which was excluded from the bidding process of a £108 million contract to ensure extra cross channel transport capacity in the event of a no-deal Brexit.
Effectively the company made a massive £33 million profit for doing absolutely nothing! This huge blunder comes after Grayling's department scrapped a £13.8 million ferry contract it had awarded to Seaborne, a start-up ferry company with no ships!
Probation privatisation
Grayling has also been slammed over his disastrous privatisation of the probation service in 2013 when justice minister.
The National Audit Office found that his scheme had been "extremely costly", both in terms of the huge increase in the number of offences committed by reoffenders and in terminating the failed contracts of private companies. The cancelled contracts are expected to cost the public purse more than £467 million!
And on it goes. Grayling, in an official report, was also held responsible for overseeing the disastrous introduction by private train companies of new railway timetables in 2018, when rail users faced thousands of train cancellations for weeks on end.
Labour reckons that Grayling's policy disasters have, in total, cost the economy and the public an unbelievable £2.7 billion.
The Socialist Party says that, instead of handing out huge sums to private contractors, public transport - including rail and ferries - as well as the probation service, should be renationalised, with democratic workers' control and management, and compensation paid to shareholders only on the basis of proven need.
Grayling has also previously been accused of sleaze over claiming expenses on his flat in Pimlico despite having a constituency home just 17 miles away from parliament.
And, as minister at the Department for Work and Pensions under Cameron's coalition government, he oversaw axing 100,000 staff which disastrously impacted on both workers and claimants.
Yet despite these (and more) monumental failings, the right-wing neoliberal minister continues to enjoy Prime Minister Theresa May's 'full confidence'. Clearly, to protect the public not only should the transport minister be sacked but the whole Tory government booted out.
---
In this issue
---
What we think

No retreats: Corbyn must stand firm against Blairites
---
Workplace news

Stop post-16 education cuts

Interview with a shop worker

MPs boost their own pay

Workplace news in brief
---
News

Boot out failing Grayling and the other Tory wreckers

Solidarity with Chris Williamson

Trade union action to end low pay now!

A&E 4-hour waiting targets scrapped - Save our NHS!

Them & Us
---
International Women's Day 2019

A socialist programme to end women's oppression

International Women's Day 2019: End oppression with fight for socialism
---
Socialist history

Leon Trotsky's struggle against Stalinism
---
Socialist Party reports and campaigns

Southampton: Fight council cuts

Cuts must stop - boot the Tories out

Wildfires hit Europe - build for 15 March student climate strikes

Swansea: Labour council tries to dodge no-cuts protest

Hull: support for anti-cuts policies at Corbyn solidarity rally

Hundreds of Tamils protest against death-threat brigadier
---
Opinion

Women workers' militancy during the 'great unrest'

The Socialist Inbox
---
Home | The Socialist 6 March 2019 | Join the Socialist Party