The Socialist 6 March 2019
Cuts must stop - boot the Tories out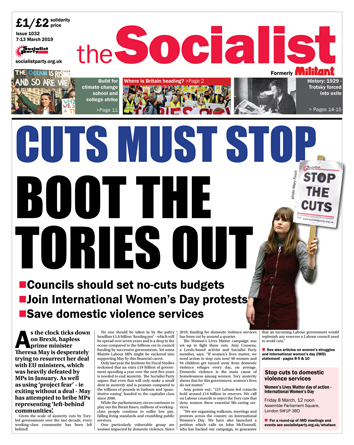 ---
No retreats: Corbyn must stand firm against Blairites
---
---
Boot out failing Grayling and the other Tory wreckers
Solidarity with Chris Williamson
Trade union action to end low pay now!
A&E 4-hour waiting targets scrapped - Save our NHS!
---
A socialist programme to end women's oppression
International Women's Day 2019: End oppression with fight for socialism
---
Leon Trotsky's struggle against Stalinism
---
Southampton: Fight council cuts
Cuts must stop - boot the Tories out
Wildfires hit Europe - build for 15 March student climate strikes
Swansea: Labour council tries to dodge no-cuts protest
Hull: support for anti-cuts policies at Corbyn solidarity rally
Hundreds of Tamils protest against death-threat brigadier
---
Women workers' militancy during the 'great unrest'
PO Box 1398, Enfield EN1 9GT
020 8988 8777

Link to this page: https://www.socialistparty.org.uk/issue/1032/28798
Home | The Socialist 6 March 2019 | Join the Socialist Party
Subscribe | Donate | Audio | PDF | ebook
Stop post-16 education cuts
UCU general secretary election: Fight for an accountable left leadership
Sam Morecroft, UCU Democracy Commission (personal capacity)
University and College Union (UCU) general secretary Sally Hunt has resigned her position on health grounds. Socialist Party members have had criticisms of her leadership, and we stand by those criticisms, but of course we are saddened she has been forced to resign and wish her the very best in the future.
Unfortunately, an emergency meeting of the union's national executive committee voted by 26 to 21 to hold the election for Sally Hunt's replacement straight away.
This was done in full knowledge that the elected Democracy Commission will be putting forward rule changes to UCU's Congress this year. These will allow members to recall a general secretary and force an early election.
The left on the national executive committee opposed an early election because the new general secretary will be in place and their contract signed before congress can take a view on the Democracy Commission recommendations.
No doubt at our congress the right wing will again disgracefully argue that the democratic right of recall constitutes an attack on the employment terms and conditions of the general secretary! Last year they walked out and shut down our congress. Will they try to frustrate the will of the sovereign body of our union again this year?
Unelected senior official Matt Waddup has announced his candidacy for general secretary. Disgracefully, he says he doesn't agree with the Democracy Commission's recommendations and doesn't want to be subject to the recall process.
Who is he to challenge an elected body created by our democratic congress? He's never even worked in education!
Worse still, he was key to the stitch up that withdrew the threat of further strikes in the USS pension dispute last year. Before then, all of the leverage was with us after 14 days of magnificent strike action.
Victory sabotaged
Now, the employers are attempting to impose contribution increases on our members, despite the Joint Expert Panel report demonstrating our pension scheme is healthy. What should have been a total victory has been sabotaged.
Unfortunately, left candidates in the national executive committee elections - which just closed - did not concretely raise the demands for recall put forward by the Democracy Commission. Undoubtedly that means we are in a weaker position than we would have been in responding to these developments.
It's essential that the left and the rank and file in the union unite around one general secretary candidate, not just to defeat Waddup, but to continue the fight to democratise our union and to build a strategy to overcome the Tory anti-union laws and defend post-16 education against cuts, marketisation and privatisation.
The announcement in recent days that all staff at the University of Surrey have been offered voluntary redundancy shows the severity of the attacks we face.
UCU Left should call an emergency conference, alongside groups like the Branch Solidarity Network and UCU Rank and File that grew out of the pension strike, to discuss these developments and our response.
We need to unite around a candidate who will:
Pledge to respect the recommendations of the elected Democracy Commission and the will of congress
Take only their existing wage and donate the rest of the exorbitant £130,000 a year salary back to the labour movement
Implement the policy agreed by national executive committee to mobilise to get the Tories out and fight for a Corbyn-led anti-austerity socialist government
And most importantly, develop a strategy to beat the Tory anti-union laws and build the strike action needed to defend post-16 education, including rebuilding our branches, particularly in further education
---
As we go to press, the results of the national executive committee elections are still to be announced, which will have a bearing on the general secretary election.
---
In this issue
---
What we think

No retreats: Corbyn must stand firm against Blairites
---
Workplace news

Stop post-16 education cuts

Interview with a shop worker

MPs boost their own pay

Workplace news in brief
---
News

Boot out failing Grayling and the other Tory wreckers

Solidarity with Chris Williamson

Trade union action to end low pay now!

A&E 4-hour waiting targets scrapped - Save our NHS!

Them & Us
---
International Women's Day 2019

A socialist programme to end women's oppression

International Women's Day 2019: End oppression with fight for socialism
---
Socialist history

Leon Trotsky's struggle against Stalinism
---
Socialist Party reports and campaigns

Southampton: Fight council cuts

Cuts must stop - boot the Tories out

Wildfires hit Europe - build for 15 March student climate strikes

Swansea: Labour council tries to dodge no-cuts protest

Hull: support for anti-cuts policies at Corbyn solidarity rally

Hundreds of Tamils protest against death-threat brigadier
---
Opinion

Women workers' militancy during the 'great unrest'

The Socialist Inbox
---
Home | The Socialist 6 March 2019 | Join the Socialist Party