The Socialist 6 March 2019
Cuts must stop - boot the Tories out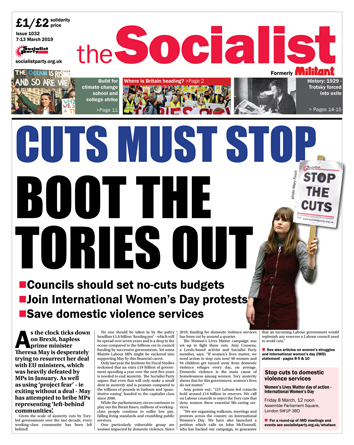 ---
No retreats: Corbyn must stand firm against Blairites
---
---
Boot out failing Grayling and the other Tory wreckers
Solidarity with Chris Williamson
Trade union action to end low pay now!
A&E 4-hour waiting targets scrapped - Save our NHS!
---
A socialist programme to end women's oppression
International Women's Day 2019: End oppression with fight for socialism
---
Leon Trotsky's struggle against Stalinism
---
Southampton: Fight council cuts
Cuts must stop - boot the Tories out
Wildfires hit Europe - build for 15 March student climate strikes
Swansea: Labour council tries to dodge no-cuts protest
Hull: support for anti-cuts policies at Corbyn solidarity rally
Hundreds of Tamils protest against death-threat brigadier
---
Women workers' militancy during the 'great unrest'
PO Box 1398, Enfield EN1 9GT
020 8988 8777

Link to this page: https://www.socialistparty.org.uk/issue/1032/28808
Home | The Socialist 6 March 2019 | Join the Socialist Party
Subscribe | Donate | Audio | PDF | ebook
Swansea: Labour council tries to dodge no-cuts protest
Gareth Bromhall, Swansea & West Wales Socialist Party
Swansea Trade Union Council lobbied the Swansea Council budget-setting meeting on 28 February, alongside Socialist Party members and trade unionists from across the city.
The Labour administration once again waved through tens of millions in cuts to jobs and services in Swansea, while praising itself for a job well done.
Our history of protesting at these meetings has had an obvious effect. The council moved the start forward to 3pm, effectively cutting off participation from most working people.
The council also attempted to undemocratically fill the public's ten-minute question time with predetermined questions - including one scaremongering about the "dangers" of not setting a "balanced budget," a direct attack on our call for legal no-cuts budgets.
Our call though was echoed, however, from the public gallery, by a local government workers' representative from public service union Unison, who called on the council to set a no-cuts budget in line with Welsh Trade Union Congress policy.
Socialist Party member Alec Thraves also spoke. He called on the council to fight austerity, and not make the £24 million cuts or sack the 145 teachers and 126 social care workers as set out in the budget. This garnered cheers and applause from the public gallery.
The budget was passed and the cuts and job losses are set to continue. But activists on the ground are commuted to fight every one, and continue to challenge the right-wing Labour administration in its participation in the Tories' austerity agenda.
---
In this issue
---
What we think

No retreats: Corbyn must stand firm against Blairites
---
Workplace news

Stop post-16 education cuts

Interview with a shop worker

MPs boost their own pay

Workplace news in brief
---
News

Boot out failing Grayling and the other Tory wreckers

Solidarity with Chris Williamson

Trade union action to end low pay now!

A&E 4-hour waiting targets scrapped - Save our NHS!

Them & Us
---
International Women's Day 2019

A socialist programme to end women's oppression

International Women's Day 2019: End oppression with fight for socialism
---
Socialist history

Leon Trotsky's struggle against Stalinism
---
Socialist Party reports and campaigns

Southampton: Fight council cuts

Cuts must stop - boot the Tories out

Wildfires hit Europe - build for 15 March student climate strikes

Swansea: Labour council tries to dodge no-cuts protest

Hull: support for anti-cuts policies at Corbyn solidarity rally

Hundreds of Tamils protest against death-threat brigadier
---
Opinion

Women workers' militancy during the 'great unrest'

The Socialist Inbox
---
Home | The Socialist 6 March 2019 | Join the Socialist Party