The Socialist 13 March 2019
Weak Tories must go. General election now!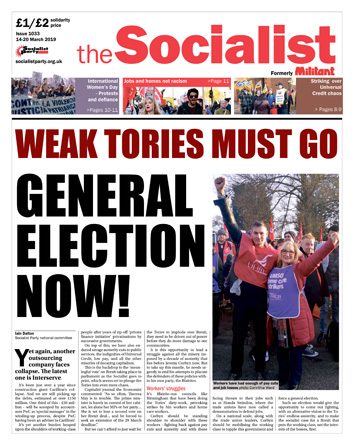 ---
Anger after violent youth deaths - Communities need public services not cuts
Weak Tories must go. General election now!
---
History: Alice Wheeldon - an anti-war socialist persecuted by the state
---
International Women's Day protests
For socialist change, not climate change!
Southampton: Socialist stand against cuts
No to racism - Fight for socialism
Memorial to working-class fighters who fought fascism
---
Only socialist planning can save the planet: Build a mass working-class struggle to achieve it!
---
Neither Tories or EU - only fighting trade unions and a Corbyn-led government can deliver workers' rights
PCS union elections: Huge support for Chris Baugh
Newark NSK strike: "Even Victorian workers got a day off each week. We're expected to have just one weekend off every three weeks"
Breaking news: Birmingham bin workers' strike suspended pending new deal
---
Tories out. Scrap Universal Credit. Fight for living wages and welfare!
---
Brazil: The Threats, attacks and contradictions of Bolsonaro's regime
---
Obituary Joan Beale - Labour women's activist and Militant supporter
PO Box 1398, Enfield EN1 9GT
020 8988 8777