The Socialist 12 June 2019
Safe homes for all now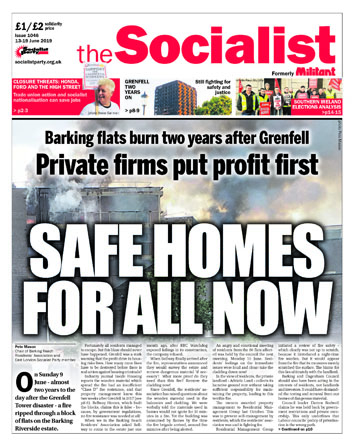 ---
Fire tears through Barking flats - cladding off now!
Grenfell two years on - Still fighting for safety and justice
---
Ford closure announcement must be met with united response of defiance
Nationalise Ford to prevent closure
Fight the closures save every job!
---
Widespread condemnation of horrifying, violent, homophobic assaults
Terrible child murders linked to cuts
---
Scottish airport strikes - fight for better pay and pensions
Stagecoach strike - bus workers show how it's done
Socialists in Unison hold positions in elections
South Western Railway guards to strike again
Socialist Party members make big impact at trades council conference
Southampton hospital workers win
Sellafield nuclear workers' strike
---
Sudan: Military crackdown to break revolution
Nigeria: Stop police harassment of Abbey and Azeez!
---
D-Day for fighting Trump attack on NHS
Edmonton joins Enfield North Labour in supporting 'no cuts' fightback strategy
---
TV Review: Chernobyl - Workers' heroism vs sclerotic Stalinism
PO Box 1398, Enfield EN1 9GT
020 8988 8777
Nationalise to stop closures