The Socialist 26 June 2019
No to Boris, no to Hunt: general election now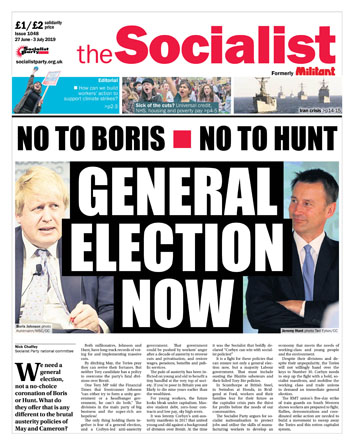 ---
How can we build workers' action to support the climate strikes?
Climate change protests reach important stage
---
No to Boris, no to Hunt: general election now
Universal Credit forces women into prostitution
Charging scandal in Warrington and Halton NHS Trust
Union action can tackle 58% working poverty rate
Unsafe, unaffordable housing scandal
---
Ratcheting up of Iran-US tensions
---
Coordinate the fightback! Come to the 2019 NSSN conference
Unions and campaigners discuss fight to end education crisis
Striking workers defy the race to the bottom at Glasgow and Aberdeen airports
Bridgend NSSN meeting determined to fight for Ford workers
Unison conference: Socialist Party members call for anti-cuts fight and build left challenge
Salisbury South Western Rail strikers determined
Midlands mental health workers walk out against privatisation
Notts college contract dispute
Colloids workers strike to support sacked rep
Harrogate academy workers strike against cuts
---
35th anniversary of the Battle of Orgreave
---
Angry Barking fire victims demand action from landlords and authorities
Hull trade union festival a great success
Stop the Devon and Somerset fire service cuts
---
Opinion: capitalism's Fukushima showed same recklessness as Stalinism's Chernobyl
PO Box 1398, Enfield EN1 9GT
020 8988 8777
editors@socialistparty.org.uk

Link to this page: https://www.socialistparty.org.uk/issue/1048/29308
Home | The Socialist 26 June 2019 | Join the Socialist Party
Subscribe | Donate | Audio | PDF | ebook
Angry Barking fire victims demand action from landlords and authorities
Pete Mason, chair, Barking Reach Residents' Association, and East London Socialist Party
A fire risk assessment report in January this year of Samuel Garside House in Barking, east London, identified inflammable wooden balconies.
The report recommended that corrective work be carried out within a month but the landlords and managing agents failed to act.
Five months later on 9 June - coinciding with the two-year anniversary of the Grenfell Tower inferno - the worst happened when a block of flats went up in flames. Fortunately no one died but 79 households were displaced
Around 30 flats were destroyed, either partially or completely, in a fire that spread from flat to flat in about seven minutes.
Only now are the balconies at other flats on the estate being stripped away by the original builders, Bellway.
Our association is still not being sufficiently informed of what is going on, and at a meeting, mostly of the displaced residents, we voted unanimously to hold protests if we are not satisfied with the response to our demands by the end of this week.
Accommodation
The most important demand is that residents are given proper accommodation while the renovation works are carried out to restore the flats.
Each day displaced residents are being left until the very last moment to find out where they are staying.
This is temporary hotel accommodation without facilities for babies, washing clothes and so forth. One resident reported being on the phone for 90 minutes with those put in charge of this to fix up a night's accommodation.
The second demand is the removal of the flammable cladding from the rest of the estate.
On 13 June, 200 residents crammed into a meeting called by the Residents' Association, which was attended by representatives from the government, council, landlords, managing agents and builders.
Residents voted unanimously that they believe that all those representatives were negligent. Compensation for the distress has still not been offered.
We agreed that Adriatic, the landlord, has forfeited the right to own the block due to this alleged negligence.
The residents want to be involved in the restoration process, such as the rebuilding of the balconies - one of the displaced resident's is a qualified architect.
They identified the need for fire doors in the ground floor car park, which was confirmed by a fire expert who attended a further residents' association meeting.
---
In this issue
---
Climate change

How can we build workers' action to support the climate strikes?

Climate change protests reach important stage
---
Socialist Party news and analysis

No to Boris, no to Hunt: general election now

Universal Credit forces women into prostitution

Charging scandal in Warrington and Halton NHS Trust

Union action can tackle 58% working poverty rate

Unsafe, unaffordable housing scandal

Them & Us
---
International socialist news and analysis

Ratcheting up of Iran-US tensions

Sudan solidarity protests
---
Workplace news and analysis

Coordinate the fightback! Come to the 2019 NSSN conference

Unions and campaigners discuss fight to end education crisis

Striking workers defy the race to the bottom at Glasgow and Aberdeen airports

Bridgend NSSN meeting determined to fight for Ford workers

Unison conference: Socialist Party members call for anti-cuts fight and build left challenge

Salisbury South Western Rail strikers determined

Midlands mental health workers walk out against privatisation

Notts college contract dispute

Colloids workers strike to support sacked rep

Harrogate academy workers strike against cuts
---
Socialist history

35th anniversary of the Battle of Orgreave
---
Socialist Party reports and campaigns

Angry Barking fire victims demand action from landlords and authorities

Hull trade union festival a great success

Stop the Devon and Somerset fire service cuts
---
Opinion

Opinion: capitalism's Fukushima showed same recklessness as Stalinism's Chernobyl

The Socialist inbox
---
Home | The Socialist 26 June 2019 | Join the Socialist Party