The Socialist 3 July 2019
Same old millionaire Tories - Fight to kick them out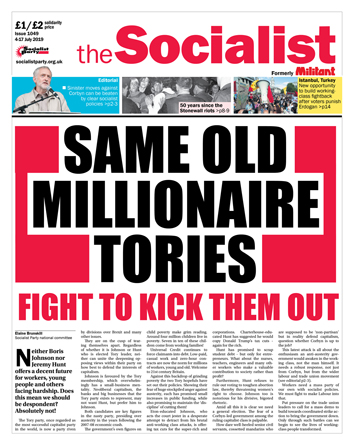 ---
Angry Usdaw members strike at Sainsbury's distribution centre over sick pay cut
Sick of your boss? Join a union! Fight for socialism
Construction workers protest in defence of union rights and against anti-worker EU
Socialists in PCS union launch new group to fight general secretary election
Steps forward and missed opportunities at Unite rules conference
London Arriva bus drivers vote for strike action over bullying and workload
Birmingham school strike for safe working environment
Lancashire Stagecoach drivers continue their fight
Birmingham uni workers strike against terms and conditions attacks
---
Sinister moves against Corbyn can be beaten by clear socialist policies
---
Same old millionaire Tories - Fight to kick them out
Nationalisation is answer to Southern Water cover up
Gig-economy exploitation doubles
Even social-care bosses say cuts have gone too far
---
Stonewall riots' legacy shows need for socialist struggle to win LGBT+ liberation
---
Socialist Party secures new offices
Angry Barking residents protest outside sales office
Tamil Solidarity Day: Linking up oppressed people's struggles
Coventry says no to congestion charge
Carlisle Labour/Lib Dem coalition cuts care home beds
Sell the Socialist and take out an e-subscription
Lincoln Uni NUS disaffiliation: a question of on-campus democracy
Stourbridge: Keep our college!
---
New opportunity to build working-class fightback after voters punish Erdogan
Irish health workers' anger boils over into strike action
---
TV: Years and Years - Engaging family drama pushes confused, reactionary message
PO Box 1398, Enfield EN1 9GT
020 8988 8777

Link to this page: https://www.socialistparty.org.uk/issue/1049/29315
Home | The Socialist 3 July 2019 | Join the Socialist Party
Subscribe | Donate | Audio | PDF | ebook
Lancashire Stagecoach drivers continue their fight
Tom Costello
Around 150 drivers and supporters gathered at Preston bus station on Tuesday 25 June for the ninth day of strike action against Stagecoach. This was matched by a similar picket at the Chorley depot.
As of now, drivers in Preston and Chorley can receive up to £2 an hour less than those in other areas of the north west. Years of unequal pay and stagnant wages has left drivers with no option but to fight for a 50p per hour pay rise.
So far, the company has offered a measly 3p an hour rise over three years. As Unite branch secretary Peter Winstanley put it: "Stagecoach sees us as being only worth a penny per year".
Needless to say, the drivers were not impressed, and came out of talks more determined to win their demands than ever, with the support of staff in Preston's other bus franchise.
Stagecoach management has tried to appear confident, shipping in teams of scab drivers from across the country to be paid much higher wages, bribed in cash and housed in luxury all-inclusive hotels. Strikers have heard reports of commuters suffering as a result of the company's actions - the scabs are failing to take on passengers at every stop!
The Preston and Chorley bus drivers have drawn the support of the wider trade union movement. Dave Beale, chair of the Unite Community Lancashire branch, said: "It's disgraceful the way the drivers have been treated by Stagecoach. But the strikers are a brilliant example of how to fight and they have 100% support from my branch".
The drivers are prepared to continue their strike action until Stagecoach meets their demands. They have drawn up plans for another 15 days of strike action going into late July.
Socialist Party members will continue to show support on the picket lines to see this dispute through until the end.
Send messages of support to:

[email protected]

Donations to: Peter Winstanley, Stagecoach Preston, Preston Bus Station, Preston, Lancashire PR1 1YU.
Write cheques to: "Unite Branch 6/91". Please notify

[email protected]

of what you send.
---
This version of this article was first posted on the Socialist Party website on 26 June 2019 and may vary slightly from the version subsequently printed in The Socialist.
---
In this issue
---
Workplace news

Angry Usdaw members strike at Sainsbury's distribution centre over sick pay cut

Sick of your boss? Join a union! Fight for socialism

Construction workers protest in defence of union rights and against anti-worker EU

Socialists in PCS union launch new group to fight general secretary election

Steps forward and missed opportunities at Unite rules conference

London Arriva bus drivers vote for strike action over bullying and workload

Birmingham school strike for safe working environment

Lancashire Stagecoach drivers continue their fight

Birmingham uni workers strike against terms and conditions attacks
---
What we think

Sinister moves against Corbyn can be beaten by clear socialist policies
---
News

Same old millionaire Tories - Fight to kick them out

Nationalisation is answer to Southern Water cover up

Gig-economy exploitation doubles

Even social-care bosses say cuts have gone too far

Them & Us

What we saw
---
Stonewall riots

Stonewall riots' legacy shows need for socialist struggle to win LGBT+ liberation
---
Socialist Party reports and campaigns

Socialist Party secures new offices

Angry Barking residents protest outside sales office

Tamil Solidarity Day: Linking up oppressed people's struggles

Coventry says no to congestion charge

Carlisle Labour/Lib Dem coalition cuts care home beds

Sell the Socialist and take out an e-subscription

Lincoln Uni NUS disaffiliation: a question of on-campus democracy

Stourbridge: Keep our college!
---
International socialist news and analysis

New opportunity to build working-class fightback after voters punish Erdogan

Irish health workers' anger boils over into strike action
---
Opinion

The Socialist inbox

TV: Years and Years - Engaging family drama pushes confused, reactionary message
---
Home | The Socialist 3 July 2019 | Join the Socialist Party