The Socialist 3 July 2019
Same old millionaire Tories - Fight to kick them out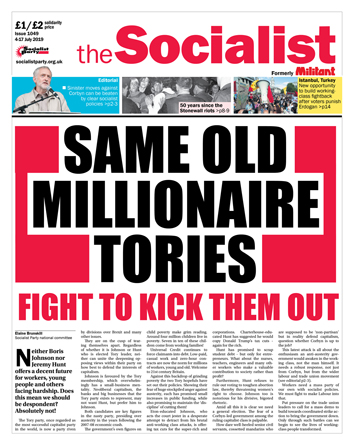 ---
Angry Usdaw members strike at Sainsbury's distribution centre over sick pay cut
Sick of your boss? Join a union! Fight for socialism
Construction workers protest in defence of union rights and against anti-worker EU
Socialists in PCS union launch new group to fight general secretary election
Steps forward and missed opportunities at Unite rules conference
London Arriva bus drivers vote for strike action over bullying and workload
Birmingham school strike for safe working environment
Lancashire Stagecoach drivers continue their fight
Birmingham uni workers strike against terms and conditions attacks
---
Sinister moves against Corbyn can be beaten by clear socialist policies
---
Same old millionaire Tories - Fight to kick them out
Nationalisation is answer to Southern Water cover up
Gig-economy exploitation doubles
Even social-care bosses say cuts have gone too far
---
Stonewall riots' legacy shows need for socialist struggle to win LGBT+ liberation
---
Socialist Party secures new offices
Angry Barking residents protest outside sales office
Tamil Solidarity Day: Linking up oppressed people's struggles
Coventry says no to congestion charge
Carlisle Labour/Lib Dem coalition cuts care home beds
Sell the Socialist and take out an e-subscription
Lincoln Uni NUS disaffiliation: a question of on-campus democracy
Stourbridge: Keep our college!
---
New opportunity to build working-class fightback after voters punish Erdogan
Irish health workers' anger boils over into strike action
---
TV: Years and Years - Engaging family drama pushes confused, reactionary message
PO Box 1398, Enfield EN1 9GT
020 8988 8777

Link to this page: https://www.socialistparty.org.uk/issue/1049/29321
Home | The Socialist 3 July 2019 | Join the Socialist Party
Subscribe | Donate | Audio | PDF | ebook
Nationalisation is the answer to Southern Water cover up
Daniel Gilmore, Newcastle Socialist Party
An investigation into Southern Water by the industry regulator Ofwat has demanded that the company pay a £126 million penalty package, the largest it has ever imposed. The Environment Agency is now also looking into pressing criminal charges.
Southern Water serves around two million properties across Kent, Sussex, Hampshire and the Isle of Wight. Each household will only get a pathetic £61 rebate, spread over five years.
Southern Water and its senior managers attempted a cover-up. They manipulated wastewater samples to deceive investigators and the public.
Ofwat chief executive Rachel Fletcher commented that "the company was being run with scant regard for its responsibilities to society and the environment".
Ofwat's report found that Southern Water had caused a number of wastewater spills. There were regular failures at sewage treatment sites through lack of investment and maintenance.
These fines are meagre when compared to the profits that the company has managed to wring out of their customers. Since 2007, Southern Water has paid out more than £300 million worth of dividends to its shareholders on the back of lies and chronic mismanagement.
The company made £155 million in profit in 2018 alone. Matthew Wright, the chief executive of Southern Water at the time, received more than £5 million overall for his role in the deceit.
This incident is not isolated to Southern Water. Just nine private companies control the country's water industry.
Last year, Thames Water was penalised £120 million by Ofwat for failing to reach its targets for controlling leaks. In January, Northumbrian Water was fined £500,000 after supplying water deemed "unfit for human consumption."
It is clear that the current capitalist system is endangering public safety as well as our ecosystem. We demand the nationalisation of the water industry as well as all other utilities, democratically controlled and managed by the workers in those sectors.
Any compensation should only be paid on proven need, with no more of our cash going towards the big shareholders whose greed and incompetence has put us all at risk in the pursuit of profit.
---
In this issue
---
Workplace news

Angry Usdaw members strike at Sainsbury's distribution centre over sick pay cut

Sick of your boss? Join a union! Fight for socialism

Construction workers protest in defence of union rights and against anti-worker EU

Socialists in PCS union launch new group to fight general secretary election

Steps forward and missed opportunities at Unite rules conference

London Arriva bus drivers vote for strike action over bullying and workload

Birmingham school strike for safe working environment

Lancashire Stagecoach drivers continue their fight

Birmingham uni workers strike against terms and conditions attacks
---
What we think

Sinister moves against Corbyn can be beaten by clear socialist policies
---
News

Same old millionaire Tories - Fight to kick them out

Nationalisation is answer to Southern Water cover up

Gig-economy exploitation doubles

Even social-care bosses say cuts have gone too far

Them & Us

What we saw
---
Stonewall riots

Stonewall riots' legacy shows need for socialist struggle to win LGBT+ liberation
---
Socialist Party reports and campaigns

Socialist Party secures new offices

Angry Barking residents protest outside sales office

Tamil Solidarity Day: Linking up oppressed people's struggles

Coventry says no to congestion charge

Carlisle Labour/Lib Dem coalition cuts care home beds

Sell the Socialist and take out an e-subscription

Lincoln Uni NUS disaffiliation: a question of on-campus democracy

Stourbridge: Keep our college!
---
International socialist news and analysis

New opportunity to build working-class fightback after voters punish Erdogan

Irish health workers' anger boils over into strike action
---
Opinion

The Socialist inbox

TV: Years and Years - Engaging family drama pushes confused, reactionary message
---
Home | The Socialist 3 July 2019 | Join the Socialist Party