The Socialist 3 July 2019
Same old millionaire Tories - Fight to kick them out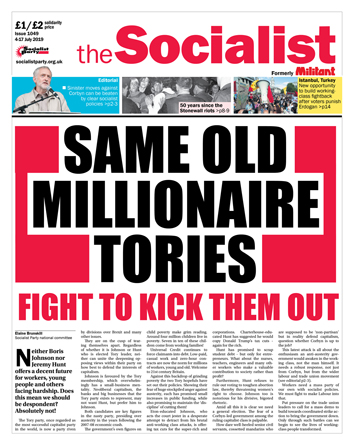 ---
Angry Usdaw members strike at Sainsbury's distribution centre over sick pay cut
Sick of your boss? Join a union! Fight for socialism
Construction workers protest in defence of union rights and against anti-worker EU
Socialists in PCS union launch new group to fight general secretary election
Steps forward and missed opportunities at Unite rules conference
London Arriva bus drivers vote for strike action over bullying and workload
Birmingham school strike for safe working environment
Lancashire Stagecoach drivers continue their fight
Birmingham uni workers strike against terms and conditions attacks
---
Sinister moves against Corbyn can be beaten by clear socialist policies
---
Same old millionaire Tories - Fight to kick them out
Nationalisation is answer to Southern Water cover up
Gig-economy exploitation doubles
Even social-care bosses say cuts have gone too far
---
Stonewall riots' legacy shows need for socialist struggle to win LGBT+ liberation
---
Socialist Party secures new offices
Angry Barking residents protest outside sales office
Tamil Solidarity Day: Linking up oppressed people's struggles
Coventry says no to congestion charge
Carlisle Labour/Lib Dem coalition cuts care home beds
Sell the Socialist and take out an e-subscription
Lincoln Uni NUS disaffiliation: a question of on-campus democracy
Stourbridge: Keep our college!
---
New opportunity to build working-class fightback after voters punish Erdogan
Irish health workers' anger boils over into strike action
---
TV: Years and Years - Engaging family drama pushes confused, reactionary message
PO Box 1398, Enfield EN1 9GT
020 8988 8777

Link to this page: https://www.socialistparty.org.uk/issue/1049/29322
Home | The Socialist 3 July 2019 | Join the Socialist Party
Subscribe | Donate | Audio | PDF | ebook
Gig-economy exploitation doubles
Unions must fight for decent rights at work
Ted Mooney, Liverpool Socialist Party
The 'gig economy', formerly known as 'casual labour' - and much beloved of the dock employers for hundreds of years worldwide, is on the rise. Tony Blair famously called it "the flexible workforce".
It is spreading like terminal cancer in Britain. The Trade Union Congress (TUC) has reported a University of Hertfordshire survey that shows the number of employees earning their living this way has doubled since 2016 to 4.7 million people.
Most of these are young workers. One in ten workers are employed in the gig economy, three years ago it was one in 20.
The benefits of casual labour for employers is that they don't have to guarantee minimum working hours, wages, pensions and even national insurance - as workers could be classified as self-employed. There is no sickness benefit or holiday pay either.
For workers - desperate for employment to feed their families and pay the bills - there is often no option other than to take such employment.
The main culprits are not only Uber or Deliveroo, but agency workers suffer too. Men and women are employed to satisfy occasional needs of established workplaces or provide services such as cleaning.
They endure gig-economy terms and conditions, for four or five years, with a promise of a 'proper' job, providing they keep their nose clean. A discrete way of saying, no trade union activities here.
Also, many earn small fees for delivering parcels for home-shopping companies. They are paid only by the parcel they successfully deliver.
They have to return if no one is available to accept the delivery. They receive nothing for the fuel for their car.
Many workers take this type of employment to supplement their income from other, poorly paid jobs. Private-hire taxi drivers are employed to deliver goods for Amazon, between dropping off passengers.
The media, the Tories, some right-wing Labour MPs and the bosses hail this system as a welcome development, pointing out that many employees welcome it. Some workers welcome flexible working because they see no alternative because wages are so low. They need extra income.
Some have no pension to fall back on and a Zurich UK study found more pensioners working in the gig economy.
It is good news that the TUC is highlighting this archaic development. But, what are they going to do about it?
The unions should demand the right to full-time contracts and equal employment conditions. The main force capable of ending this system is the workers themselves.
What is needed is a trade union mobilisation. Workplaces should be leafleted, followed by union recruitment meetings. And industrial action to enforce the issue, if necessary.
---
In this issue
---
Workplace news

Angry Usdaw members strike at Sainsbury's distribution centre over sick pay cut

Sick of your boss? Join a union! Fight for socialism

Construction workers protest in defence of union rights and against anti-worker EU

Socialists in PCS union launch new group to fight general secretary election

Steps forward and missed opportunities at Unite rules conference

London Arriva bus drivers vote for strike action over bullying and workload

Birmingham school strike for safe working environment

Lancashire Stagecoach drivers continue their fight

Birmingham uni workers strike against terms and conditions attacks
---
What we think

Sinister moves against Corbyn can be beaten by clear socialist policies
---
News

Same old millionaire Tories - Fight to kick them out

Nationalisation is answer to Southern Water cover up

Gig-economy exploitation doubles

Even social-care bosses say cuts have gone too far

Them & Us

What we saw
---
Stonewall riots

Stonewall riots' legacy shows need for socialist struggle to win LGBT+ liberation
---
Socialist Party reports and campaigns

Socialist Party secures new offices

Angry Barking residents protest outside sales office

Tamil Solidarity Day: Linking up oppressed people's struggles

Coventry says no to congestion charge

Carlisle Labour/Lib Dem coalition cuts care home beds

Sell the Socialist and take out an e-subscription

Lincoln Uni NUS disaffiliation: a question of on-campus democracy

Stourbridge: Keep our college!
---
International socialist news and analysis

New opportunity to build working-class fightback after voters punish Erdogan

Irish health workers' anger boils over into strike action
---
Opinion

The Socialist inbox

TV: Years and Years - Engaging family drama pushes confused, reactionary message
---
Home | The Socialist 3 July 2019 | Join the Socialist Party