The Socialist 3 July 2019
Same old millionaire Tories - Fight to kick them out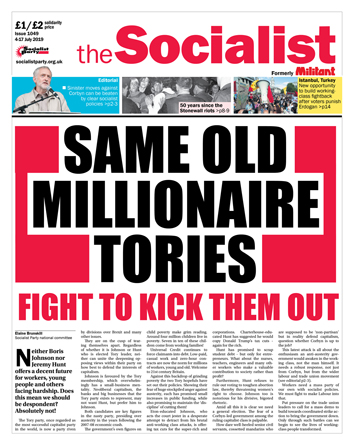 ---
Angry Usdaw members strike at Sainsbury's distribution centre over sick pay cut
Sick of your boss? Join a union! Fight for socialism
Construction workers protest in defence of union rights and against anti-worker EU
Socialists in PCS union launch new group to fight general secretary election
Steps forward and missed opportunities at Unite rules conference
London Arriva bus drivers vote for strike action over bullying and workload
Birmingham school strike for safe working environment
Lancashire Stagecoach drivers continue their fight
Birmingham uni workers strike against terms and conditions attacks
---
Sinister moves against Corbyn can be beaten by clear socialist policies
---
Same old millionaire Tories - Fight to kick them out
Nationalisation is answer to Southern Water cover up
Gig-economy exploitation doubles
Even social-care bosses say cuts have gone too far
---
Stonewall riots' legacy shows need for socialist struggle to win LGBT+ liberation
---
Socialist Party secures new offices
Angry Barking residents protest outside sales office
Tamil Solidarity Day: Linking up oppressed people's struggles
Coventry says no to congestion charge
Carlisle Labour/Lib Dem coalition cuts care home beds
Sell the Socialist and take out an e-subscription
Lincoln Uni NUS disaffiliation: a question of on-campus democracy
Stourbridge: Keep our college!
---
New opportunity to build working-class fightback after voters punish Erdogan
Irish health workers' anger boils over into strike action
---
TV: Years and Years - Engaging family drama pushes confused, reactionary message
PO Box 1398, Enfield EN1 9GT
020 8988 8777

Link to this page: https://www.socialistparty.org.uk/issue/1049/29323
Home | The Socialist 3 July 2019 | Join the Socialist Party
Subscribe | Donate | Audio | PDF | ebook
Even social-care bosses say cuts have gone too far
Eric Segal, East Kent Socialist Party
Jeremy Hunt, in a masterful understatement, said: "I think, having been responsible for health and social care, that some of the cuts in social care did go too far."
Social care is the day-to-day support given to people who need extra help because of old age, disability or other health conditions.
Since the financial crash there have been £7.7 billion cuts to adult social-care budgets. And a further £700 million of cuts are planned this year.
What does this mean in practice? Social care for people with HIV in Kent was cut in 2014 leaving victims of this devastating disease without any social support.
Failing people
The Association of Directors of Adult Social Care has commented on the government's record in social care: "The system is not only failing financially, it is failing people." Homecare closures have increased by 113% and impacted 7,019 people in 2018-19.
Two thirds of adult-social-services directors think the cuts can't be met this year nor do they think they can continue to meet statutory duties. Since 2010, the grants councils in England receive from central government have been cut by half, and their overall spending power by just under a third.
Spending on adult social care had already fallen by 10% by 2013. As a result, councils have been spending a growing proportion of their budgets on social care.
Local authorities spent 34% of their budget for public services on adult social care in 2009-10. By 2017-18, this was 41%.
According to the Times newspaper, local authorities control budgets totaling £114 billion, and last year were sitting on £21 billion of non-ring fenced reserves.
Councils have the power to fight back against cuts.
History shows us that socialist-led Labour councils, like Liverpool in the 1980s, together with the trade unions have the power to stop cuts through mass campaigns against austerity.
Councils should refuse to make cuts. Instead they should use reserves and borrowing powers to give them time to build a mass campaign to win the stolen money back.
Together with a Corbyn-led Labour government armed with socialist policies to begin the process of rebuilding our welfare state and the services we need.
---
In this issue
---
Workplace news

Angry Usdaw members strike at Sainsbury's distribution centre over sick pay cut

Sick of your boss? Join a union! Fight for socialism

Construction workers protest in defence of union rights and against anti-worker EU

Socialists in PCS union launch new group to fight general secretary election

Steps forward and missed opportunities at Unite rules conference

London Arriva bus drivers vote for strike action over bullying and workload

Birmingham school strike for safe working environment

Lancashire Stagecoach drivers continue their fight

Birmingham uni workers strike against terms and conditions attacks
---
What we think

Sinister moves against Corbyn can be beaten by clear socialist policies
---
News

Same old millionaire Tories - Fight to kick them out

Nationalisation is answer to Southern Water cover up

Gig-economy exploitation doubles

Even social-care bosses say cuts have gone too far

Them & Us

What we saw
---
Stonewall riots

Stonewall riots' legacy shows need for socialist struggle to win LGBT+ liberation
---
Socialist Party reports and campaigns

Socialist Party secures new offices

Angry Barking residents protest outside sales office

Tamil Solidarity Day: Linking up oppressed people's struggles

Coventry says no to congestion charge

Carlisle Labour/Lib Dem coalition cuts care home beds

Sell the Socialist and take out an e-subscription

Lincoln Uni NUS disaffiliation: a question of on-campus democracy

Stourbridge: Keep our college!
---
International socialist news and analysis

New opportunity to build working-class fightback after voters punish Erdogan

Irish health workers' anger boils over into strike action
---
Opinion

The Socialist inbox

TV: Years and Years - Engaging family drama pushes confused, reactionary message
---
Home | The Socialist 3 July 2019 | Join the Socialist Party