The Socialist 3 July 2019
Same old millionaire Tories - Fight to kick them out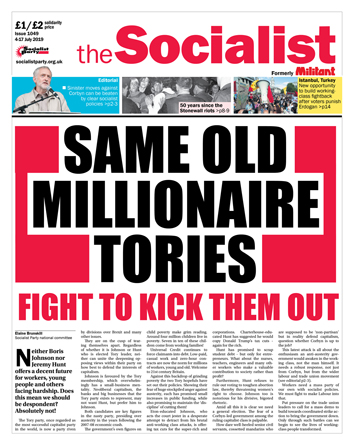 ---
Angry Usdaw members strike at Sainsbury's distribution centre over sick pay cut
Sick of your boss? Join a union! Fight for socialism
Construction workers protest in defence of union rights and against anti-worker EU
Socialists in PCS union launch new group to fight general secretary election
Steps forward and missed opportunities at Unite rules conference
London Arriva bus drivers vote for strike action over bullying and workload
Birmingham school strike for safe working environment
Lancashire Stagecoach drivers continue their fight
Birmingham uni workers strike against terms and conditions attacks
---
Sinister moves against Corbyn can be beaten by clear socialist policies
---
Same old millionaire Tories - Fight to kick them out
Nationalisation is answer to Southern Water cover up
Gig-economy exploitation doubles
Even social-care bosses say cuts have gone too far
---
Stonewall riots' legacy shows need for socialist struggle to win LGBT+ liberation
---
Socialist Party secures new offices
Angry Barking residents protest outside sales office
Tamil Solidarity Day: Linking up oppressed people's struggles
Coventry says no to congestion charge
Carlisle Labour/Lib Dem coalition cuts care home beds
Sell the Socialist and take out an e-subscription
Lincoln Uni NUS disaffiliation: a question of on-campus democracy
Stourbridge: Keep our college!
---
New opportunity to build working-class fightback after voters punish Erdogan
Irish health workers' anger boils over into strike action
---
TV: Years and Years - Engaging family drama pushes confused, reactionary message
PO Box 1398, Enfield EN1 9GT
020 8988 8777

Link to this page: https://www.socialistparty.org.uk/issue/1049/29327
Home | The Socialist 3 July 2019 | Join the Socialist Party
Subscribe | Donate | Audio | PDF | ebook
We're moving! Socialist Party secures new offices - help fund our step forward
Ken Douglas, Socialist Party national treasurer
We are very pleased to announce that the Socialist Party has found new premises! After renting our old premises for nearly 20 years we have bought our new building which will be a big asset for our party.
All our members and supporters who have made big sacrifices to donate to our Building Fund can feel very proud that they have enabled us to secure our national centre for the foreseeable future. We will also be able to bring the printshop over as well; so for the first time since the 1990s having all our operations in one building.
In addition to the purchase price of the building and all the costs associated with that, there are also the costs associated with moving and fitting out the building. For instance installing all the cabling and power points will cost over £10,000; moving the press will cost around £4,000.
There are still over £25,000 in outstanding pledges to the Building Fund waiting to be paid and we would ask that these are redeemed as soon as possible. We would also appeal to all our members to make a further donation if they can to help with all these costs. Do you want to buy a brick in the new centre for £20, or several, or a small wall?
Visit socialistparty.org.uk/donate (put "building fund" in comments)
Donate with your card over the phone by calling 020 8988 8777
Or make a cheque payable to "Socialist Party" and send it to Building Fund, PO Box 24697, London E11 1YD
---
The Socialist's publication schedule
The Socialist newspaper is now moving from its standard weekly schedule to its fortnightly summer schedule. This is to accommodate the office move, related technical changes, and other summer events.
This issue of the Socialist, 1049, will run from Thursday 4 July until Wednesday 17 July.
During the following transition, there may be temporary interruptions to our communication and production. We thank all readers and sellers of the Socialist in advance for your patience and assistance.
We will return to our regular weekly schedule soon.
The editors
---
In this issue
---
Workplace news

Angry Usdaw members strike at Sainsbury's distribution centre over sick pay cut

Sick of your boss? Join a union! Fight for socialism

Construction workers protest in defence of union rights and against anti-worker EU

Socialists in PCS union launch new group to fight general secretary election

Steps forward and missed opportunities at Unite rules conference

London Arriva bus drivers vote for strike action over bullying and workload

Birmingham school strike for safe working environment

Lancashire Stagecoach drivers continue their fight

Birmingham uni workers strike against terms and conditions attacks
---
What we think

Sinister moves against Corbyn can be beaten by clear socialist policies
---
News

Same old millionaire Tories - Fight to kick them out

Nationalisation is answer to Southern Water cover up

Gig-economy exploitation doubles

Even social-care bosses say cuts have gone too far

Them & Us

What we saw
---
Stonewall riots

Stonewall riots' legacy shows need for socialist struggle to win LGBT+ liberation
---
Socialist Party reports and campaigns

Socialist Party secures new offices

Angry Barking residents protest outside sales office

Tamil Solidarity Day: Linking up oppressed people's struggles

Coventry says no to congestion charge

Carlisle Labour/Lib Dem coalition cuts care home beds

Sell the Socialist and take out an e-subscription

Lincoln Uni NUS disaffiliation: a question of on-campus democracy

Stourbridge: Keep our college!
---
International socialist news and analysis

New opportunity to build working-class fightback after voters punish Erdogan

Irish health workers' anger boils over into strike action
---
Opinion

The Socialist inbox

TV: Years and Years - Engaging family drama pushes confused, reactionary message
---
Home | The Socialist 3 July 2019 | Join the Socialist Party