The Socialist 3 July 2019
Same old millionaire Tories - Fight to kick them out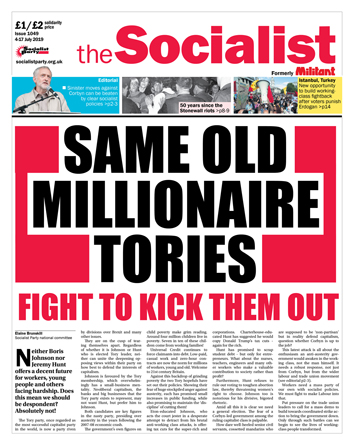 ---
Angry Usdaw members strike at Sainsbury's distribution centre over sick pay cut
Sick of your boss? Join a union! Fight for socialism
Construction workers protest in defence of union rights and against anti-worker EU
Socialists in PCS union launch new group to fight general secretary election
Steps forward and missed opportunities at Unite rules conference
London Arriva bus drivers vote for strike action over bullying and workload
Birmingham school strike for safe working environment
Lancashire Stagecoach drivers continue their fight
Birmingham uni workers strike against terms and conditions attacks
---
Sinister moves against Corbyn can be beaten by clear socialist policies
---
Same old millionaire Tories - Fight to kick them out
Nationalisation is answer to Southern Water cover up
Gig-economy exploitation doubles
Even social-care bosses say cuts have gone too far
---
Stonewall riots' legacy shows need for socialist struggle to win LGBT+ liberation
---
Socialist Party secures new offices
Angry Barking residents protest outside sales office
Tamil Solidarity Day: Linking up oppressed people's struggles
Coventry says no to congestion charge
Carlisle Labour/Lib Dem coalition cuts care home beds
Sell the Socialist and take out an e-subscription
Lincoln Uni NUS disaffiliation: a question of on-campus democracy
Stourbridge: Keep our college!
---
New opportunity to build working-class fightback after voters punish Erdogan
Irish health workers' anger boils over into strike action
---
TV: Years and Years - Engaging family drama pushes confused, reactionary message
PO Box 1398, Enfield EN1 9GT
020 8988 8777

Link to this page: https://www.socialistparty.org.uk/issue/1049/29330
Home | The Socialist 3 July 2019 | Join the Socialist Party
Subscribe | Donate | Audio | PDF | ebook
Angry Barking residents protest outside sales office
Pete Mason, chair, Barking Reach Residents Association and East London Socialist Party
On Saturday 29 June property sales offices at Barking Riverside, London - the site of the recent horrendous fire that consumed 20 flats in just a few minutes - were closed due to a well-attended residents' and supporters' protest.
The protest - covered by media outlets LBC and ITV London - was proposed by Samuel Garside House residents the week before.
We waited for a response to our demands for the removal of the flammable material, mainly wood, that decks the estate, as well as housing the displaced residents in decent accommodation, but heard nothing.
The managing agent and the builder also closed the normally supervised access to the partially burnt out flats for the whole weekend, preventing residents from getting urgent things like passports for travel.
Residents felt that this was a vindictive act and it further stoked huge anger at the landlords and builders responsible for this predicted and preventable fire.
The fire spread through untreated wood on decorative balconies which acted precisely like the cladding on the Grenfell Tower block. We want displaced residents, one of whom is a civil engineer, to be involved in the design of the new, non-flammable ones.
Conflict of interests
Landlords Barking Riverside Ltd (BRL)promised the appointment of a fire engineer and architect to review the cladding on the entire estate, and managing agents Residential Management Group (RMG) are carrying out high level fire safety inspections in Samuel Garside House and around the part of the estate they own. But RMG has appointed a company that is a "wholly owned subsidiary of RMG" - as the managing director himself informed the residents association!
Residents want both BRL and RMG to appoint a fire safety expert which we trust, who is prepared to speak out in criticism of the construction practices of the builders.
The denial of this, in the view of residents, is deeply suspicious, suggests an ongoing desire to cut corners, and many residents still fear that SGH is fundamentally unsafe.
Meanwhile a team of lawyers acting for the residents have demanded that the council carry out a thorough inspection of the structure and fire safety of the building.
---
In this issue
---
Workplace news

Angry Usdaw members strike at Sainsbury's distribution centre over sick pay cut

Sick of your boss? Join a union! Fight for socialism

Construction workers protest in defence of union rights and against anti-worker EU

Socialists in PCS union launch new group to fight general secretary election

Steps forward and missed opportunities at Unite rules conference

London Arriva bus drivers vote for strike action over bullying and workload

Birmingham school strike for safe working environment

Lancashire Stagecoach drivers continue their fight

Birmingham uni workers strike against terms and conditions attacks
---
What we think

Sinister moves against Corbyn can be beaten by clear socialist policies
---
News

Same old millionaire Tories - Fight to kick them out

Nationalisation is answer to Southern Water cover up

Gig-economy exploitation doubles

Even social-care bosses say cuts have gone too far

Them & Us

What we saw
---
Stonewall riots

Stonewall riots' legacy shows need for socialist struggle to win LGBT+ liberation
---
Socialist Party reports and campaigns

Socialist Party secures new offices

Angry Barking residents protest outside sales office

Tamil Solidarity Day: Linking up oppressed people's struggles

Coventry says no to congestion charge

Carlisle Labour/Lib Dem coalition cuts care home beds

Sell the Socialist and take out an e-subscription

Lincoln Uni NUS disaffiliation: a question of on-campus democracy

Stourbridge: Keep our college!
---
International socialist news and analysis

New opportunity to build working-class fightback after voters punish Erdogan

Irish health workers' anger boils over into strike action
---
Opinion

The Socialist inbox

TV: Years and Years - Engaging family drama pushes confused, reactionary message
---
Home | The Socialist 3 July 2019 | Join the Socialist Party