The Socialist 3 July 2019
Same old millionaire Tories - Fight to kick them out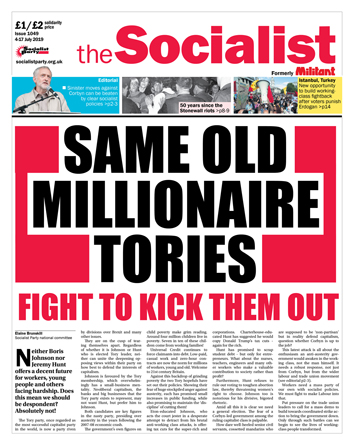 ---
Angry Usdaw members strike at Sainsbury's distribution centre over sick pay cut
Sick of your boss? Join a union! Fight for socialism
Construction workers protest in defence of union rights and against anti-worker EU
Socialists in PCS union launch new group to fight general secretary election
Steps forward and missed opportunities at Unite rules conference
London Arriva bus drivers vote for strike action over bullying and workload
Birmingham school strike for safe working environment
Lancashire Stagecoach drivers continue their fight
Birmingham uni workers strike against terms and conditions attacks
---
Sinister moves against Corbyn can be beaten by clear socialist policies
---
Same old millionaire Tories - Fight to kick them out
Nationalisation is answer to Southern Water cover up
Gig-economy exploitation doubles
Even social-care bosses say cuts have gone too far
---
Stonewall riots' legacy shows need for socialist struggle to win LGBT+ liberation
---
Socialist Party secures new offices
Angry Barking residents protest outside sales office
Tamil Solidarity Day: Linking up oppressed people's struggles
Coventry says no to congestion charge
Carlisle Labour/Lib Dem coalition cuts care home beds
Sell the Socialist and take out an e-subscription
Lincoln Uni NUS disaffiliation: a question of on-campus democracy
Stourbridge: Keep our college!
---
New opportunity to build working-class fightback after voters punish Erdogan
Irish health workers' anger boils over into strike action
---
TV: Years and Years - Engaging family drama pushes confused, reactionary message
PO Box 1398, Enfield EN1 9GT
020 8988 8777

Link to this page: https://www.socialistparty.org.uk/issue/1049/29334
Home | The Socialist 3 July 2019 | Join the Socialist Party
Subscribe | Donate | Audio | PDF | ebook
Sell the Socialist and take out an e-subscription
Chris Newby, the Socialist national sales organiser
Socialist Party members play an important role - in some cases leading them - in local and national fightbacks against Tory austerity and in trade union strikes.
In all our campaigning work the Socialist is an essential tool in putting forward the key demands to advance and win these struggles.
This positive role of the Socialist is often reflected in the sales of the newspaper. Socialist Party members in Bridgend and Cardiff sold 46 in one weekend campaigning against the threatened closure of the Ford plant.
At one strike meeting of cleaners, catering workers and security guards employed by Mitie at Sellafield, Cumbria our members sold 19 copies, and over two demonstrations in London in support of the Sudanese revolution we sold 52 copies of the Socialist.
Also 57 were sold at meetings and campaign stalls in Barking in the week following the devastating fire at the flats in Barking Riverside. Added to this is the tremendous 203 copies bought by delegates at the recent Unison union conference.
And now, the Socialist is also available in an e-reader format. For a monthly subscription of only £2.50 readers can get the e-paper every Wednesday in a format that is suitable for iphones and ipads, android phones and tablets and for Kindle devices.
It also means a big saving on postage costs for the Socialist Party. Would you consider changing your Socialist subscription to an e-subscription?
Of course, it's vital that all our members still take sufficient supplies of the Socialist to sell on their local campaign activities and at workplaces, colleges and universities, as well as to friends, neighbours, and work colleagues.
Socialist Party members can get supplies of the Socialist from their local branch meetings. However, if you are unable to get to a local meeting we will still post copies of the Socialist to you to boost our sales.
---
In this issue
---
Workplace news

Angry Usdaw members strike at Sainsbury's distribution centre over sick pay cut

Sick of your boss? Join a union! Fight for socialism

Construction workers protest in defence of union rights and against anti-worker EU

Socialists in PCS union launch new group to fight general secretary election

Steps forward and missed opportunities at Unite rules conference

London Arriva bus drivers vote for strike action over bullying and workload

Birmingham school strike for safe working environment

Lancashire Stagecoach drivers continue their fight

Birmingham uni workers strike against terms and conditions attacks
---
What we think

Sinister moves against Corbyn can be beaten by clear socialist policies
---
News

Same old millionaire Tories - Fight to kick them out

Nationalisation is answer to Southern Water cover up

Gig-economy exploitation doubles

Even social-care bosses say cuts have gone too far

Them & Us

What we saw
---
Stonewall riots

Stonewall riots' legacy shows need for socialist struggle to win LGBT+ liberation
---
Socialist Party reports and campaigns

Socialist Party secures new offices

Angry Barking residents protest outside sales office

Tamil Solidarity Day: Linking up oppressed people's struggles

Coventry says no to congestion charge

Carlisle Labour/Lib Dem coalition cuts care home beds

Sell the Socialist and take out an e-subscription

Lincoln Uni NUS disaffiliation: a question of on-campus democracy

Stourbridge: Keep our college!
---
International socialist news and analysis

New opportunity to build working-class fightback after voters punish Erdogan

Irish health workers' anger boils over into strike action
---
Opinion

The Socialist inbox

TV: Years and Years - Engaging family drama pushes confused, reactionary message
---
Home | The Socialist 3 July 2019 | Join the Socialist Party