The Socialist 3 July 2019
Same old millionaire Tories - Fight to kick them out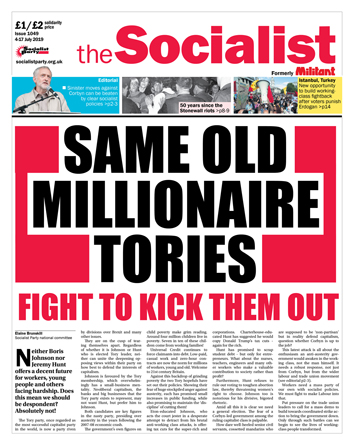 ---
Angry Usdaw members strike at Sainsbury's distribution centre over sick pay cut
Sick of your boss? Join a union! Fight for socialism
Construction workers protest in defence of union rights and against anti-worker EU
Socialists in PCS union launch new group to fight general secretary election
Steps forward and missed opportunities at Unite rules conference
London Arriva bus drivers vote for strike action over bullying and workload
Birmingham school strike for safe working environment
Lancashire Stagecoach drivers continue their fight
Birmingham uni workers strike against terms and conditions attacks
---
Sinister moves against Corbyn can be beaten by clear socialist policies
---
Same old millionaire Tories - Fight to kick them out
Nationalisation is answer to Southern Water cover up
Gig-economy exploitation doubles
Even social-care bosses say cuts have gone too far
---
Stonewall riots' legacy shows need for socialist struggle to win LGBT+ liberation
---
Socialist Party secures new offices
Angry Barking residents protest outside sales office
Tamil Solidarity Day: Linking up oppressed people's struggles
Coventry says no to congestion charge
Carlisle Labour/Lib Dem coalition cuts care home beds
Sell the Socialist and take out an e-subscription
Lincoln Uni NUS disaffiliation: a question of on-campus democracy
Stourbridge: Keep our college!
---
New opportunity to build working-class fightback after voters punish Erdogan
Irish health workers' anger boils over into strike action
---
TV: Years and Years - Engaging family drama pushes confused, reactionary message
PO Box 1398, Enfield EN1 9GT
020 8988 8777

Link to this page: https://www.socialistparty.org.uk/issue/1049/29336
Home | The Socialist 3 July 2019 | Join the Socialist Party
Subscribe | Donate | Audio | PDF | ebook
Birmingham uni workers strike against terms and conditions attacks
Unison members working in catering, cleaning and security held a well-supported one-day strike at the University of Birmingham on 28 June. They were protesting against the removal of premium payments for weekend and anti-social hours and reduction of holiday entitlement by a week.
They also expect some staff to commence collecting work materials in their own time instead of the university's as is currently the case. In addition, they refuse to become a Living Wage employer unlike many other universities.
There were well attended and lively picket lines at several entrances and a mood of defiance over the university's intentions. The vice chancellor, who is currently on a basic salary of £447,000 a year plus an £80,000 bonus and other perks, has demanded a real terms pay cut for his lowest paid workers.
Birmingham South West Socialist Party members
---
In this issue
---
Workplace news

Angry Usdaw members strike at Sainsbury's distribution centre over sick pay cut

Sick of your boss? Join a union! Fight for socialism

Construction workers protest in defence of union rights and against anti-worker EU

Socialists in PCS union launch new group to fight general secretary election

Steps forward and missed opportunities at Unite rules conference

London Arriva bus drivers vote for strike action over bullying and workload

Birmingham school strike for safe working environment

Lancashire Stagecoach drivers continue their fight

Birmingham uni workers strike against terms and conditions attacks
---
What we think

Sinister moves against Corbyn can be beaten by clear socialist policies
---
News

Same old millionaire Tories - Fight to kick them out

Nationalisation is answer to Southern Water cover up

Gig-economy exploitation doubles

Even social-care bosses say cuts have gone too far

Them & Us

What we saw
---
Stonewall riots

Stonewall riots' legacy shows need for socialist struggle to win LGBT+ liberation
---
Socialist Party reports and campaigns

Socialist Party secures new offices

Angry Barking residents protest outside sales office

Tamil Solidarity Day: Linking up oppressed people's struggles

Coventry says no to congestion charge

Carlisle Labour/Lib Dem coalition cuts care home beds

Sell the Socialist and take out an e-subscription

Lincoln Uni NUS disaffiliation: a question of on-campus democracy

Stourbridge: Keep our college!
---
International socialist news and analysis

New opportunity to build working-class fightback after voters punish Erdogan

Irish health workers' anger boils over into strike action
---
Opinion

The Socialist inbox

TV: Years and Years - Engaging family drama pushes confused, reactionary message
---
Home | The Socialist 3 July 2019 | Join the Socialist Party