The Socialist 3 July 2019
Same old millionaire Tories - Fight to kick them out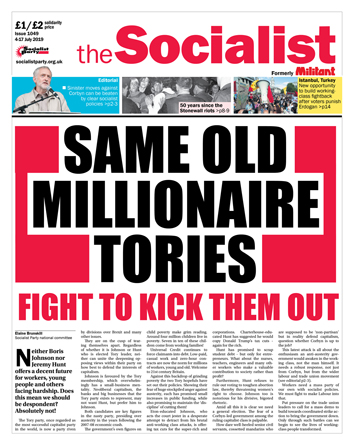 ---
Angry Usdaw members strike at Sainsbury's distribution centre over sick pay cut
Sick of your boss? Join a union! Fight for socialism
Construction workers protest in defence of union rights and against anti-worker EU
Socialists in PCS union launch new group to fight general secretary election
Steps forward and missed opportunities at Unite rules conference
London Arriva bus drivers vote for strike action over bullying and workload
Birmingham school strike for safe working environment
Lancashire Stagecoach drivers continue their fight
Birmingham uni workers strike against terms and conditions attacks
---
Sinister moves against Corbyn can be beaten by clear socialist policies
---
Same old millionaire Tories - Fight to kick them out
Nationalisation is answer to Southern Water cover up
Gig-economy exploitation doubles
Even social-care bosses say cuts have gone too far
---
Stonewall riots' legacy shows need for socialist struggle to win LGBT+ liberation
---
Socialist Party secures new offices
Angry Barking residents protest outside sales office
Tamil Solidarity Day: Linking up oppressed people's struggles
Coventry says no to congestion charge
Carlisle Labour/Lib Dem coalition cuts care home beds
Sell the Socialist and take out an e-subscription
Lincoln Uni NUS disaffiliation: a question of on-campus democracy
Stourbridge: Keep our college!
---
New opportunity to build working-class fightback after voters punish Erdogan
Irish health workers' anger boils over into strike action
---
TV: Years and Years - Engaging family drama pushes confused, reactionary message
PO Box 1398, Enfield EN1 9GT
020 8988 8777

Link to this page: https://www.socialistparty.org.uk/issue/1049/29339
Home | The Socialist 3 July 2019 | Join the Socialist Party
Subscribe | Donate | Audio | PDF | ebook
The Socialist inbox
Do you have something to say?
Send your news, views and criticism in not more than 150 words to Socialist Postbox, PO Box 24697, London E11 1YD, phone 020 8988 8771 or email [email protected]
We reserve the right to shorten and edit letters. Don't forget to give your name, address and phone number. Confidentiality will be respected if requested.
Views of letter writers do not necessarily match those of the Socialist Party.
---
Peterborough wake-up call
The public's growing disenchantment with the two main parties has meant by-elections have often resulted in a 'wake-up call' expressed by a protest vote for a one-issue party coming from 'nowhere'. The recent EU parliament elections certainly punished the two main parties and nothing had happened since to indicate a change in the public mood.
Although Peterborough was a (marginal) Labour seat, it was previously held by the Tories (2005-17); seen as 'middle England'; voted 60% Leave in 2016; and its local MP had been publicly removed by a recall election following her criminal conviction. For these reasons at the time the by-election was announced the Tories were the bookies' favourite to regain the seat.
There was little to no press coverage during the election campaign, which usually suggests Labour is expected to hold on. However, on election day, 6 June, the national press woke up, with reports under headlines such as "Brexit Party set to win by-election" (the Times).
Not surprising, perhaps, because in the EU election the Brexit Party had received 16,000 votes, twice as large as its nearest rival, Labour, with the Tories woefully in fourth.
The press also reported the Labour candidate Lisa Forbes, a local Unite union activist, had been accused of antisemitism because she had 'liked' a Facebook video "about showing solidarity with the terrorist victims in Christchurch without reading the accompanying text" (a "Labour source" reported by the Times).
This apparently claimed Theresa May had a "Zionist slave masters' agenda." Forbes apologised for her mistake, but Jewish groups demanded Labour disown her. Labour did not.
At the election count, Nigel Farage suddenly appeared, a sure sign the Brexit Party were expecting to win - and then before the announcement of the result, Farage just as suddenly disappeared!
Labour won by 683 votes, slightly more than in 2017 on a reduced turnout. But Labour's share of the vote was 31% - the lowest winning share in a by-election since 1918.
Jeremy Corbyn's anti-austerity message will have won some votes, especially in the context of the local council being Tory-controlled. Throughout the campaign, Labour had by far the most troops on the ground, culminating in 500 activists on election day. Impressive though that may be, it is the message that matters more.
Labour's 31% share was 17 percentage points lower than in 2017 when Jeremy Corbin's game-changer manifesto appeared promising an end to austerity.
So Peterborough was a welcome Labour victory, but nevertheless another 'wake-up call': a socialist programme is needed to guarantee an anti-austerity Corbyn victory at the next general election.
John Merrell, Leicester
---
In this issue
---
Workplace news

Angry Usdaw members strike at Sainsbury's distribution centre over sick pay cut

Sick of your boss? Join a union! Fight for socialism

Construction workers protest in defence of union rights and against anti-worker EU

Socialists in PCS union launch new group to fight general secretary election

Steps forward and missed opportunities at Unite rules conference

London Arriva bus drivers vote for strike action over bullying and workload

Birmingham school strike for safe working environment

Lancashire Stagecoach drivers continue their fight

Birmingham uni workers strike against terms and conditions attacks
---
What we think

Sinister moves against Corbyn can be beaten by clear socialist policies
---
News

Same old millionaire Tories - Fight to kick them out

Nationalisation is answer to Southern Water cover up

Gig-economy exploitation doubles

Even social-care bosses say cuts have gone too far

Them & Us

What we saw
---
Stonewall riots

Stonewall riots' legacy shows need for socialist struggle to win LGBT+ liberation
---
Socialist Party reports and campaigns

Socialist Party secures new offices

Angry Barking residents protest outside sales office

Tamil Solidarity Day: Linking up oppressed people's struggles

Coventry says no to congestion charge

Carlisle Labour/Lib Dem coalition cuts care home beds

Sell the Socialist and take out an e-subscription

Lincoln Uni NUS disaffiliation: a question of on-campus democracy

Stourbridge: Keep our college!
---
International socialist news and analysis

New opportunity to build working-class fightback after voters punish Erdogan

Irish health workers' anger boils over into strike action
---
Opinion

The Socialist inbox

TV: Years and Years - Engaging family drama pushes confused, reactionary message
---
Home | The Socialist 3 July 2019 | Join the Socialist Party
Related links:

The Socialist Inbox

The Socialist Inbox

The Socialist Inbox

The Socialist Inbox

The Socialist Inbox

National finance meeting

Tory splits and infighting growing

Unite general secretary campaign: Left candidates speak to the Socialist

Unite general secretary campaign: Statement from Sharon Graham

Southampton Socialist Party: A report from NSSN conference

Southampton Socialist Party: The life of Black Panther Fred Hampton

Queues at Socialist Party stall in Cov

Birmingham Clean Air Zone a tax on the poor

Enfield byelection: We need councillors prepared to resist

Left candidate needed for Unite general secretary election

National demonstration: 'After Covid - Demand a New Normal'