The Socialist 3 July 2019
Same old millionaire Tories - Fight to kick them out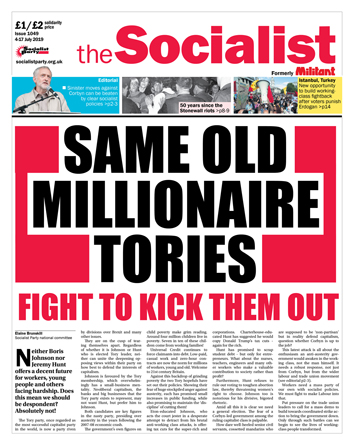 ---
Angry Usdaw members strike at Sainsbury's distribution centre over sick pay cut
Sick of your boss? Join a union! Fight for socialism
Construction workers protest in defence of union rights and against anti-worker EU
Socialists in PCS union launch new group to fight general secretary election
Steps forward and missed opportunities at Unite rules conference
London Arriva bus drivers vote for strike action over bullying and workload
Birmingham school strike for safe working environment
Lancashire Stagecoach drivers continue their fight
Birmingham uni workers strike against terms and conditions attacks
---
Sinister moves against Corbyn can be beaten by clear socialist policies
---
Same old millionaire Tories - Fight to kick them out
Nationalisation is answer to Southern Water cover up
Gig-economy exploitation doubles
Even social-care bosses say cuts have gone too far
---
Stonewall riots' legacy shows need for socialist struggle to win LGBT+ liberation
---
Socialist Party secures new offices
Angry Barking residents protest outside sales office
Tamil Solidarity Day: Linking up oppressed people's struggles
Coventry says no to congestion charge
Carlisle Labour/Lib Dem coalition cuts care home beds
Sell the Socialist and take out an e-subscription
Lincoln Uni NUS disaffiliation: a question of on-campus democracy
Stourbridge: Keep our college!
---
New opportunity to build working-class fightback after voters punish Erdogan
Irish health workers' anger boils over into strike action
---
TV: Years and Years - Engaging family drama pushes confused, reactionary message
PO Box 1398, Enfield EN1 9GT
020 8988 8777

Link to this page: https://www.socialistparty.org.uk/issue/1049/29343
Home | The Socialist 3 July 2019 | Join the Socialist Party
Subscribe | Donate | Audio | PDF | ebook
London Arriva bus drivers vote for strike action over bullying and workload
Andy Beadle, former bus driver
London bus drivers have had enough! In a consultative ballot of Unite the Union members at Arriva, drivers voted overwhelmingly for industrial action.
The concern is "failure to adhere to policies and procedures and the erosion of terms and conditions without proper consultation." Basically management bullying.
Arriva operates about a fifth of London buses. Across 15 garages, drivers have voted 1,854 to 69 to back the strike.
Like other workers, many are in debt and feel obliged to work on their rest days. Drivers work five days and get two rest days each week from Saturday to Friday. Most shifts either start very early, finish very late or they are long 'middles'.
Especially in the long summer holiday period, garages have a shortage of workers and rely on overtime to cover the work. Occasionally, you see the supervisor behind the counter tearing their hair out trying to cajole a driver: "Can you do me a favour? Will you work a rest day for me?"
Drivers sometimes need a change of rest day from their rota for personal or family reasons. Most garages, most of the time, are not particularly helpful.
Some drivers requesting rest day swaps are being refused an exchange unless they agree to work a rest day. This profit-before-safety approach is just one of many bullying ways so widespread on London buses.
Ironically, Transport for London (TfL) is about to publish findings on safety concerns over the long hours culture in the industry. Without union strength, TfL could easily turn a blind eye to this or resolve it to workers' detriment in other ways.
Anti-union laws mean there are several hoops to jump through before the Arriva ballot translates into action. But this welcome news has got others asking, "why not in our garage, too?" An Arriva strike could be the spark for wider action.
---
In this issue
---
Workplace news

Angry Usdaw members strike at Sainsbury's distribution centre over sick pay cut

Sick of your boss? Join a union! Fight for socialism

Construction workers protest in defence of union rights and against anti-worker EU

Socialists in PCS union launch new group to fight general secretary election

Steps forward and missed opportunities at Unite rules conference

London Arriva bus drivers vote for strike action over bullying and workload

Birmingham school strike for safe working environment

Lancashire Stagecoach drivers continue their fight

Birmingham uni workers strike against terms and conditions attacks
---
What we think

Sinister moves against Corbyn can be beaten by clear socialist policies
---
News

Same old millionaire Tories - Fight to kick them out

Nationalisation is answer to Southern Water cover up

Gig-economy exploitation doubles

Even social-care bosses say cuts have gone too far

Them & Us

What we saw
---
Stonewall riots

Stonewall riots' legacy shows need for socialist struggle to win LGBT+ liberation
---
Socialist Party reports and campaigns

Socialist Party secures new offices

Angry Barking residents protest outside sales office

Tamil Solidarity Day: Linking up oppressed people's struggles

Coventry says no to congestion charge

Carlisle Labour/Lib Dem coalition cuts care home beds

Sell the Socialist and take out an e-subscription

Lincoln Uni NUS disaffiliation: a question of on-campus democracy

Stourbridge: Keep our college!
---
International socialist news and analysis

New opportunity to build working-class fightback after voters punish Erdogan

Irish health workers' anger boils over into strike action
---
Opinion

The Socialist inbox

TV: Years and Years - Engaging family drama pushes confused, reactionary message
---
Home | The Socialist 3 July 2019 | Join the Socialist Party