The Socialist 3 July 2019
Same old millionaire Tories - Fight to kick them out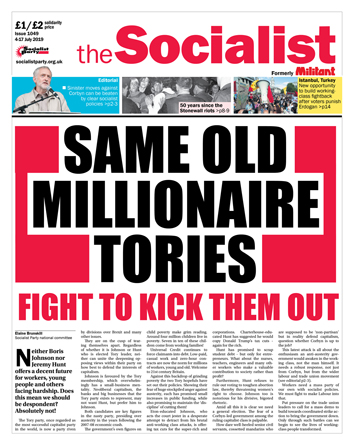 ---
Angry Usdaw members strike at Sainsbury's distribution centre over sick pay cut
Sick of your boss? Join a union! Fight for socialism
Construction workers protest in defence of union rights and against anti-worker EU
Socialists in PCS union launch new group to fight general secretary election
Steps forward and missed opportunities at Unite rules conference
London Arriva bus drivers vote for strike action over bullying and workload
Birmingham school strike for safe working environment
Lancashire Stagecoach drivers continue their fight
Birmingham uni workers strike against terms and conditions attacks
---
Sinister moves against Corbyn can be beaten by clear socialist policies
---
Same old millionaire Tories - Fight to kick them out
Nationalisation is answer to Southern Water cover up
Gig-economy exploitation doubles
Even social-care bosses say cuts have gone too far
---
Stonewall riots' legacy shows need for socialist struggle to win LGBT+ liberation
---
Socialist Party secures new offices
Angry Barking residents protest outside sales office
Tamil Solidarity Day: Linking up oppressed people's struggles
Coventry says no to congestion charge
Carlisle Labour/Lib Dem coalition cuts care home beds
Sell the Socialist and take out an e-subscription
Lincoln Uni NUS disaffiliation: a question of on-campus democracy
Stourbridge: Keep our college!
---
New opportunity to build working-class fightback after voters punish Erdogan
Irish health workers' anger boils over into strike action
---
TV: Years and Years - Engaging family drama pushes confused, reactionary message
PO Box 1398, Enfield EN1 9GT
020 8988 8777

Link to this page: https://www.socialistparty.org.uk/issue/1049/29345
Home | The Socialist 3 July 2019 | Join the Socialist Party
Subscribe | Donate | Audio | PDF | ebook
Angry Usdaw members strike at Sainsbury's distribution centre
Scott Jones, chair, Usdaw East London C026 branch (personal capacity)
Dozens of members of shop workers' union Usdaw picketed Sainsbury's Waltham Point distribution centre in Essex for most of their 24-hour strike against changes to sickness policy.
The solid 27 June strike was called by the warehouse workers who are angry at the proposed changes.
The picket line was joined throughout the day by Socialist Party members including Usdaw president Amy Murphy. Usdaw members from branches in East London, Bishop's Stortford and others also brought solidarity.
Workers were buoyed by taking strike action. Turnout in the ballot was 67% with 73% voting in favour. And there was a good mood on the picket line which brought many of the site's 380 workers together as they talked about other issues such as workload, bullying and pay.
One worker told the Socialist: "We've walked out today over the ridiculous attack on our attendance policy, but it could have been for a whole number of things that we have had a gutful of. But this strike is a great start."
There was also anger at the current government and both Tory leadership candidates, especially Boris Johnson, and their record on the NHS and austerity cuts. All agreed there should be a general election.
This is the second distribution strike organised by Usdaw in the greater London area in as many years as Dagenham Tesco workers walked out in May 2018 for better pay.
The Socialist Party stands in solidarity with those striking back against these attacks and for better pay.
Management doesn't want retail and distribution workers making a habit of standing up for themselves, but the increased fightback shows the effect Amy Murphy, who was elected with support for industrial action one of her main policies, has had as president.
The next day of strike action is 25 July.
.
---
In this issue
---
Workplace news

Angry Usdaw members strike at Sainsbury's distribution centre over sick pay cut

Sick of your boss? Join a union! Fight for socialism

Construction workers protest in defence of union rights and against anti-worker EU

Socialists in PCS union launch new group to fight general secretary election

Steps forward and missed opportunities at Unite rules conference

London Arriva bus drivers vote for strike action over bullying and workload

Birmingham school strike for safe working environment

Lancashire Stagecoach drivers continue their fight

Birmingham uni workers strike against terms and conditions attacks
---
What we think

Sinister moves against Corbyn can be beaten by clear socialist policies
---
News

Same old millionaire Tories - Fight to kick them out

Nationalisation is answer to Southern Water cover up

Gig-economy exploitation doubles

Even social-care bosses say cuts have gone too far

Them & Us

What we saw
---
Stonewall riots

Stonewall riots' legacy shows need for socialist struggle to win LGBT+ liberation
---
Socialist Party reports and campaigns

Socialist Party secures new offices

Angry Barking residents protest outside sales office

Tamil Solidarity Day: Linking up oppressed people's struggles

Coventry says no to congestion charge

Carlisle Labour/Lib Dem coalition cuts care home beds

Sell the Socialist and take out an e-subscription

Lincoln Uni NUS disaffiliation: a question of on-campus democracy

Stourbridge: Keep our college!
---
International socialist news and analysis

New opportunity to build working-class fightback after voters punish Erdogan

Irish health workers' anger boils over into strike action
---
Opinion

The Socialist inbox

TV: Years and Years - Engaging family drama pushes confused, reactionary message
---
Home | The Socialist 3 July 2019 | Join the Socialist Party