The Socialist 4 September 2019
No ifs, no buts... Tories out now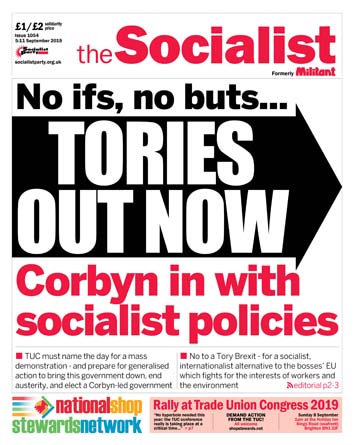 ---
Tories out now - Corbyn in with socialist policies
Marches, blockades, strikes, occupations... How can protests win?
---
Money doesn't make up for cuts - education unions must organise for funding and against Tory attacks
Bury expelled from football league: Boot out the bosses ruining our game
Dozens of protests say Boris must go - Socialist Party policies heard on TV
---
20 September climate action day: Strike to save the planet!
Climate action day - trade union round-up
---
Austerity anger feeds movement for Welsh independence
---
What strategy can end the retail jobs massacre?
Workplace victory emboldens retail workers to get organised
---
TUC: name the day for a mass demo
Nottingham college workers plan 15 days of walkouts
Science Museum Group staff strike over pay restraint
South Western Railway guards strike against DOO
London bus workers protest for better hours and conditions
---
Hong Kong protests: No let-up in trial of strength
---
Socialist Party Youth and Student national meeting
Bradford demo: Self-determination for Kashmir
---
At 96 I'm more convinced of socialism than ever
PO Box 1398, Enfield EN1 9GT
020 8988 8777
editors@socialistparty.org.uk