The Socialist 18 September 2019
Ditch the Tories - and austerity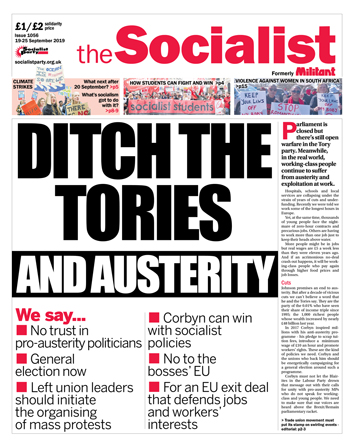 ---
Ditch the Tories - and austerity
Trade union movement must put its stamp on swirling events
---
Climate protests: which way forward after 20 September?
Climate change: what's socialism got to do with it?
---
How students can fight and win
---
Northern Ireland: Campaign mounts over historic sexual abuse allegations cover-up
---
PCS general secretary candidate: unions must mobilise to drive out Boris
Strike back to stop bullying Royal Mail bosses
Lincolnshire health visitors strike boost
DVSA strike - employer asks for talks
Nottingham College UCU - more strike action planned
PCS members at BEIS maintain just fightback
Ilford: strike forces school management to back down
---
Violence against women in South Africa
---
South Yorkshire defeats fire cuts
Donate to help us move our press by October
March planned to save Bewdley Fire Station
London: packed public meeting discusses political crisis
---
Peterloo - fighting for democracy and a better life
PO Box 1398, Enfield EN1 9GT
020 8988 8777

Link to this page: https://www.socialistparty.org.uk/issue/1056/29575
Home | The Socialist 18 September 2019 | Join the Socialist Party
Subscribe | Donate | Audio | PDF | ebook
How students can fight and win
As university campuses reawaken for a new academic year, we ask Socialist Students national organiser Theo Sharieff about the major issues facing students - and how to fight back.
Cuts and marketisation in higher education are greatly reducing the quality and availability of courses and support. How can we fight back?
Workers in the University and College Union (UCU) led the way two years ago when they took strike action on hundreds of university campuses against management's attacks on their pensions. The UCU is balloting for strikes this year too, over pensions again and now also a pay dispute.
Students flocked to support those strikes because they could see a fightback taking place, and understood that it's the workers who have the biggest potential power against campus cuts and marketisation. That's why Socialist Students calls for the building of joint student and worker campaigns, locally and nationally, to defeat cuts to campus services and courses.
But the best way to end cuts and marketisation on our campuses is to link this to the fight for an anti-austerity government that will properly fund our education, unlike the Tories!
Housing is a defining social crisis for the younger generation. What does Socialist Students have to say about it?
The housing crisis is particularly bad for students and young people. At university, students pay extortionate levels of rent to landlords who only provide dilapidated housing and cramped living conditions.
Students' average rent in halls totals £130 a week, while the average maintenance loan students receive is just £138.85 a week. But of course, it isn't only at university we suffer the housing crisis.
One recent study looked at people aged between 20 and 35. The number living with their parents has now climbed to one in four! It illustrates this isn't only the youngest, but the working class more generally which is suffering.
Socialist Students has a proud record of campaigning on the issue of student housing, with our members across the country having launched and led local campaigns. We say that universities should provide decent and affordable student housing for all students, and that students' unions should be leading campaigns for universities to provide such housing.
If local councils used their reserves and borrowing powers to launch mass programmes of council house building, and introduced rent controls for private tenants, the situation for students and workers alike would be transformed.
Tuition fees and student debt are crushing burdens for students and graduates. Is free education achievable?
The Tories are in the midst of a historic political crisis and are splitting apart in parliament. Unelected prime minister Boris Johnson has even managed to lose the Tories' majority in parliament!
They are of course split over the matter of what to do about Brexit in order to best protect the interests of the capitalist class. But they're also split over how to take their system of capitalism forward, which is still in crisis over a decade after the 2007-08 economic crash.
This presents an enormous opportunity to launch a fightback to demand a general election and kick the Tories out of government. Jeremy Corbyn put the demand for free university education central to his manifesto during summer 2017, and has said he wants to fight the next general election on the issue too.
The Tories this year published their report into higher education funding. This suggested lowering the income threshold for loan repayments, and extending the repayment period from 30 to 40 years - they want to shackle us in debt for our lifetimes!
But the then prime minister Theresa May said it's up to the next government whether or not to enact it. So it's all to play for!
Jeremy Corbyn has good policies in many of these areas, but also needs to go further in others. How can students make it all happen?
Corbyn's anti-austerity manifesto in 2017 - which includes free education, extending public ownership in rail and energy, a mass programme of house building, and a £10-an-hour minimum wage for workers of all ages - saw young people queuing round the block to vote for it.
But we say he needs to fight for those policies!
That means not only calling students and workers out onto the streets, and demanding that the trade union leaders organise a like struggle to defeat the Tories. It also means kicking the pro-capitalist MPs out of Labour - the Blairites, who are determined to sabotage Corbyn's anti-austerity promise.
Students, alongside workers, could build an almighty movement that not only kicks out the Tories but pushes a Corbyn-led Labour government further left than it initially intends to go.
Socialist Students, for example, demands not only the scrapping of tuition fees, but also the cancellation of all outstanding student debt. If Corbyn nationalised the banks and top corporations as well as the railways and energy companies, this could let him fund such a programme and prevent sabotage by the billionaires.
So do students have the power to create social change alone?
Students can play an important role in building movements to change society. But we think the key role is played by the working class.
Because it's the working class that really runs all of society - from manufacture and transport to retail and nursing - the working class holds the power to grind the economy to a halt, and with it the bosses' profits.
The trade unions have huge potential power. A united movement of workers, with students fighting alongside them, could transform society.
Meanwhile, students' own union, the National Union of Students (NUS), is in crisis. How can students build the kind of national campaigns - and links with the workers' movement - you've mentioned?
At its last annual delegate conference in Glasgow, the right-wing leadership of the NUS forced through a package of 'reforms'. These are pushing the NUS in the direction of being reduced to the status of a think-tank, rather than an organisation that leads serious struggle for students' rights and conditions.
Socialist Students calls on all students' unions this year to convene emergency meetings on campuses, to allow students to discuss the events inside the NUS, and what the way forward is for the student movement.
Out of these meetings could come a strategy to refound the NUS itself, on fighting and democratic lines, or a plan for a national meeting of students to discuss building an entirely new national students' union.
Regardless of which of these two outcomes emerges, the be all and end all for us is that students need a fighting, national students' union to organise students in the fight to get rid of this rotten Tory government.
---
In this issue
---
What we think

Ditch the Tories - and austerity

Trade union movement must put its stamp on swirling events
---
Climate change

Climate protests: which way forward after 20 September?

Climate change: what's socialism got to do with it?
---
Socialist Students

How students can fight and win
---
Socialist Party feature

Northern Ireland: Campaign mounts over historic sexual abuse allegations cover-up
---
Socialist Party workplace news

PCS general secretary candidate: unions must mobilise to drive out Boris

Strike back to stop bullying Royal Mail bosses

Lincolnshire health visitors strike boost

DVSA strike - employer asks for talks

Nottingham College UCU - more strike action planned

PCS members at BEIS maintain just fightback

Ilford: strike forces school management to back down
---
International socialist news and analysis

Violence against women in South Africa
---
Socialist Party reports and campaigns

South Yorkshire defeats fire cuts

Donate to help us move our press by October

March planned to save Bewdley Fire Station

London: packed public meeting discusses political crisis

Selling the Socialist
---
Opinion

Peterloo - fighting for democracy and a better life

The Socialist inbox
---
Home | The Socialist 18 September 2019 | Join the Socialist Party