The Socialist 18 September 2019
Ditch the Tories - and austerity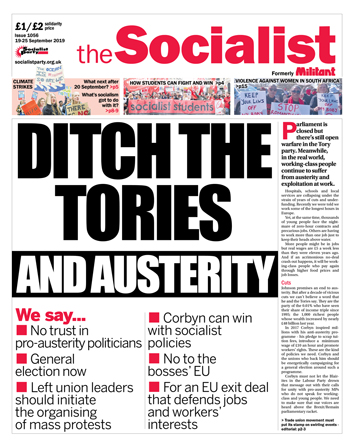 ---
Ditch the Tories - and austerity
Trade union movement must put its stamp on swirling events
---
Climate protests: which way forward after 20 September?
Climate change: what's socialism got to do with it?
---
How students can fight and win
---
Northern Ireland: Campaign mounts over historic sexual abuse allegations cover-up
---
PCS general secretary candidate: unions must mobilise to drive out Boris
Strike back to stop bullying Royal Mail bosses
Lincolnshire health visitors strike boost
DVSA strike - employer asks for talks
Nottingham College UCU - more strike action planned
PCS members at BEIS maintain just fightback
Ilford: strike forces school management to back down
---
Violence against women in South Africa
---
South Yorkshire defeats fire cuts
Donate to help us move our press by October
March planned to save Bewdley Fire Station
London: packed public meeting discusses political crisis
---
Peterloo - fighting for democracy and a better life
PO Box 1398, Enfield EN1 9GT
020 8988 8777

Link to this page: https://www.socialistparty.org.uk/issue/1056/29580
Home | The Socialist 18 September 2019 | Join the Socialist Party
Subscribe | Donate | Audio | PDF | ebook
Selling the Socialist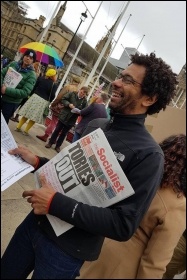 Wherever working-class people are fighting back, expect to find the Socialist on sale, photo by London Socialist Party (Click to enlarge)
Just some of the events where the Socialist newspaper was sold in the past week...
Pontypridd
We sold 20 copies of the Socialist in Pontypridd. Some interesting comments. Corbyn was more popular this week.
"I think a lot of things should be nationalised. Let's hope Corbyn gets in next time," from a woman with kids in her 40s. "Thank goodness for people like you" - from a young woman in a coffee shop apron.
"I gave you a tenner last week in Merthyr," from a guy in his 30s. "Nationalise the banks," from a guy in his 50s. A 13-year-old girl signed too.
Mariam Kamish, Caerphilly Socialist Party
South Yorkshire
Boris Johnson visited South Yorkshire on 13 September. He was harangued on the streets of Doncaster and heckled at a speech in Rotherham.
Socialist Party members joined public service union Unison and others outside the Magna centre in Rotherham, but Boris was whisked in and out again without us even getting sight of him.
As Tim Jones so eloquently puts it: "This takes the piss! Boris addressing business leaders over Brexit in relation to the 'Northern Powerhouse' - in a former steel plant that the Tories destroyed!"
Yorkshire Socialist Party
Oxford
Sam from West Papua, who spoke at Oxford Socialist Party's meeting on 11 September, compared the brutal treatment of West Papuan independence campaigners by the Indonesian state to the British government at Peterloo 200 years ago. "But it is happening every day in West Papua right now!"
We support the right of West Papuans to self-determination, and support the struggle for a socialist West Papua, as part of a struggle for socialism throughout Indonesia and south-east Asia.
Then an excellent 'Tories out' campaign stall in Oxford on 12 September, selling the Socialist and raising fighting fund for our campaign work. Lots of interest, and new people at our meeting in the evening.
Oxford Socialist Party
Birmingham
Boot out Boris, boot out the Tories, boot out all austerity politicians! That was the message for Birmingham Socialist Party's campaigning in Erdington on 14 September.
There was working-class support from the community for a general election, and for Labour to stand on policies of renationalisation, scrapping Universal Credit, mass council home building, and real living-wage jobs of £10 an hour upwards now.
Kris O'Sullivan, Birmingham Socialist Party
Hull
Hull Socialists were at Hull Uni on 16 September, campaigning for #SocialistChangeNotClimateChange.
Matt Whale, Hull Socialist Party
---
In this issue
---
What we think

Ditch the Tories - and austerity

Trade union movement must put its stamp on swirling events
---
Climate change

Climate protests: which way forward after 20 September?

Climate change: what's socialism got to do with it?
---
Socialist Students

How students can fight and win
---
Socialist Party feature

Northern Ireland: Campaign mounts over historic sexual abuse allegations cover-up
---
Socialist Party workplace news

PCS general secretary candidate: unions must mobilise to drive out Boris

Strike back to stop bullying Royal Mail bosses

Lincolnshire health visitors strike boost

DVSA strike - employer asks for talks

Nottingham College UCU - more strike action planned

PCS members at BEIS maintain just fightback

Ilford: strike forces school management to back down
---
International socialist news and analysis

Violence against women in South Africa
---
Socialist Party reports and campaigns

South Yorkshire defeats fire cuts

Donate to help us move our press by October

March planned to save Bewdley Fire Station

London: packed public meeting discusses political crisis

Selling the Socialist
---
Opinion

Peterloo - fighting for democracy and a better life

The Socialist inbox
---
Home | The Socialist 18 September 2019 | Join the Socialist Party