The Socialist 18 September 2019
Ditch the Tories - and austerity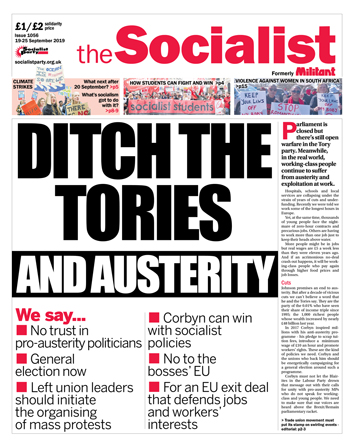 ---
Ditch the Tories - and austerity
Trade union movement must put its stamp on swirling events
---
Climate protests: which way forward after 20 September?
Climate change: what's socialism got to do with it?
---
How students can fight and win
---
Northern Ireland: Campaign mounts over historic sexual abuse allegations cover-up
---
PCS general secretary candidate: unions must mobilise to drive out Boris
Strike back to stop bullying Royal Mail bosses
Lincolnshire health visitors strike boost
DVSA strike - employer asks for talks
Nottingham College UCU - more strike action planned
PCS members at BEIS maintain just fightback
Ilford: strike forces school management to back down
---
Violence against women in South Africa
---
South Yorkshire defeats fire cuts
Donate to help us move our press by October
March planned to save Bewdley Fire Station
London: packed public meeting discusses political crisis
---
Peterloo - fighting for democracy and a better life
PO Box 1398, Enfield EN1 9GT
020 8988 8777

Link to this page: https://www.socialistparty.org.uk/issue/1056/29583
Home | The Socialist 18 September 2019 | Join the Socialist Party
Subscribe | Donate | Audio | PDF | ebook
Strike back to stop bullying Royal Mail bosses
Gary Clark, Secretary Scotland No 2 branch Communications Workers Union (CWU)
Preparations are continuing for the national strike ballot in Royal Mail against its newly installed, openly anti-union management.
Just over a year ago the 'Four Pillars' agreement was signed between the Communications Workers Union (CWU) and Royal Mail bosses. It was viewed by almost everyone as a victory for the CWU.
Under the national agreement we are due another hour off the working week this October, but management has stated that this will only be given if every office makes 5% 'savings'.
This edict is to a workforce already pushed to its limits. Also, management is clearly opposed to a 2020 pay rise for us.
But what has become clear to every single postal worker is that the bullying culture within Royal Mail has passed breaking point.
Hardly a week goes by without a workplace across the UK taking some form of action, either official or unofficial, to defend our members against the extremes of management actions.
The new CEO Rico Back - who came from GLS, a parcel company in Europe owned by Royal Mail which has never recognised trade unions - was paid £6 million as a 'welcome', despite already being employed by the Royal Mail group.
Some of his first actions were to replace the so-called Doves who negotiated the Four Pillars agreement and bring back the 'Hawks' who were sidelined during the Four Pillars dispute.
Royal Mail has announced its five-year plan, which has many major issues for postal workers across the country.
The new parcel plan and the building of three new parcel hubs will mean around 20,000 job losses across the UK.
This is alongside their plans to make a new, separate, limited company for Parcelforce.
Royal Mail breakup
The workforce is to be 'Tupe'd' across to the new company. This is clearly a major danger to the whole of our membership as it will mean, if not overturned, the start of the complete breakup of Royal Mail.
It therefore must be fought by all means. If Parcelforce was to go, what's to stop breaking up the Royal Mail piece by piece?
The response from members so far has been brilliant. We must build on the workplace and gate meetings, to prepare for the fight ahead.
We must make it clear to management that they are heading for a fight where there will be only one winner.
And that will be the union - which has taken on all the previous CEOs and chased them away.
We should prepare to hit them hard right away and, if we require it, with action over and above a 24-hour stoppage.
We also need to appeal to the rest of the labour and trade union movement to build pressure on Royal Mail management and this crisis-ridden Tory government. We could be on strike during a general election!
Jeremy Corbyn should appeal directly to our 100,000 members in Royal Mail, telling them that he is fully behind our action and promising that, if elected, he will take the company back into public ownership, fully honouring the Four Pillars agreement as the first step to improving our working lives.
This is the best way to unite workers whatever their stance on Brexit, and expose the fake radicalism of Boris Johnson and his attempt to cynically appeal to Leave-voting workers.
---
In this issue
---
What we think

Ditch the Tories - and austerity

Trade union movement must put its stamp on swirling events
---
Climate change

Climate protests: which way forward after 20 September?

Climate change: what's socialism got to do with it?
---
Socialist Students

How students can fight and win
---
Socialist Party feature

Northern Ireland: Campaign mounts over historic sexual abuse allegations cover-up
---
Socialist Party workplace news

PCS general secretary candidate: unions must mobilise to drive out Boris

Strike back to stop bullying Royal Mail bosses

Lincolnshire health visitors strike boost

DVSA strike - employer asks for talks

Nottingham College UCU - more strike action planned

PCS members at BEIS maintain just fightback

Ilford: strike forces school management to back down
---
International socialist news and analysis

Violence against women in South Africa
---
Socialist Party reports and campaigns

South Yorkshire defeats fire cuts

Donate to help us move our press by October

March planned to save Bewdley Fire Station

London: packed public meeting discusses political crisis

Selling the Socialist
---
Opinion

Peterloo - fighting for democracy and a better life

The Socialist inbox
---
Home | The Socialist 18 September 2019 | Join the Socialist Party