The Socialist 18 September 2019
Ditch the Tories - and austerity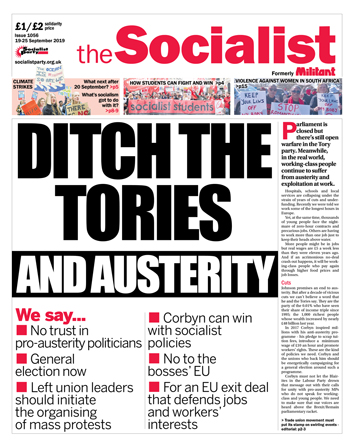 ---
Ditch the Tories - and austerity
Trade union movement must put its stamp on swirling events
---
Climate protests: which way forward after 20 September?
Climate change: what's socialism got to do with it?
---
How students can fight and win
---
Northern Ireland: Campaign mounts over historic sexual abuse allegations cover-up
---
PCS general secretary candidate: unions must mobilise to drive out Boris
Strike back to stop bullying Royal Mail bosses
Lincolnshire health visitors strike boost
DVSA strike - employer asks for talks
Nottingham College UCU - more strike action planned
PCS members at BEIS maintain just fightback
Ilford: strike forces school management to back down
---
Violence against women in South Africa
---
South Yorkshire defeats fire cuts
Donate to help us move our press by October
March planned to save Bewdley Fire Station
London: packed public meeting discusses political crisis
---
Peterloo - fighting for democracy and a better life
PO Box 1398, Enfield EN1 9GT
020 8988 8777

Link to this page: https://www.socialistparty.org.uk/issue/1056/29584
Home | The Socialist 18 September 2019 | Join the Socialist Party
Subscribe | Donate | Audio | PDF | ebook
Lincolnshire health visitors strike boost
Striking Lincolnshire health visitors felt boosted after Jeremy Corbyn gave his support at the recent TUC congress. Three Unite union reps got a standing ovation from congress delegates. They came away feeling their battle is becoming a national issue.
Health visitors have now been on strike 26 days during the past two months against a council imposed pay freeze (ie pay cuts) - the first time ever health visitors have been on strike as a profession.
A health visitor Unite rep from Boston spoke to Jon Dale of Mansfield Socialist Party about their action:
"When you come out on strike it's empowering as you meet all your colleagues facing the same problems.
"I haven't enjoyed the strikes because we don't want to let our families down, but if we don't fight they'll get a worse service in the future.
"I'm seeing a family now with four children. The mother's on maternity leave not getting paid and the father - a farm worker taking home £6,000 a year - got injured and isn't getting paid.
"They can't afford a car or to take the family on a bus. I've had to give them food bank vouchers and take the food to them.
"Our families are suffering from cuts Lincolnshire County Council has carried out. We don't see our families as 'Key Performance Indicators' as senior managers do.
"We spend a long time building up relationships with families, but managers are stopping us doing any preventive work - it's all reactive. People can't be tick boxes. They're cutting down our home visits and expecting families to come to our clinics. How many more can they squeeze into our day?"
Wider ballot
More health visitors have joined Unite from other unions and joined the strikes as the dispute has gone on. However, three months after their ballot, the strike is now being suspended for a further ballot to continue action.
Those on council 'junior health visitor' rather than NHS contracts, not involved in the action so far, are also being balloted and will hopefully join further strike action.
Having applauded health visitors at the TUC, trade union leaders now need to organise real solidarity action and bring together all public service workers facing similar issues. Against such a weak chaotic government, united trade union action could help bring a Corbyn anti-austerity government to power.
---
In this issue
---
What we think

Ditch the Tories - and austerity

Trade union movement must put its stamp on swirling events
---
Climate change

Climate protests: which way forward after 20 September?

Climate change: what's socialism got to do with it?
---
Socialist Students

How students can fight and win
---
Socialist Party feature

Northern Ireland: Campaign mounts over historic sexual abuse allegations cover-up
---
Socialist Party workplace news

PCS general secretary candidate: unions must mobilise to drive out Boris

Strike back to stop bullying Royal Mail bosses

Lincolnshire health visitors strike boost

DVSA strike - employer asks for talks

Nottingham College UCU - more strike action planned

PCS members at BEIS maintain just fightback

Ilford: strike forces school management to back down
---
International socialist news and analysis

Violence against women in South Africa
---
Socialist Party reports and campaigns

South Yorkshire defeats fire cuts

Donate to help us move our press by October

March planned to save Bewdley Fire Station

London: packed public meeting discusses political crisis

Selling the Socialist
---
Opinion

Peterloo - fighting for democracy and a better life

The Socialist inbox
---
Home | The Socialist 18 September 2019 | Join the Socialist Party