The Socialist 18 September 2019
Ditch the Tories - and austerity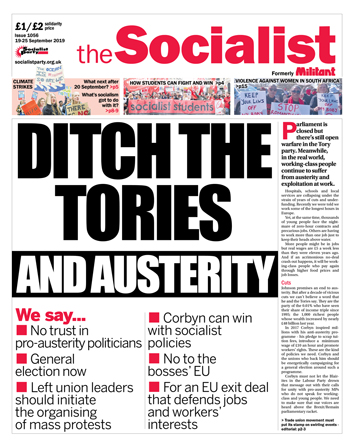 ---
Ditch the Tories - and austerity
Trade union movement must put its stamp on swirling events
---
Climate protests: which way forward after 20 September?
Climate change: what's socialism got to do with it?
---
How students can fight and win
---
Northern Ireland: Campaign mounts over historic sexual abuse allegations cover-up
---
PCS general secretary candidate: unions must mobilise to drive out Boris
Strike back to stop bullying Royal Mail bosses
Lincolnshire health visitors strike boost
DVSA strike - employer asks for talks
Nottingham College UCU - more strike action planned
PCS members at BEIS maintain just fightback
Ilford: strike forces school management to back down
---
Violence against women in South Africa
---
South Yorkshire defeats fire cuts
Donate to help us move our press by October
March planned to save Bewdley Fire Station
London: packed public meeting discusses political crisis
---
Peterloo - fighting for democracy and a better life
PO Box 1398, Enfield EN1 9GT
020 8988 8777

Link to this page: https://www.socialistparty.org.uk/issue/1056/29586
Home | The Socialist 18 September 2019 | Join the Socialist Party
Subscribe | Donate | Audio | PDF | ebook
Unions must mobilise to drive out Boris
Marion Lloyd, PCS national executive committee (personal capacity)
Johnson's a "liar" and Gove's a "disloyal... foam flecked Farageist". So says David Cameron in his recently published autobiography.
But the bigger problem for workers is that these creatures were given a get out of jail card by the failure of Labour to press for a general election before the parliamentary shut down.
The TUC at its Congress in Brighton compounded this mistake by supporting the 'block no-deal first' policy, leaving the Tories in power and free to pursue their anti-worker agenda.
PCS members have as many good reasons for getting rid of the Tories as any other section of the working class.
This is why, at the PCS National Executive Committee meeting prior to the TUC, Broad Left Network supporters, including Socialist Party members, pushed for an emergency motion calling for a "mobilisation through mass protests and demonstrations for a general election and for a government to be elected with a clear anti-austerity programme...".
Unfortunately this was rejected by PCS general secretary Mark Serwotka and his supporters and an opportunity to pose the question to the TUC was lost.
But we cannot sit back and let the Tories go unchallenged. It is time for Left union leaders to urgently make a call for mass action before 31 October to force a general election.
Meanwhile, increasingly, PCS members are taking action to defend their interests. HM Revenue and Customs members in Merseyside started a week-long strike for a living wage on 16 September.
And members in DVSA IT have been out for a month in Swansea and Nottingham (see below).
The long running BEIS strike for a living wage is reportedly close to victory. Foreign and Commonwealth Office members have called further fifth period of strike action after talks broke down.
These are just a few examples of localised disputes taking the fight to our employer - the government.
Also, anger among PCS members is building against office closures and staffing cuts across the civil service.
Marion Lloyd is standing as a candidate for general secretary of PCS in the union's forthcoming election.
She needs at least 15 nominations to get on the ballot paper. Marion is a member of the Socialist Party.Her campaign launch statement can be found on socialistparty.org.uk - 'Fighting PCS general-secretary needed - Marion Lloyd: Why I am standing'. Please share and support her nomination #Marion4GS
Facebook - Marion Lloyd for PCS general secretary
Save the planet - strike and protest on 20 September
20 September is an opportunity for unions to highlight climate change issues. The call for a 30-minute stoppage must be supported by PCS branches who should link up with protests in towns and cities across the UK.
The evidence is now overwhelming that extreme weather events are linked to climate change caused by global warming.
It cannot be left to school student strikes and Extinction Rebellion protests - as important and inspirational as they have been - for action needed to avert a climate catastrophe.
Climate change is a trade union issue. Trade unions must use their collective power for decisive action to achieve the 45% cut in carbon emissions by 2030 and zero emissions by 2050 and to overcome opposition from profit-motivated business interests.
---
In this issue
---
What we think

Ditch the Tories - and austerity

Trade union movement must put its stamp on swirling events
---
Climate change

Climate protests: which way forward after 20 September?

Climate change: what's socialism got to do with it?
---
Socialist Students

How students can fight and win
---
Socialist Party feature

Northern Ireland: Campaign mounts over historic sexual abuse allegations cover-up
---
Socialist Party workplace news

PCS general secretary candidate: unions must mobilise to drive out Boris

Strike back to stop bullying Royal Mail bosses

Lincolnshire health visitors strike boost

DVSA strike - employer asks for talks

Nottingham College UCU - more strike action planned

PCS members at BEIS maintain just fightback

Ilford: strike forces school management to back down
---
International socialist news and analysis

Violence against women in South Africa
---
Socialist Party reports and campaigns

South Yorkshire defeats fire cuts

Donate to help us move our press by October

March planned to save Bewdley Fire Station

London: packed public meeting discusses political crisis

Selling the Socialist
---
Opinion

Peterloo - fighting for democracy and a better life

The Socialist inbox
---
Home | The Socialist 18 September 2019 | Join the Socialist Party