The Socialist 18 September 2019
Ditch the Tories - and austerity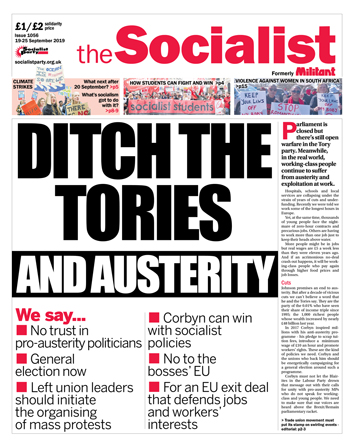 ---
Ditch the Tories - and austerity
Trade union movement must put its stamp on swirling events
---
Climate protests: which way forward after 20 September?
Climate change: what's socialism got to do with it?
---
How students can fight and win
---
Northern Ireland: Campaign mounts over historic sexual abuse allegations cover-up
---
PCS general secretary candidate: unions must mobilise to drive out Boris
Strike back to stop bullying Royal Mail bosses
Lincolnshire health visitors strike boost
DVSA strike - employer asks for talks
Nottingham College UCU - more strike action planned
PCS members at BEIS maintain just fightback
Ilford: strike forces school management to back down
---
Violence against women in South Africa
---
South Yorkshire defeats fire cuts
Donate to help us move our press by October
March planned to save Bewdley Fire Station
London: packed public meeting discusses political crisis
---
Peterloo - fighting for democracy and a better life
PO Box 1398, Enfield EN1 9GT
020 8988 8777

Link to this page: https://www.socialistparty.org.uk/issue/1056/29591
Home | The Socialist 18 September 2019 | Join the Socialist Party
Subscribe | Donate | Audio | PDF | ebook
Northern Ireland: Campaign mounts over historic sexual abuse allegations cover-up
Councillor Donal O'Cofaigh, Cross Community Labour Alternative and CWI Ireland North
Northern Ireland is a society scarred by its history. The legacy of the conflict over the national question is everywhere apparent.
But just as the history of the working class has been excluded consciously from the 'green' and 'orange' narratives, the hidden legacy of sexual abuse of children has also largely been left unexplored.
Fermanagh local journalist Rodney Edwards was investigating reports of a paedophile ring operating in the county when he started to receive more and more reports of sexual abuse spanning decades.
A common feature was that victims had reported incidents to the police, but there was an apparent failure to investigate or see the cases through.
The cases were predominantly reported during the period of the long, armed conflict known as the 'Troubles'.
Those whose names have been made public span the breadth of society. One alleged prominent abuser worked as a bus driver and was reportedly responsible for a range of abuses of children (sometimes on school buses) in the 1980s and 1990s.
Other alleged abusers exposed include the headmaster of a local Catholic primary school (and prominent Gaelic Athletic Association member) and a number of Orange Order members.
Power and authority
The list of alleged abusers is understood to extend to include prominent businessmen, republicans and police.
It seems that many of those most centrally involved in the abuse were in positions of power and authority over children during the Troubles.
Every week for more than six months, Rodney Edwards has brought forward new revelations of sex abuse.
These are sending shockwaves across Fermanagh society and the North of Ireland. More than 60 alleged abusers have been identified (but not named by the newspaper) with more than 50 alleged survivors coming forward.
But not one alleged abuser has been charged let alone brought to a court of law to face a jury trial.
The apparent inaction by police has drawn further questions about why they have failed to act. Attempts to raise the issue at the local council have been stymied, and myself and independent councillors have had our speaking rights curtailed.
I have been threatened with action for raising whether the council has questions to answer - over allegations of child sex abuse occurring in council toilets - by council officials.
The Fermanagh Council of Trade Unions initiated the first protest at Enniskillen Courthouse steps and this has been followed up by two further protests.
Victims of historic childhood sex abuse have spoken out, demanding action from the police and the relevant authorities.
At first, no other politicians were present, despite it being well-publicised. However, there was strong support from local people.
A second protest was held in Enniskillen's town centre the Diamond. Again, union banners were prominent and alleged victims got up to speak publicly and encourage others to come forward and demand justice.
This time representatives of the Democratic Unionist Party, Sinn Fein and the 'cross community' liberal Alliance Party attended and spoke.
Commitments were made that the subject would not be buried but would be discussed freely at the council meetings (commitments that vanished into thin air).
A third protest was held recently at the Enniskillen Courthouse steps to highlight the continued inaction by police on the issue.
The campaign occurs against a backdrop of worsening community divisions and austerity cuts. Recent weeks have seen tensions surge across Northern Ireland over marches, flags, Brexit fears and incendiary speeches by politicians on both sides.
Just days after the 'Justice' campaign protest there was an attempt to kill police and army bomb disposal crews with a secondary explosive device planted in the county.
Historic sex abuse is clearly a pervasive issue in Fermanagh, a situation highly likely to be replicated across Northern Ireland.
Much has been written on how British intelligence facilitated the abuse of boys at the Kincora boys' home, in Belfast, in the early 1970s, which was used to entrap both Unionist and Loyalist political leaders.
At the very least, a culture normalising sex abuse - like domestic violence - predominated during the period of the conflict.
Secret societies and organisations and the deference with which figures of authority were held in this society no doubt contributed to that situation.
The work of the journalists who chose to pursue these stories can bring them into a head-on conflict with elements of the state.
National Union of Journalists national executive member Anton McCabe, who spoke at the most recent rally for justice, highlighted the need to defend press freedom and spoke against police pressures on investigative journalists pursuing historic stories.
The pressure is on local journalists to drop their investigations and exposÚs and 'let the police get on with their work'. Notwithstanding threats and intimidation, that is not going to happen.
Uncovering the truth and the fight for justice for survivors is intimately linked with challenging the culture of deference to authority which has held down and separated working-class people for too long.
It is also part and parcel of finding out the truth of the capitalist state's role during the conflict.
Seeking justice for the victims of sex abuse is not just about securing closure and support for their ongoing needs - it helps open up the space necessary for working-class people to reshape our society in the future.
The survivors and their supporters who are driving this campaign come from both sides of the community and demonstrate that such an outcome is possible even in a divided society like Northern Ireland.
---
In this issue
---
What we think

Ditch the Tories - and austerity

Trade union movement must put its stamp on swirling events
---
Climate change

Climate protests: which way forward after 20 September?

Climate change: what's socialism got to do with it?
---
Socialist Students

How students can fight and win
---
Socialist Party feature

Northern Ireland: Campaign mounts over historic sexual abuse allegations cover-up
---
Socialist Party workplace news

PCS general secretary candidate: unions must mobilise to drive out Boris

Strike back to stop bullying Royal Mail bosses

Lincolnshire health visitors strike boost

DVSA strike - employer asks for talks

Nottingham College UCU - more strike action planned

PCS members at BEIS maintain just fightback

Ilford: strike forces school management to back down
---
International socialist news and analysis

Violence against women in South Africa
---
Socialist Party reports and campaigns

South Yorkshire defeats fire cuts

Donate to help us move our press by October

March planned to save Bewdley Fire Station

London: packed public meeting discusses political crisis

Selling the Socialist
---
Opinion

Peterloo - fighting for democracy and a better life

The Socialist inbox
---
Home | The Socialist 18 September 2019 | Join the Socialist Party