The Socialist 23 October 2019
Boot out Boris and his bosses' deal. General election now!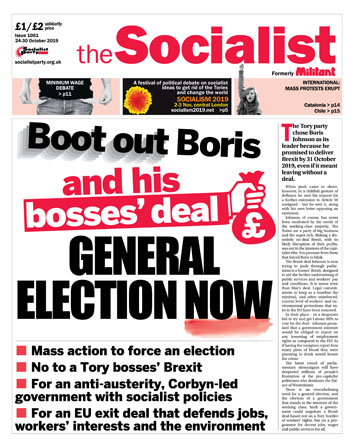 ---
General election is the real 'people's vote'
CWU vote for strike will boost confidence to fight back
---
Boot out Boris and his bosses' deal. General election now!
"I need to get to work! I need to feed my kids!"
Rail report into death of Cardiff Socialist Party member
Boot racism out of football - reclaim the game!
Enfield North Labour Party: Defend local democracy
---
Minimum wage: What should we be demanding?
---
Uniting workers and public to fight the cuts: Interview with Jared Wood - candidate for RMT union executive
Marion Lloyd for PCS union general secretary
Asda contracts: Vital that GMB mobilises for industrial action
NEU members strike against sixth-form funding cuts
Bradford: Workers walk out over council cuts
---
China at the crossroads: 70 years since the declaration of the People's Republic of China
---
Catalonia: Draconian prison sentences of independence leaders provokes mass protests and strikes
Chile: An outpouring of rage against the capitalist system
Solidarity with the Kurdish people
Massive protests against Lebanon's corrupt elite
---
Join the party that dares to fight for socialism
Packed labour movement service a fitting farewell to Tony Mulhearn
Socialism 2019: Join us for a festival of ideas
Burnt-out Barking residents picket builders' sales day
Which way forward for the working people and youth of Nigeria?
Posties speak at Basingstoke Socialist Party public meeting
Socialists attract support at first Newton Abbot meeting
---
PO Box 1398, Enfield EN1 9GT
020 8988 8777
editors@socialistparty.org.uk