The Socialist 27 November 2019
Vote for jobs homes, services. Tories out, Corbyn in. Fight for socialist policies.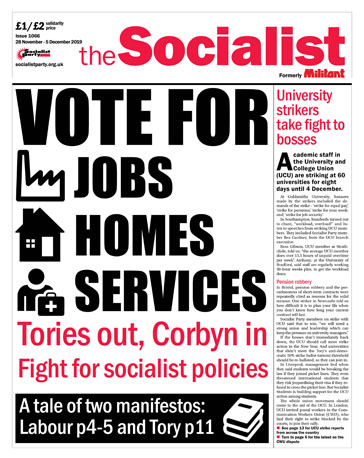 ---
Labour's manifesto: fight to transform hope into a socialist society
---
Regime's fuel price rise sparks massive protests across Iran
Sri Lanka: Presidential election sees return of dictatorial Rajapaksa clan
---
Tory election campaign's dirty tricks and lies
Resist attacks against free speech on campus
Northern Ireland: strike action by NHS workers
Prince Andrew outrage exposes establishment
---
End council cuts now, to end Tory austerity!
---
Uni strike takes fight to bosses
CWU's right to defend members is on the line
South Western Railway strike: "We're up for the fight"
PCS union ballot closes 12 December: Marion Lloyd for general secretary
Sixth-form college strikes: 'Sticking two fingers up at the Tories'
---
Trump and Tories are a threat to environment
Brighton anti-academy campaign steps up
Posties withdraw goodwill from cruel bosses
Help fund the fightback: sponsor my marathon
Buy a historical biography for Christmas
---
The private sector will never provide broadband to every home, nationalisation will
Plymouth Blairites side with anti-tenant landlords
PO Box 1398, Enfield EN1 9GT
020 8988 8777
editors@socialistparty.org.uk