The Socialist 25 March 2020
Coronavirus crisis: Tests, full pay and funding - for all now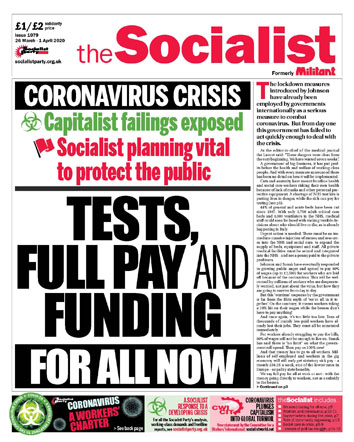 ---
Coronavirus crisis: Tests, full pay and funding - for all now
State intervention shows what is possible
---
Coronavirus and domestic violence: a double threat to women's lives
---
We need tests for all now! Nationalise production and research
Retail and the coronavirus outbreak - organise to defend workers interests
Transport union RMT demands action for coronavirus tube safety
Organising in the workplace in the time of coronavirus
Union independence must be maintained - a reply to the Trade Union Congress
University workers win full pay for casual staff
Bosses not workers should pay for JCB shutdown
---
Social care: "Not good enough by miles"
---
30 years since the huge anti-poll tax demo... And how mass non-payment of the tax was built
---
Coronavirus: What role could community support groups play?
Like what we say, help us keep saying it - fund the Socialist
'Meeting' to discuss socialist ideas - more vital than ever during the crisis
---
Going viral: Socialist letters and comments on the coronavirus crisis
PO Box 1398, Enfield EN1 9GT
020 8988 8777

Link to this page: https://www.socialistparty.org.uk/issue/1079/30481
Home | The Socialist 25 March 2020 | Join the Socialist Party
Subscribe | Donate | Audio | PDF | ebook
Coronavirus crisis
Tests, full pay and funding - for all now
Capitalist failings exposed
Socialist planning vital to protect the public
The lockdown measures introduced by Johnson have already been employed by governments internationally as a serious measure to combat coronavirus. But from day one this government has failed to act quickly enough to deal with the crisis.
As the editor-in-chief of the medical journal the Lancet said: "These dangers were clear from the very beginning. We have wasted seven weeks".
A government of big business, it has put profits before the health and welfare of working-class people. And with every measure announced there has been no detail on how it will be implemented.
Cuts and austerity have meant frontline health and social care workers risking their own health because of lack of masks and other personal protective equipment. A shortage of NHS test kits is putting lives in danger, while the rich can pay for testing.
44% of general and acute beds have been cut since 1987. With only 3,700 adult critical care beds and 8,000 ventilators in the NHS, medical staff could soon be faced with making terrible decisions about who should live or die, as is already happening in Italy.
Urgent action is needed. There must be an immediate massive injection of money and resources into the NHS and social care, to expand the supply of beds, equipment and staff. All private medical facilities must be seized and integrated into the NHS - and not a penny paid to the private profiteers.
Johnson and Sunak have eventually responded to growing public anger and agreed to pay 80% of wages (up to £2,500) for workers who are laid off because of the coronavirus. This will be welcomed by millions of workers who are desperately worried, not just about the virus, but how they are going to survive from day to day.
But this 'wartime' response by the government is far from the Blitz myth of 'we're all in it together'. On the contrary, it means workers taking a 20% hit on their wages while the bosses don't have to pay anything!
And once again, it's too little too late. Tens of thousands of mainly low-paid workers have already lost their jobs. They must all be reinstated immediately.
For workers already struggling to pay the bills, 80% of wages will not be enough to live on. Sunak has said there is "no limit" on what the government will spend. Then pay us 100% now!
And that money has to go to all workers. Millions of self-employed and workers in the gig economy will still only get statutory sick pay - a measly £94.25 a week, one of the lowest rates in Europe - or paltry state benefits.
We say full pay for all at work or not - with the money going directly to workers, not as a subsidy to the bosses.
It's good that that the government has announced some limited legal protection against summary evictions. But some workers are continuing to be kicked out of their homes.
And rent will still be due, with renters facing huge debts and possible eviction further down the line. Rents and mortgages must be written off for the duration of the crisis, and democratically controlled hardship funds set up for small landlords in genuine need.
Johnson is pleading with manufacturing industry to help with producing ventilators. But for private companies profit always come first.
The pharmaceutical companies were researching a coronavirus vaccine during the 2003 Sars epidemic but abandoned it when the epidemic ended because they no longer had a profitable market. These companies should be brought into public ownership, under democratic workers' control. Big pharma should be integrated into the NHS to guarantee research and the production and supply of medicines, vaccines and treatments.
The big supermarket companies have been quite happy to see their shelves empty as long as their cash tills are full. Now under pressure they have been forced to introduce an element of rationing.
And the government is 'relaxing' competition rules so that the retail companies can coordinate food supplies and use each others' vehicles for distribution. But the supermarket bosses put profit before all else and cannot be left in charge of who can get hold of essentials.
It couldn't be clearer. The coronavirus crisis has exposed the complete inability of the capitalist market economy, based on profit and competition, to meet the needs of working-class people. More and more the state is having to intervene to try and plug the gaps, and overcome the inadequacies of the market.
The economy is crying out for a coordinated plan of production and distribution of food, medical equipment and supplies, and other goods. But that will only be possible if the major manufacturing, service and financial industries are taken into public ownership and control. Then workers, consumers and service users could democratically decide what will be produced, where it will be distributed, and guarantee a decent income for everyone.
Coronavirus is turning the world upside down. We need to organise and fight to ensure that the future is a socialist one - meeting the needs of the majority in society, not just a rich and powerful minority. Join us in that fight.
---
---
In this issue
---
What we think

Coronavirus crisis: Tests, full pay and funding - for all now

State intervention shows what is possible
---
Coronavirus news

Coronavirus and domestic violence: a double threat to women's lives

Coronavirus news in brief
---
Coronavirus workplace news

We need tests for all now! Nationalise production and research

Retail and the coronavirus outbreak - organise to defend workers interests

Transport union RMT demands action for coronavirus tube safety

Organising in the workplace in the time of coronavirus

Union independence must be maintained - a reply to the Trade Union Congress

University workers win full pay for casual staff

Bosses not workers should pay for JCB shutdown
---
Social care

Social care: "Not good enough by miles"
---
Poll Tax

30 years since the huge anti-poll tax demo... And how mass non-payment of the tax was built
---
Coronavirus organising

Coronavirus: What role could community support groups play?

Selling the Socialist

Like what we say, help us keep saying it - fund the Socialist

'Meeting' to discuss socialist ideas - more vital than ever during the crisis
---
Readers' opinion

Going viral: Socialist letters and comments on the coronavirus crisis
---
Home | The Socialist 25 March 2020 | Join the Socialist Party