The Socialist 25 March 2020
Coronavirus crisis: Tests, full pay and funding - for all now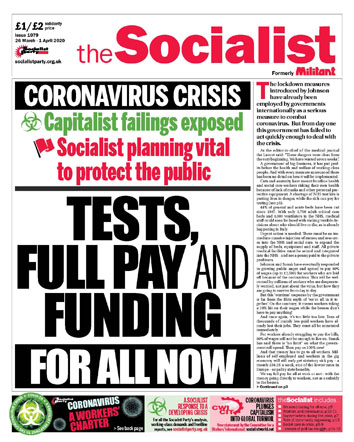 ---
Coronavirus crisis: Tests, full pay and funding - for all now
State intervention shows what is possible
---
Coronavirus and domestic violence: a double threat to women's lives
---
We need tests for all now! Nationalise production and research
Retail and the coronavirus outbreak - organise to defend workers interests
Transport union RMT demands action for coronavirus tube safety
Organising in the workplace in the time of coronavirus
Union independence must be maintained - a reply to the Trade Union Congress
University workers win full pay for casual staff
Bosses not workers should pay for JCB shutdown
---
Social care: "Not good enough by miles"
---
30 years since the huge anti-poll tax demo... And how mass non-payment of the tax was built
---
Coronavirus: What role could community support groups play?
Like what we say, help us keep saying it - fund the Socialist
'Meeting' to discuss socialist ideas - more vital than ever during the crisis
---
Going viral: Socialist letters and comments on the coronavirus crisis
PO Box 1398, Enfield EN1 9GT
020 8988 8777

Link to this page: https://www.socialistparty.org.uk/issue/1079/30489
Home | The Socialist 25 March 2020 | Join the Socialist Party
Subscribe | Donate | Audio | PDF | ebook
Social care: "Not good enough by miles"
Boris Johnson has said that non-urgent operations will be cancelled, and people already in hospital sent home, to free up 30,000 general and acute beds in the NHS to accommodate coronavirus patients. According to Johnson, they will be released into the care of "community health providers".
Many of these people will be elderly with important social needs. But how will the social care sector cope with the coronavirus crisis after years of privatisation and Tory government imposed austerity implemented by local Labour councils?
Glynn Doherty, a trade union organiser, looks at the state of social care, and what demands the labour movement should be fighting for.
£8 billion needed - not gonna happen without a fight
Announcing an extra £5bn for the NHS in the budget, chancellor Rishi Sunak added an afterthought - the money was for "social care too", unintentionally emphasising the poorer-cousin status of the social care sector.
But failures in social care seriously hamper NHS services. Between the 2017 and 2019 general elections, lack of social care led to 2.5 lost million bed days in the NHS, costing £587 million or £27,000 every hour.
The one constant for each austerity and 'post-austerity' government is universal disapproval of their handling of social care. From care providers to service users, condemnation is continual and rightly so!
The Tories gave just one page of their 2019 election manifesto to social care. Simon Bottery, social care lead at the King's Fund think tank tweeted: "This conservative manifesto 'three-point plan' for #socialcare isn't a plan and arguably doesn't even have three points. It involves: 1. A small amount of cash, 2. An offer of cross party talks with a 'red line' on their goals. Not good enough by miles."
Even Boris Johnson said "I accept the full plan needs to be developed"! But it has not been developed since.
Health and social care secretary Matt Hancock has written to MPs seeking a "cross-party consensus" on reforming funding, which critics translate as 'We've not got a plan, have you? It can't include extra money BTW'.
Almost 850,000 people were receiving long-term care in England in 2018, and an ageing population will increase demand. (Just under half of current social care expenditure is on working-age adults).
Lack of funding
The lack of funding is acute. The Local Government Association says adult social care services will face a funding gap of nearly £4 billion by 2025, just to cover basic inflationary and demographic pressures.
The government claims councils have an extra £1.5 billion for social care this year but a third of that is only available if they increase council tax by 2%. A further £220 million is already 'spent' to pay for April's minimum wage rise.
Austerity has hit social care harder than most sectors. Spending on adult care by local authorities in 2018/19 was £22.2 billion, £300 million below the level it was in 2010/11.
One in eight care homes has closed in the past decade, and this figure continues to rise. Over 1,600 no longer exist.
Of those that remain, far too many are in the private sector where the accumulation of profit, not the provision of care, is primary.
The Centre for Health and Public Interest published research last year estimating 10% of income for private residential care homes suspiciously "leaked out" each year.
Across the 26 largest care home providers in the UK, £261 million of the money they receive to provide care goes towards repaying debt; £117 million in payments to related companies - a known way of dodging tax and hiding profits.
Public sector union Unison quotes a figure of £8 billion that experts say is needed immediately to restore acceptable standards and access to care.
That sort of figure is not going to be invested unless there is a battle for it; a fight that must include trade unions, campaigning organisations, service users and providers and Labour councils, who must stop making cuts and use their reserves and borrowing powers to set needs budgets.
Underpaid. Overstretched. Leaving.
1.5 million people work in adult social care in England, in 1.1 million full-time equivalent jobs. Most of them are employed by one of the 18,500 small and medium-sized private providers. There are also almost 150,000 jobs where carers are directly employed by service users. However, virtually a third of care workers leave the social care profession each year. There are currently 120,000 vacancies!
Why? The median hourly pay of care workers is around £8.00 an hour, and the average wage in the sector is below that of shopworkers and cleaners. That's why!
Trade union density is low in social care, particularly outside of local authorities. Even where Unison, Unite or GMB unions have members, these are often in too small numbers to threaten employers with a united workforce. The unions are not really organising in private social care, merely providing an individual representation service.
Unions need to rethink how they can organise care workers. They need to show they're serious in winning higher pay and better working conditions. Legal victories over travelling time (which two-thirds of care workers don't receive) and sleep-in payments have been overturned or rendered toothless. These two issues are crucial in recruitment campaigns - but only by unions promising to fight for workers, not just relying on the courts.
Coronavirus - a social care workers' charter
All the disparity between council and non-council care workers is being highlighted rapidly by the coronavirus pandemic. In the organised sector, full pay has been protected where workers are forced to self-isolate. In non-organised businesses, owners seek to protect profits by making workers pay for the crisis.
But the major effect on social care workers is obvious. The people they look after are the most vulnerable and, therefore, they are put at the highest risk just for doing their job. This needs special consideration and extra demands:
Any care worker who is pregnant, suffers from a chronic organ disease or neurological condition like MS, or has diabetes or is severely asthmatic, should be allowed to self-isolate on full pay immediately
Employers must provide full personal protective equipment (PPE) for all workers at all times. Any worker not provided with adequate PPE to remove themselves from working in potentially dangerous situations on full pay and without disciplinary sanction
Staff who have to miss work through childcare issues during the schools shutdown should not be forced to take leave or resign their post. All care employers to be flexible on shift patterns and workers must not be penalised for actually controlling the spread of the virus
Councils to ensure private providers of social care are granting the same protection measures for staff as local authority care workers. Those failing to do so will lose the contract, with the services - and staff - brought under immediate council control
Councils to refuse to implement cuts, use their reserves and borrowing powers, and organise a campaign to demand that the government finds the money necessary to fund social care and other vital services
Ultimately, the entire care 'industry' must be brought into public ownership and run under democratic control and planning by workers along with service users and their families.
---
Northampton care worker: "It's a case of work until you can't"
Karen Smith
I work in a home with vulnerable adults, many of whom fall into the category of being at a high risk of coronavirus.
The company has instructed us to only allow service users out to any kind of gatherings for essential purposes. This is already proving very difficult, with some on the autistic spectrum not being able to understand why their routine has changed.
Staff are under a lot of pressure, not only to constantly clean but to keep service users distracted all day, every day, for an indeterminate length of time. Most of the staff team make pennies above the minimum wage, many have school-age children, and some are in the high-risk category themselves.
There is no additional incentive for staff at this time - it's a case of work until you can't. Some are already self-isolating under Johnson's instructions.
As support workers we understand that it is our duty to continue supporting our clients the best we can. And it will be our chance to show Boris and his ilk just how 'low-skilled' we are!
Working in the care sector is incredibly stressful and requires multiple skills. Daily we provide personal care, cook meals, clean, take phone calls, arrange appointments and meetings, test fire alarms and equipment, take extensive notes, fill out forms, track, monitor and, of course, deal with challenging behaviour. Challenging behaviour can be shouting and screaming, inappropriate touching or physical assault.
Some of my shifts are 14 hours and rarely will I get a 10-minute break away from service users. However bad working conditions are, unionisation is a struggle.
It is unsurprising every place I have worked since 2012 has had a high staff turnaround. Good, committed and talented staff burn out fastest and move on to better-paid pastures - like their local supermarket.
But the coronavirus crisis could lead to a growing number of support workers standing shoulder to shoulder, unionising to demand better pay, better conditions, and more respect for what is one of the most unappreciated roles in society.
The problem is clear - local authorities are paying huge care packages to private companies to meet the growing needs of the country. These companies are profiting directly from privatisation at the expense of care staff and vulnerable adults.
Risk
Many companies will take on very difficult clients because of the higher income, irrespective of the suitability of the placement, and without increasing staffing levels. This not only puts staff at increased risk of injury, but also other service users who are in care primarily to be kept safe!
I worked in a home where the one male service user assaulted three of the women in the home. It was not until the third woman was hospitalised that he was moved.
In my area some of these companies have failed to meet the needs of the people in their care. Olympus Care Services was recently taken back into public ownership for this reason.
Adult social care is a need that impacts most people in their lifetime. Capitalism is woefully inadequate for dealing with the demands of the sector. Only a democratically owned and run public health and social care sector can provide for our communities.
With full funding, better training and staff paid at decent living wages, social care can be transformed. Not just for the betterment of the staff and service users, but society as a whole.
---
In this issue
---
What we think

Coronavirus crisis: Tests, full pay and funding - for all now

State intervention shows what is possible
---
Coronavirus news

Coronavirus and domestic violence: a double threat to women's lives

Coronavirus news in brief
---
Coronavirus workplace news

We need tests for all now! Nationalise production and research

Retail and the coronavirus outbreak - organise to defend workers interests

Transport union RMT demands action for coronavirus tube safety

Organising in the workplace in the time of coronavirus

Union independence must be maintained - a reply to the Trade Union Congress

University workers win full pay for casual staff

Bosses not workers should pay for JCB shutdown
---
Social care

Social care: "Not good enough by miles"
---
Poll Tax

30 years since the huge anti-poll tax demo... And how mass non-payment of the tax was built
---
Coronavirus organising

Coronavirus: What role could community support groups play?

Selling the Socialist

Like what we say, help us keep saying it - fund the Socialist

'Meeting' to discuss socialist ideas - more vital than ever during the crisis
---
Readers' opinion

Going viral: Socialist letters and comments on the coronavirus crisis
---
Home | The Socialist 25 March 2020 | Join the Socialist Party