The Socialist 25 March 2020
Coronavirus crisis: Tests, full pay and funding - for all now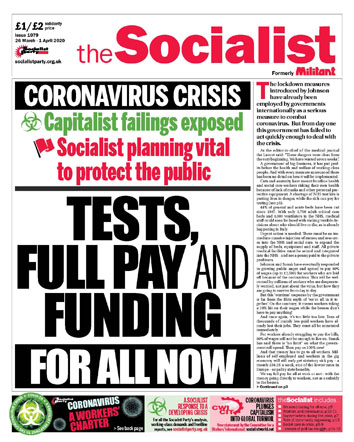 ---
Coronavirus crisis: Tests, full pay and funding - for all now
State intervention shows what is possible
---
Coronavirus and domestic violence: a double threat to women's lives
---
We need tests for all now! Nationalise production and research
Retail and the coronavirus outbreak - organise to defend workers interests
Transport union RMT demands action for coronavirus tube safety
Organising in the workplace in the time of coronavirus
Union independence must be maintained - a reply to the Trade Union Congress
University workers win full pay for casual staff
Bosses not workers should pay for JCB shutdown
---
Social care: "Not good enough by miles"
---
30 years since the huge anti-poll tax demo... And how mass non-payment of the tax was built
---
Coronavirus: What role could community support groups play?
Like what we say, help us keep saying it - fund the Socialist
'Meeting' to discuss socialist ideas - more vital than ever during the crisis
---
Going viral: Socialist letters and comments on the coronavirus crisis
PO Box 1398, Enfield EN1 9GT
020 8988 8777

Link to this page: https://www.socialistparty.org.uk/issue/1079/30493
Home | The Socialist 25 March 2020 | Join the Socialist Party
Subscribe | Donate | Audio | PDF | ebook
Union independence must be maintained - a reply to the Trade Union Congress
Rob Williams, Socialist Party industrial organiser
In its statement: 'Coronavirus help: what workers need now' the TUC sets out its main demands on the government in the current crisis.
It contains useful information for union members and reps. Some of its demands would amount to a big step forward, although we would go much further. But the last point that calls on the government to 'bring together a taskforce of unions and employers to help coordinate the national effort' is very worrying.
Labour and trade union leaders from the right and, unfortunately, the left, including John McDonnell and TUC deputy general secretary Paul Nowak, have made similar comments about this being a period where we must all work in the national interest instead of 'political point scoring.'
In reality, this is capitulating to the pressure of the capitalist media and politicians. Whether we are in so-called 'normal' times or wars and emergencies, there is no single 'national interest' but different class interests. Ultimately, Tory PM Boris Johnson and his cabinet act in the interests of the capitalist class and will continue to do so.
Even the measures which on the surface appear to protect workers, are really concerned with boosting the economy, shoring up present and future profits of big business, and seeking to avoid an economic collapse that would threaten their capitalist profit system.
Any approach by the unions that blurs class lines can disarm workers when the Tories and the bosses move in a more openly aggressive manner against them. Already, unions are issuing joint statements with government departments.
Just hours after the rail and transport unions issued such a call, bus drivers in the south of England were being told that they were going to be laid off without pay. However, through the pressure of the drivers and their union, the RMT, it appears that the company has backed off. The unions cannot afford to give up their independence in this period.
Johnson is putting forward a bill that will give him emergency powers for two years. This is the same Boris Johnson who included in his December Queen's Speech yet more anti-union legislation, targeted specifically at the rail and transport unions. Labour amendments will seek to include a mandatory review after six months.
But why are Labour and the unions not also demanding that new anti-union laws be ruled out, and that all others be repealed, including the Trade Union Act and its undemocratic strike ballot thresholds brought in by Cameron in 2016?
There can be no trust in this anti-worker government, in 'normal' or exceptional times. The TUC's position would amount to an unofficial 'national unity' government, propped by the Labour and trade union leaders. This wouldn't be too far from the war-time national government that included Labour leaders in Churchill's cabinet, along with TGWU leader Ernest Bevin. He became minister of labour and, in effect, policed the government's restrictions on strikes.
Unions have to ensure that independent activity continues, up to and including taking industrial action where necessary to enforce health and safety in the workplaces and stop the attacks of the bosses. Many of the employers will try and avoid measures to protect workers.
In any case, millions of workers have few rights in so-called normal times - in precarious employment and on zero-hour contracts. The unions must seize the opportunity to become a champion for these workers, many of who haven't heard of the trade unions.
But the best way to ensure that these measures are actually implemented and maintained is for the unions to act as a strong independent force. And in this way they will be better prepared for the mighty class battles that will inevitably break out soon.
---
In this issue
---
What we think

Coronavirus crisis: Tests, full pay and funding - for all now

State intervention shows what is possible
---
Coronavirus news

Coronavirus and domestic violence: a double threat to women's lives

Coronavirus news in brief
---
Coronavirus workplace news

We need tests for all now! Nationalise production and research

Retail and the coronavirus outbreak - organise to defend workers interests

Transport union RMT demands action for coronavirus tube safety

Organising in the workplace in the time of coronavirus

Union independence must be maintained - a reply to the Trade Union Congress

University workers win full pay for casual staff

Bosses not workers should pay for JCB shutdown
---
Social care

Social care: "Not good enough by miles"
---
Poll Tax

30 years since the huge anti-poll tax demo... And how mass non-payment of the tax was built
---
Coronavirus organising

Coronavirus: What role could community support groups play?

Selling the Socialist

Like what we say, help us keep saying it - fund the Socialist

'Meeting' to discuss socialist ideas - more vital than ever during the crisis
---
Readers' opinion

Going viral: Socialist letters and comments on the coronavirus crisis
---
Home | The Socialist 25 March 2020 | Join the Socialist Party