The Socialist 25 March 2020
Coronavirus crisis: Tests, full pay and funding - for all now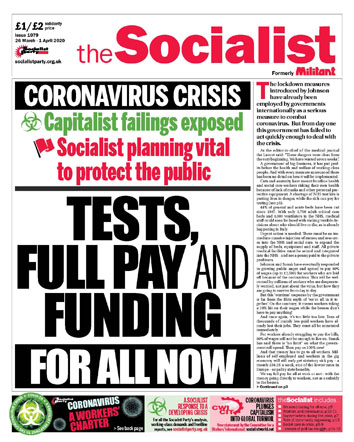 ---
Coronavirus crisis: Tests, full pay and funding - for all now
State intervention shows what is possible
---
Coronavirus and domestic violence: a double threat to women's lives
---
We need tests for all now! Nationalise production and research
Retail and the coronavirus outbreak - organise to defend workers interests
Transport union RMT demands action for coronavirus tube safety
Organising in the workplace in the time of coronavirus
Union independence must be maintained - a reply to the Trade Union Congress
University workers win full pay for casual staff
Bosses not workers should pay for JCB shutdown
---
Social care: "Not good enough by miles"
---
30 years since the huge anti-poll tax demo... And how mass non-payment of the tax was built
---
Coronavirus: What role could community support groups play?
Like what we say, help us keep saying it - fund the Socialist
'Meeting' to discuss socialist ideas - more vital than ever during the crisis
---
Going viral: Socialist letters and comments on the coronavirus crisis
PO Box 1398, Enfield EN1 9GT
020 8988 8777

Link to this page: https://www.socialistparty.org.uk/issue/1079/30494
Home | The Socialist 25 March 2020 | Join the Socialist Party
Subscribe | Donate | Audio | PDF | ebook
Selling the Socialist
Moorfoot, Sheffield Council offices, 7:30am, Friday morning
"It's like the Mary Celeste in here" says first worker going in. But I still sell five copies of the Socialist. Less than usual, but not bad considering more than half the staff are now working from home.
I get some feedback on the front page headlines: 'Coronavirus - System in Crisis'. "That's an understatement" says one, "I think this virus will turn more people into socialists" says another.
I sell the Socialist here every week. I hear the F-word a lot. "Must be Friday". Still hear the F-word if I sell on another morning. "It's not Friday, is it?"
Shows the importance of being consistent to build up sales. Be friendly, be enthusiastic, not too much though at 7:30 am. "Morning", "hiya", boldly show the front page, offer everyone a copy. Only one or two never acknowledge me, so I call them out with my most enthusiastic "morning" call.
It means you get to know people. You end up exchanging pleasantries about holidays, grandkids and the weather. "Bet it's cold for you today?", like you hadn't noticed, stood there freezing. Football banter with the Blades fans, and the one Wednesday supporter. Call out the Tories, "morning comrade!" Talk to the ex-miner, the 'lefty' manager, the Guardian reader, the guy that holidays in Chernobyl. I kid you not - tells me it's now the safest place not to get coronavirus.
But we also talk about council cuts, the homeless sleeping rough by the office doorways, Brexit, Corbyn, the general election and now the Big C. You find out the union members, the Labour Party supporters, the young Corbynistas.
You build up regular readers, occasional sales and first-time buyers. "I've not got any cash on me", "take one, read it, if it's worth it, pay me next week", they always do. Or use a card-reader.
On average I sell 7-8 each issue, with a few for £2 solidarity price. I sold 14 when I shamelessly promoted my front page article on the NHS.
I got a May Day greeting from readers last year. Over the years here, I have met three council workers who bought the Socialist and have gone on to join the Socialist Party.
Alistair Tice
Reading: "Capitalism won't survive"
One young mum said: "Things are so difficult and have been for a long time, this crisis just makes life impossible. I can't see capitalism surviving this."
Patients and health workers at Royal Berkshire hospital stopped to take our leaflets, sign our petition and discuss the impact of the Covid-19 crisis.
It was quieter than normal, but those that stopped thanked us for our campaign work and agreed with our central demands:
1. NHS funding to test and treat
2. Full pay for all workers
This crisis comes on top of the decade of austerity and reveals the impact of cuts, especially to the NHS - people are angry about that.
Carlisle: We won't make rent
The mood on the streets has changed, the fear is now palpable. This is what people are telling us:
One of the medical staff at Cumberland Infirmary told us she'd been working with a cough for weeks, yet there are no tests even for hospital staff. Another confirmed the panicky promises of more equipment were "too little, too late."
Their colleague added: "we've been understaffed and under-equipped for years, but the government has ignored all our warnings - now we're struggling under the effects of all the cuts".
Workers on their dinner break desperately told us they would carry on working, even if they caught the virus, because they couldn't get by on just £94.25-a-week sick pay: "That won't even pay my rent".
One of the five million workers in the gig economy said: "my boss has just told me the government is going to give him £25,000. That's what I get in two years, but I won't see any of that. He said I should sign on, but how can I live for five weeks with no money?"
Brent Kennedy
Southampton: Workers' sacked
Our campaign stall was still busy, even though it was very quiet in town. The picture is clear. Many workers are being laid off unpaid. How many? It must be tens of thousands across the country.
---
In this issue
---
What we think

Coronavirus crisis: Tests, full pay and funding - for all now

State intervention shows what is possible
---
Coronavirus news

Coronavirus and domestic violence: a double threat to women's lives

Coronavirus news in brief
---
Coronavirus workplace news

We need tests for all now! Nationalise production and research

Retail and the coronavirus outbreak - organise to defend workers interests

Transport union RMT demands action for coronavirus tube safety

Organising in the workplace in the time of coronavirus

Union independence must be maintained - a reply to the Trade Union Congress

University workers win full pay for casual staff

Bosses not workers should pay for JCB shutdown
---
Social care

Social care: "Not good enough by miles"
---
Poll Tax

30 years since the huge anti-poll tax demo... And how mass non-payment of the tax was built
---
Coronavirus organising

Coronavirus: What role could community support groups play?

Selling the Socialist

Like what we say, help us keep saying it - fund the Socialist

'Meeting' to discuss socialist ideas - more vital than ever during the crisis
---
Readers' opinion

Going viral: Socialist letters and comments on the coronavirus crisis
---
Home | The Socialist 25 March 2020 | Join the Socialist Party