Link to this page: https://www.socialistparty.org.uk/issue/1080/30519
Home | The Socialist 1 April 2020 | Join the Socialist Party
Subscribe | Donate | Audio | PDF | ebook
Working in Mike Ashley's empire: After lockdown we won't forget how we've been treated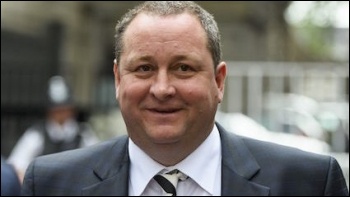 Adam Viteos, a Shop Worker
I work for one of the retail chains in Mike Ashley's empire. As more shops were closing, pressure began mounting for our chain to close too. But we were expected to lone work, rather than simply closing the shop down.
Lines of communication were set up between stores so lone workers could check in regularly - as if this would somehow guarantee their safety.
This move completely backfired. It became a place for workers in different stores to come together.
The bosses have flagrant disregard for our safety. Some angry workers began sharing links to trade union websites.
We would have remained open unless we were specifically told to close. Despite the government finally announcing on Monday 23 March that all non-essential shops were to close, we received emails the next morning from upper management stating that we were expected to work until at least Friday.
Staff safety was put a firm second behind 'securing' stock. Workers were expected to come in and ship stock back to head office.
None of us received personal protective equipment. We were specifically instructed that workers who aren't self-isolating and refuse to work will have their pay docked.
We were told that only a certain number of people were allowed in stores, but simultaneously the company still expected all staff to turn up. At my shop, a skeleton crew agreed to carry out what the company deemed "essential lockdown procedures" and we had everything done by Wednesday.
My manager had been one of the most hostile and antagonistic to any union presence. But they have u-turned, and went as far as altering the timesheet, declaring that all workers had done their week's hours by Wednesday to ensure that nobody lost pay.
Workers' anger at how they have been treated by the bosses won't be forgotten when this lockdown is over.
---
In this issue
---
Coronavirus news

NHS workers speak out: austerity has left us unprepared

Schools: union oversight needed to end chaos in provision under coronavirus

Councils must use resources now for emergency response

NHS supply chain worker: privatisation has cut equipment quantity and quality

Self-isolation class divide: decent homes for all!

Fully fund hospices to care for vulnerable children

Scandalous conditions in food distribution centre

Coronavirus news in brief
---
World War Two

All in this together? The 'Blitz spirit' myth
---
What we think

PPE, tests, full pay - for all now

Labour must resist 'Covid coalition': Workers need their own voice and party

Emergency legislation: Trade unions must be on guard against attacks on workers' interests
---
Food supply and the coronavirus crisis

Capitalism means empty shelves, food insecurity, and soaring profits - the case for a socialist alternative
---
Workplace news

Key workers should make bold demands

Essential workers deserve more

Working in Mike Ashley's empire: After lockdown we won't forget how we've been treated

Hull construction workers force bosses to shut down site over health and safety fears

Bosses concede to walkouts in Northern Ireland

Bus drivers halt sackings - now restore our pay

Postal workers walk out over health, safety and junk mail

Working from home during the pandemic

Leicester: Nylacast worker exposes truth

Refuse collection workers strike
---
Benefits

Fight for safety, staffing and services - Covid chaos for benefits claimants

More than ever, we need accountable union leaders
---
Campaigns

Help us continue to fight for workers and socialism

Building the Socialist Party
---
Readers' opinion

Going viral - Socialist letters and comments on the coronavirus crisis
---
Home | The Socialist 1 April 2020 | Join the Socialist Party