The Socialist 3 June 2020
Stand firm for workplace safety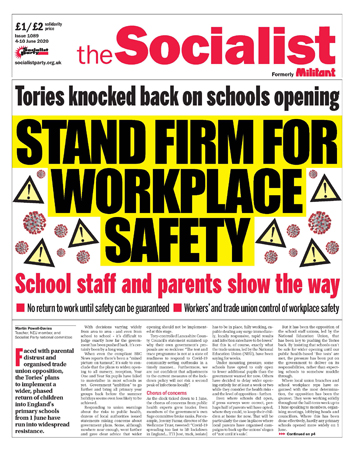 ---
Battered Tories face divisions and growing anger
Protect every job, nationalise don't subsidise
Council finance disaster: set emergency no-cuts budgets and fight for funds!
---
Fight racism and class inequality, fight capitalism!
USA - another cop killing of unarmed black man sparks widespread protests
---
Stand firm for workplace safety
Schools... no going back until it's safe
---
Coordinated union struggle needed to save jobs and nationalise JCB
Reject the university employers' offer on pay, workload and casualisation
Fight continues for safety on London buses
PCS pay claim: Vital work unrecognised
Equity union general secretary election
---
"Test, trace, isolate, support" - the Tories' scheme fails on all counts
Furlough: We are not 'all in the same boat'
Hospital closed following rampant spread of Covid-19
---
Socialism Today special issue: Lessons from the Corbyn experience
Blairite general secretary elected - Starmer's takeover of Labour Party consolidated
---
Football in the time of coronavirus - reclaim our game!
Going viral: Socialist comments and letters
---
Pandemic doesn't stop Socialist Party educating organisers: northern meeting
PO Box 1398, Enfield EN1 9GT
020 8988 8777