The Socialist 1 July 2020
Tories put profit before lives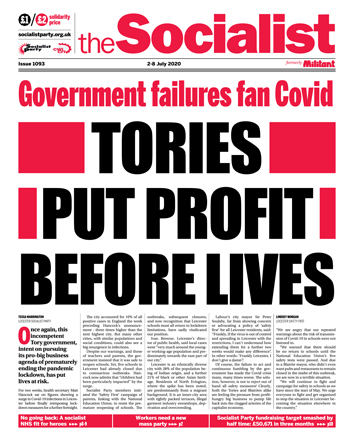 ---
A socialist NHS fit for heroes
---
PCS: Change in leadership needed to secure union's future
Sunday trading: Government blinks first
Trade unionists stand in solidarity with Maxine Peake
Equity union president elections
---
Workers need a new mass party to defend their interests
---
Tories put profit before lives
Tory full return to school plans gamble with lives
Yes to self-identity: Fight for trans rights
Benefits system being used to force return to unsafe workplaces
Leeds City Council in danger of bankruptcy
Capitalism and corruption go hand in hand
---
I left Labour and want to end capitalism - join us in Socialist Party
Cardiff community fights nursery closure: Council must step in
Fighting Fund: Target smashed by half time
Black Lives Matter has not stopped - protesters flock to Socialists
Red flags line road for Ken Douglas
---
75th anniversary of the Attlee Labour government
---
From slavery to Black Lives Matter - racism and capitalist injustice exposed
PO Box 1398, Enfield EN1 9GT
020 8988 8777

Link to this page: https://www.socialistparty.org.uk/issue/1093/30990
Home | The Socialist 1 July 2020 | Join the Socialist Party
Subscribe | Donate | Audio | PDF | ebook
Come to the NSSN conference
2020 conference - Saturday 4 July 11am-2pm
Rob Williams, NSSN chair
The NSSN Conference is a vital forum for trade unionists to come together to discuss our experiences during these crisis-ridden times, and forge a strategy that protects our safety in the workplace, and defends our jobs and income.
The economic and health effects of the Covid-19 pandemic is showing on a daily basis that fighting union organisation is a necessity for workers.
Come and take part in the biggest annual event that brings together fighting rank-and-file union members and campaigners, such as the parents who have organised with education workers against the Tories' reckless re-opening of schools, and the anti-racist protesters who have exploded into action after the killing of George Floyd in the USA.
Agenda (approx times)
10am registration opens
11 am - 12.30pm - Main plenary session including financial appeal/affiliation and request for new steering committee members
Break for 15-30 minutes
Workshops:
Fighting closures and redundancies
Discriminating conditions of BAME workers exposed by Corona and Black Lives Matter, how to defend and fight back for our rights
Young workers - organising and fighting in the workplace
The NHS - reversing privatisation and cuts
Unionising social care
Education on the front line
Unionised workplaces, safe workplaces
Housing in crisis
Facing further austerity - fighting cuts in the councils and on transport
To join the conference email
[email protected]

with your name and union
---
In this issue
---
No going back

A socialist NHS fit for heroes
---
Workplace news

PCS: Change in leadership needed to secure union's future

Come to the NSSN conference

Sunday trading: Government blinks first

Trade unionists stand in solidarity with Maxine Peake

Equity union president elections

Tower Hamlets council strike

MoJ cleaners' covid outbreak
---
What we think

Workers need a new mass party to defend their interests
---
News

Tories put profit before lives

Boris's new big deal

Tory full return to school plans gamble with lives

Yes to self-identity: Fight for trans rights

Benefits system being used to force return to unsafe workplaces

Leeds City Council in danger of bankruptcy

Capitalism and corruption go hand in hand

Plastic waste ignored

News in brief
---
Campaigns

I left Labour and want to end capitalism - join us in Socialist Party

Cardiff community fights nursery closure: Council must step in

Fighting Fund: Target smashed by half time

Black Lives Matter has not stopped - protesters flock to Socialists

Selling the Socialist

Red flags line road for Ken Douglas
---
Lessons from history

75th anniversary of the Attlee Labour government
---
Readers' opinion

From slavery to Black Lives Matter - racism and capitalist injustice exposed

Readers' opinion
---
Home | The Socialist 1 July 2020 | Join the Socialist Party