The Socialist 1 July 2020
Tories put profit before lives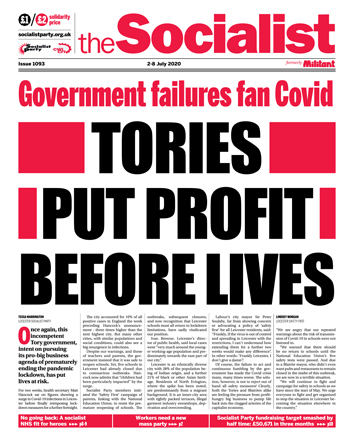 ---
A socialist NHS fit for heroes
---
PCS: Change in leadership needed to secure union's future
Sunday trading: Government blinks first
Trade unionists stand in solidarity with Maxine Peake
Equity union president elections
---
Workers need a new mass party to defend their interests
---
Tories put profit before lives
Tory full return to school plans gamble with lives
Yes to self-identity: Fight for trans rights
Benefits system being used to force return to unsafe workplaces
Leeds City Council in danger of bankruptcy
Capitalism and corruption go hand in hand
---
I left Labour and want to end capitalism - join us in Socialist Party
Cardiff community fights nursery closure: Council must step in
Fighting Fund: Target smashed by half time
Black Lives Matter has not stopped - protesters flock to Socialists
Red flags line road for Ken Douglas
---
75th anniversary of the Attlee Labour government
---
From slavery to Black Lives Matter - racism and capitalist injustice exposed
PO Box 1398, Enfield EN1 9GT
020 8988 8777
editors@socialistparty.org.uk

Link to this page: https://www.socialistparty.org.uk/issue/1093/30997
Home | The Socialist 1 July 2020 | Join the Socialist Party
Subscribe | Donate | Audio | PDF | ebook
Sunday trading: Government blinks first
Iain Dalton, Usdaw Broad Left Chair
Leaked reports emerged in mid-June that the government was looking at relaxing Sunday trading legislation for a year. It was rumoured that this was be proposed very quickly in the government's Coronavirus Recovery Bill.
The current legislation means large retail stores can only open for six hours on a Sunday between the hours of 10am and 6pm, giving many retail workers one evening they know they can spend with their family.
Until this announcement, Usdaw, the shop and distribution workers' union, officially had a position of passivity in the face of the growing undermining of Sunday opening restrictions, such as several local authorities relaxing enforcement, and Morrisons blatantly opening for longer hours.
Fortunately, since that announcement, campaigning has been ramped up, with an online tool for members to write to MPs, and a survey of members.
The survey revealed that an overwhelming 92% of members are opposed to longer opening hours for large stores, while 51% wanted to work less hours on Sunday (only 3% wanted to work longer hours!)
It is this anger among retail workers which has led to the rebellion among backbench Tory MPs, and means these proposals are not going to be in the Coronavirus Recovery Bill now.
However, given that Boris Johnson has been stating to the press that "we will keep measures such as extending Sunday trading hours under review", to declare a conclusive victory is premature.
Equally concerning is Usdaw general secretary Paddy Lillis' emphasis on a "tripartite recovery plan", which sounds like a new version of partnership. The experience for Usdaw members of 'partnership working' over the last few decades has demonstrated that this is a recipe for putting the interests of employers first and those of retail workers last.
Usdaw must take an independent stance in defence of retail workers - demanding decent pay, terms and conditions, and backing that up with action where necessary.
Where companies enter crisis, we should demand they are brought into public ownership to save jobs, in line with Usdaw conference policy.
---
In this issue
---
No going back

A socialist NHS fit for heroes
---
Workplace news

PCS: Change in leadership needed to secure union's future

Come to the NSSN conference

Sunday trading: Government blinks first

Trade unionists stand in solidarity with Maxine Peake

Equity union president elections

Tower Hamlets council strike

MoJ cleaners' covid outbreak
---
What we think

Workers need a new mass party to defend their interests
---
News

Tories put profit before lives

Boris's new big deal

Tory full return to school plans gamble with lives

Yes to self-identity: Fight for trans rights

Benefits system being used to force return to unsafe workplaces

Leeds City Council in danger of bankruptcy

Capitalism and corruption go hand in hand

Plastic waste ignored

News in brief
---
Campaigns

I left Labour and want to end capitalism - join us in Socialist Party

Cardiff community fights nursery closure: Council must step in

Fighting Fund: Target smashed by half time

Black Lives Matter has not stopped - protesters flock to Socialists

Selling the Socialist

Red flags line road for Ken Douglas
---
Lessons from history

75th anniversary of the Attlee Labour government
---
Readers' opinion

From slavery to Black Lives Matter - racism and capitalist injustice exposed

Readers' opinion
---
Home | The Socialist 1 July 2020 | Join the Socialist Party
Related links:

Resist relaxation of Sunday trading laws

Trading extension defeated

Covid-19 pandemic increases financial pressures on Welsh local government

U-turn Tories' splits are growing

Under the microscope

Covid testing the TUC

Reinstate Richie Venton

Reinstate Richie Venton

Support Ikea workers - reinstate Richie Venton

NHS workers: "We deserve a fair wage" - 15% now!

National Shop Stewards Network lobbying for a lead from the TUC

Continue the fight to protect safety