The Socialist 1 July 2020
Tories put profit before lives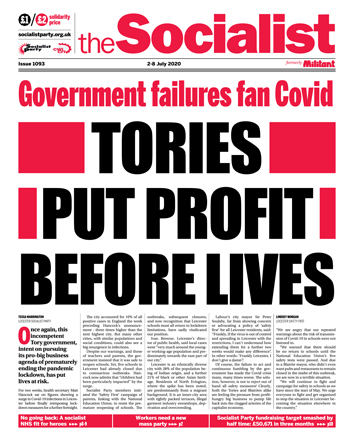 ---
A socialist NHS fit for heroes
---
PCS: Change in leadership needed to secure union's future
Sunday trading: Government blinks first
Trade unionists stand in solidarity with Maxine Peake
Equity union president elections
---
Workers need a new mass party to defend their interests
---
Tories put profit before lives
Tory full return to school plans gamble with lives
Yes to self-identity: Fight for trans rights
Benefits system being used to force return to unsafe workplaces
Leeds City Council in danger of bankruptcy
Capitalism and corruption go hand in hand
---
I left Labour and want to end capitalism - join us in Socialist Party
Cardiff community fights nursery closure: Council must step in
Fighting Fund: Target smashed by half time
Black Lives Matter has not stopped - protesters flock to Socialists
Red flags line road for Ken Douglas
---
75th anniversary of the Attlee Labour government
---
From slavery to Black Lives Matter - racism and capitalist injustice exposed
PO Box 1398, Enfield EN1 9GT
020 8988 8777

Link to this page: https://www.socialistparty.org.uk/issue/1093/30999
Home | The Socialist 1 July 2020 | Join the Socialist Party
Subscribe | Donate | Audio | PDF | ebook
Equity union president elections: fight for resources for all
Performing arts union Equity is electing its president and ruling council this summer, at the same time that industry leaders are warning of widespread and imminent collapse.
There are three presidential candidates. The incumbent, actor Maureen Beattie, and stage manager Adam Burns, describe themselves as socialists. Both also pledged support for no-cuts council budgets in a branch hustings on 24 June. DJ and entertainer Dave Eager is a long-standing representative of the union's right wing.
Adam's vision for the presidency has some detail, and he promises to encourage grassroots activism. However, we have concerns that his approach on issues including the race equality controversy within the union could lack balance and result in harmful divisions.
Maureen sees the presidency primarily as ambassadorial, and has not presented as much programme for her second term, beyond important campaigns against bullying and harassment. However, her record does include listening to and backing progressive initiatives. Socialist Party members in Equity are recommending a vote for Maureen.
Whatever the outcome, Equity's president will need to navigate complex internal and external challenges. We believe the key is to lead a fight for better conditions and resources for all, using the union's radical 'Performance for All' policies as a template, avoiding the divisive potential for competition between sections of members.
Socialist Party members in Equity
---
In this issue
---
No going back

A socialist NHS fit for heroes
---
Workplace news

PCS: Change in leadership needed to secure union's future

Come to the NSSN conference

Sunday trading: Government blinks first

Trade unionists stand in solidarity with Maxine Peake

Equity union president elections

Tower Hamlets council strike

MoJ cleaners' covid outbreak
---
What we think

Workers need a new mass party to defend their interests
---
News

Tories put profit before lives

Boris's new big deal

Tory full return to school plans gamble with lives

Yes to self-identity: Fight for trans rights

Benefits system being used to force return to unsafe workplaces

Leeds City Council in danger of bankruptcy

Capitalism and corruption go hand in hand

Plastic waste ignored

News in brief
---
Campaigns

I left Labour and want to end capitalism - join us in Socialist Party

Cardiff community fights nursery closure: Council must step in

Fighting Fund: Target smashed by half time

Black Lives Matter has not stopped - protesters flock to Socialists

Selling the Socialist

Red flags line road for Ken Douglas
---
Lessons from history

75th anniversary of the Attlee Labour government
---
Readers' opinion

From slavery to Black Lives Matter - racism and capitalist injustice exposed

Readers' opinion
---
Home | The Socialist 1 July 2020 | Join the Socialist Party