The Socialist 1 July 2020
Tories put profit before lives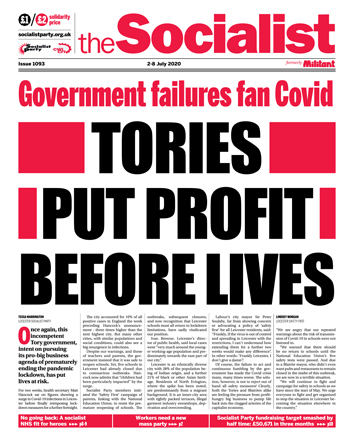 ---
A socialist NHS fit for heroes
---
PCS: Change in leadership needed to secure union's future
Sunday trading: Government blinks first
Trade unionists stand in solidarity with Maxine Peake
Equity union president elections
---
Workers need a new mass party to defend their interests
---
Tories put profit before lives
Tory full return to school plans gamble with lives
Yes to self-identity: Fight for trans rights
Benefits system being used to force return to unsafe workplaces
Leeds City Council in danger of bankruptcy
Capitalism and corruption go hand in hand
---
I left Labour and want to end capitalism - join us in Socialist Party
Cardiff community fights nursery closure: Council must step in
Fighting Fund: Target smashed by half time
Black Lives Matter has not stopped - protesters flock to Socialists
Red flags line road for Ken Douglas
---
75th anniversary of the Attlee Labour government
---
From slavery to Black Lives Matter - racism and capitalist injustice exposed
PO Box 1398, Enfield EN1 9GT
020 8988 8777

Link to this page: https://www.socialistparty.org.uk/issue/1093/31007
Home | The Socialist 1 July 2020 | Join the Socialist Party
Subscribe | Donate | Audio | PDF | ebook
News in brief
Billionaire paradise
Are you considering taking a long-delayed holiday? Try the pacific islands of Fiji. In an enticing tweet, the country's prime minister says: "Say you're a billionaire looking to fly your own jet, rent your own island, and invest millions of dollars in Fiji in the process... you may have a new home to escape the pandemic in paradise." Can't wait!
Deeper in debt
Unsurprisingly, given the rise in unemployment and the effects of pay cuts through furloughing, etc, the number of people unable to pay their bills continues to increase.
Last month, mortgage repayments were down 14%; rents by 11%, and council tax by 9%, compared to pre-pandemic levels.
Food insecurity
Latest government figures from the Food Standards Agency show that declining incomes during the pandemic have forced millions to go without food or rely on food banks. The FSA reckons up to 7.7 million cash-strapped adults reduced meal portion sizes or skipped meals. And up to 3.7 million adults had to use a food bank.
Councils' crisis
A £6 billion shortfall in council funding in England during this financial year by the Tory government will mean more savage cuts to local services and council tax/service charges increases. Extra financial pressures and revenue falls because of the pandemic mean that an estimated eight out of ten councils face bankruptcy. Trade unions and the wider working class communities must get organised to stop jobs and services being slashed.
---
In this issue
---
No going back

A socialist NHS fit for heroes
---
Workplace news

PCS: Change in leadership needed to secure union's future

Come to the NSSN conference

Sunday trading: Government blinks first

Trade unionists stand in solidarity with Maxine Peake

Equity union president elections

Tower Hamlets council strike

MoJ cleaners' covid outbreak
---
What we think

Workers need a new mass party to defend their interests
---
News

Tories put profit before lives

Boris's new big deal

Tory full return to school plans gamble with lives

Yes to self-identity: Fight for trans rights

Benefits system being used to force return to unsafe workplaces

Leeds City Council in danger of bankruptcy

Capitalism and corruption go hand in hand

Plastic waste ignored

News in brief
---
Campaigns

I left Labour and want to end capitalism - join us in Socialist Party

Cardiff community fights nursery closure: Council must step in

Fighting Fund: Target smashed by half time

Black Lives Matter has not stopped - protesters flock to Socialists

Selling the Socialist

Red flags line road for Ken Douglas
---
Lessons from history

75th anniversary of the Attlee Labour government
---
Readers' opinion

From slavery to Black Lives Matter - racism and capitalist injustice exposed

Readers' opinion
---
Home | The Socialist 1 July 2020 | Join the Socialist Party