The Socialist 1 July 2020
Tories put profit before lives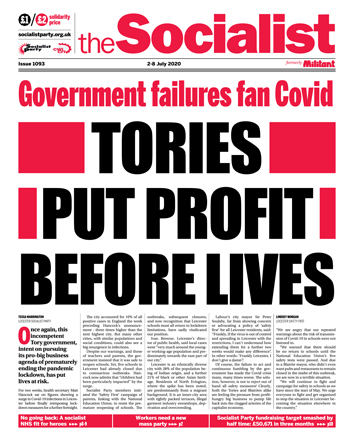 ---
A socialist NHS fit for heroes
---
PCS: Change in leadership needed to secure union's future
Sunday trading: Government blinks first
Trade unionists stand in solidarity with Maxine Peake
Equity union president elections
---
Workers need a new mass party to defend their interests
---
Tories put profit before lives
Tory full return to school plans gamble with lives
Yes to self-identity: Fight for trans rights
Benefits system being used to force return to unsafe workplaces
Leeds City Council in danger of bankruptcy
Capitalism and corruption go hand in hand
---
I left Labour and want to end capitalism - join us in Socialist Party
Cardiff community fights nursery closure: Council must step in
Fighting Fund: Target smashed by half time
Black Lives Matter has not stopped - protesters flock to Socialists
Red flags line road for Ken Douglas
---
75th anniversary of the Attlee Labour government
---
From slavery to Black Lives Matter - racism and capitalist injustice exposed
PO Box 1398, Enfield EN1 9GT
020 8988 8777

Link to this page: https://www.socialistparty.org.uk/issue/1093/31009
Home | The Socialist 1 July 2020 | Join the Socialist Party
Subscribe | Donate | Audio | PDF | ebook
Fighting Fund: Target smashed by half time - £50,671 in three months
Pete Mason, Socialist Party finance organiser
"The sinews of war", a cynical Roman statesman famously observed, is "abundant money". That we don't have.
We battle a capitalist class blessed with that 'magic money tree' they say doesn't exist. But we've hit a marvellous milestone in our fundraising activity.
Just halfway through our six-month campaign, we have already beaten our £50,000 target for the full six months - thanks mainly to your donations to the Socialist Party's coronavirus special appeal. Keep it up!
In addition, over £9,000 has been donated for special memorials for life-long socialists Mick Cotter and Ken Douglas.
The Black Lives Matter protesters have shown enthusiasm for our socialist ideas. Protesters wanted to make a contribution for Socialist Party placards. We raised £45 at a Bradford protest, £11 in Corby and £13 in Chelmsford and Hertford this way.
In Newcastle, someone bought a copy of the Socialist for £20, and another donated £10 for a poster. Amelia from Cardiff donated £15 after reading one of our articles, writing "because we have to keep fighting".
We face many costs. An array of good video equipment has cost us thousands of pounds, which will help us to upgrade our weekly Facebook broadcasts. Computer equipment and Zoom subscriptions are a few of the bills that are due.
Our weekly newspaper - the Socialist, so vital on the recent protests - costs money to produce and print every week. So we need to keep up the fundraising efforts.
Yorkshire is on 107% of its six-month target of £5,100. Adrian Hook from Wakefield, a Socialist Party member on benefits, has given a second special appeal donation of £60.
Thanks also to Razina Bostan in Bradford for £20. All but three regions of the Socialist Party have made their target - special mention goes to the North West, who are on 156%.
Thanks to Paul Couchman from Staines who has received a donation for an "old 45rpm single originally made and sold for Militant Fighting Fund. It is still raising money!"
We cannot mention all the donations we've received, but every single one counts. Thank you.
---
In this issue
---
No going back

A socialist NHS fit for heroes
---
Workplace news

PCS: Change in leadership needed to secure union's future

Come to the NSSN conference

Sunday trading: Government blinks first

Trade unionists stand in solidarity with Maxine Peake

Equity union president elections

Tower Hamlets council strike

MoJ cleaners' covid outbreak
---
What we think

Workers need a new mass party to defend their interests
---
News

Tories put profit before lives

Boris's new big deal

Tory full return to school plans gamble with lives

Yes to self-identity: Fight for trans rights

Benefits system being used to force return to unsafe workplaces

Leeds City Council in danger of bankruptcy

Capitalism and corruption go hand in hand

Plastic waste ignored

News in brief
---
Campaigns

I left Labour and want to end capitalism - join us in Socialist Party

Cardiff community fights nursery closure: Council must step in

Fighting Fund: Target smashed by half time

Black Lives Matter has not stopped - protesters flock to Socialists

Selling the Socialist

Red flags line road for Ken Douglas
---
Lessons from history

75th anniversary of the Attlee Labour government
---
Readers' opinion

From slavery to Black Lives Matter - racism and capitalist injustice exposed

Readers' opinion
---
Home | The Socialist 1 July 2020 | Join the Socialist Party