The Socialist 15 July 2020
Fight for safety - stop the jobs massacre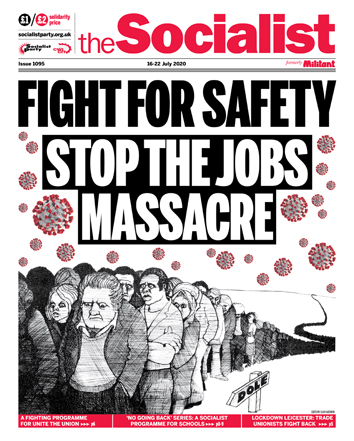 ---
Workers and young people need planning for jobs, not handouts for bosses
Lockdown Leicester: trade unionists and parents fight for safety
Sexist dismissal of women's health: NHS needs democratic control
Palace letters show the monarchy is a weapon for capitalism
Defend free TV licences for pensioners!
Water shortage warning: nationalise now!
Hillingdon Hospital corona outbreak: workforce not to blame
---
A socialist programme for schools
---
A fighting programme for Unite
PCS executive majority cancels union democracy
'Hands off our pensions!' demand angry Nissan workers
Tower Hamlets council workers strike back
Ratcliffe rats on Bridgend workers
---
How capitalist restoration led to war and 'ethnic cleansing' in the Balkans
---
How the FBI and Chicago police murdered a Black Panther
Will boosting the 'black pound' improve black workers' lives?
BLM protests - another injustice exposed
---
Books that inspired me: The Mother
TV: Ross Kemp - Living with Forced Out Families
---
Jobs, homes, services and a future for all!
Socialism 2020 - ideas to change the world
Nottingham trans rights protest: Our demands are the same as everyone's
Why I joined the Socialist Party
Donations help us campaign and fight for socialism
Selling the Socialist in Swansea
PO Box 1398, Enfield EN1 9GT
020 8988 8777