The Socialist 19 August 2020
Students 2 : 0 Tories - Protests work!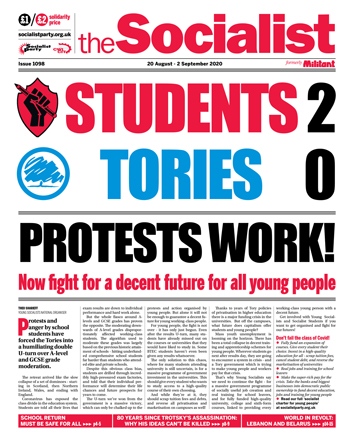 ---
Students 2 : 0 Tories - Protests work!
Student protests force government retreat
"As a working-class student, I already faced struggles"
Tory planning deregulation: a charter for building profitable slums
NHS workers demand improved pay - 15% for all now!
---
Revolutionary mood in Lebanon following horrific explosion
Mass protests and strikes rock Belarus
---
80th anniversary of Leon Trotsky's assassination
Yorkshire: Celebrating the life and ideas of Leon Trotsky
---
September school return must be safe for all workers and students
---
NHS pay: unions must take fight to U-turn Tories
---
75 years since the publication of Animal Farm: From 'two legs bad' to 'two legs better'
---
300 Covid cases at Northampton food plant - management to blame, not the workers!
PCS union: Vote Yes in DWP ballot! Reject longer opening hours
Support the Tower Hamlets council workers, vote for Hugo Pierre!
---
Black Lives Matter: this generation is willing to stand up and fight
Nottingham: oppose the far right and attempts to divide us
Your donations help us campaign
Leeds: Little London residents are celebrating
To push change we need to be organised - why we joined the Socialist Party
Brighton: Another luxury development
The Socialist: back to weekly soon
PO Box 1398, Enfield EN1 9GT
020 8988 8777