The Socialist 16 September 2020
Our lives and livelihoods at stake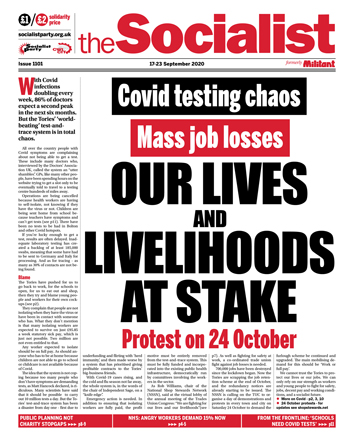 ---
Our lives and livelihoods at stake
Sketch: The rule of six - some guidance from your government
Johnson's brinkmanship over EU deal deepens capitalist splits
Blame politicians, not workers and young people
Capitalist profit and the race to develop a vaccine
'Covid marshalls' must be accountable to communities
---
Angry health workers demand 15% now!
NHS workers: "We deserve a fair wage" - 15% now!
---
National Shop Stewards Network lobbying for a lead from the TUC
PCS members in DWP reject unsafe extension of hours
Ireland: Debenham's occupier speaks out
London bus drivers begin strike ballot over remote sign-on dispute
Tate workers on indefinite strike hold march and rally
---
Dispatches from the front: schools need Covid tests!
---
Covid and the third sector: for public planning, not charity stopgaps
---
Non-fiction: Left Out - the inside story of Labour under Corbyn
---
Egypt: Support for al-Sisi dwindles as his regime increases repression
Nigerian police repress peaceful anti-government protest
---
Two weeks to donate: we need your help
Coventry: scrap 'profit before people' hospital parking charges
Covid generation says 'fund our future'
Why I joined the Socialist Party: Tories and Blairites only care about corporate greed
PO Box 1398, Enfield EN1 9GT
020 8988 8777

Link to this page: https://www.socialistparty.org.uk/issue/1101/31339
Home | The Socialist 16 September 2020 | Join the Socialist Party
Subscribe | Donate | Audio | PDF | ebook
National Shop Stewards Network lobbying for a lead from the TUC
Tom Baldwin, Socialist Party national committee
For the last decade the National Shop Stewards' Network (NSSN) has brought together trade union activists to lobby the TUC congress each year and push for militant action against austerity. This year the TUC was forced to become virtual and so was the NSSN lobby.
Not being able to meet in person did not diminish the importance of lobbying for a lead to be given by the tops of the trade union movement. Introducing the meeting, NSSN national chair Rob Williams explained this was, in fact, the most important TUC in living memory. In the face of the Covid capitalist crisis workers are having to fight for their livelihoods and for their lives.
Workers had to get organised at the start of the crisis to defend health and safety in the workplace, often forcing improvements from bosses. That task has not gone away. The basic right of workers not to have their lives put at risk must be fought for as the Tories try to rush an unsafe return to work and education, and bosses prioritise profits.
On top of this is the struggle to protect jobs in the face of closures and job cuts. Unchecked, unemployment could hit five million by the end of the year and will become a defining issue for our class. Riding on the back of this wave of job losses come greedy bosses, using the threat of redundancy to try and take an axe to workers' pay and conditions. They will try to stop workers' organising and crush any resistance to this onslaught. The meeting heard from workers who'd been victimised at work for trade union activity.
This shows the bosses are still afraid of trade unions and the power of workers. Unfortunately, some union leaders underestimate the power we have when we stand together, or are themselves afraid to unleash it. Meeting the coming tsunami of attacks on jobs and conditions without the will to fight back would be devastating. The NSSN can help turn the tide by organising rank and file trade unionists.
Rob Williams called for this year's TUC to be a council of war. Unions needs to draw clear, class lines and make clear that workers will not pay for this crisis. Rob pointed to the weakness of the Tory government who have made 13 U-turns, such as the hurried retreat on the A-level algorithm, dropped at the first sign of students beginning to protest.
That is just a small glimpse of what could be achieved by the trade union movement - 6.5million members strong and growing. If given a fighting lead they could be unstoppable and draw in millions more workers who are currently unorganised.
Workers won't be able to defend themselves without a struggle. To be most effective this must utilise the power workers have as the creators of profits for the bosses by having industrial action at its heart.
We must be as steadfast in defending our class as the capitalists are ruthless in attacking it. We are strongest when we're united, the unions need to coordinate claims and action.
The NSSN rally called on the TUC to organise protests against unemployment across the country on 24 October, the week before the government's furlough scheme is due to end. We will be demanding employment or full pay for those who cannot be found jobs. Workers shouldn't tolerate cuts to pay and conditions to pay for the crisis.
Companies that are cutting jobs should be nationalised. Many speakers raised the need for socialist public ownership as an alternative to capitalism in crisis. RMT transport union national executive member Jared Wood said: "If capitalism cannot maintain jobs and conditions then we cannot maintain capitalism." He pointed to the demand for socialism in his and other unions' constitutions.
Union leaders call for workers' unity and industrial militancy
The themes of vital importance of this year's TUC, of the need for unity and industrial militancy from the unions, and the need for an alternative to the rotten capitalist profit system ran through the whole meeting.
They were taken up by the speakers representing four of the unions affiliated to the NSSN: the bakers' union BFAWU, Communication Workers Union (CWU), RMT and general union Unite, plus Amy Murphy, president of the shop workers union Usdaw, speaking in a personal capacity.
The meeting also heard contributors from the floor. A number were engaged in workplace disputes including victimised Unison rep in Hull Tony Smith (see page 10), a striking National Union of Journalists member, an NHS worker fighting for a 15% pay rise (see back page) and a teacher speaking on the Covid crisis in schools.
New BFAWU general secretary Sarah Woolley said the bakers' union was a long-term supporter of the NSSN and that relationship would continue under her leadership. She also spoke about the campaign against scandalously low statutory sick pay. The payment of just £95 a week means workers are being penalised for doing the right thing and self-isolating.
CWU general secretary Dave Ward urged unions to take confidence from victories on Covid safety and to cooperate in the "fight for new standard of living and a new economy - founded on the principles of equality, universalism and collectivism."
Amy Murphy spoke about the worsening crisis on the high street and the fight to save retail jobs. She raised the example of the Irish Debenhams workers who are occupying their workplaces in protest at closure and layoffs. This method of struggle may need to be repeated by other groups of workers. Amy also spoke about the sacking and reinstatement campaign of Usdaw rep Richie Venton (see page 10).
RMT senior assistant general secretary Steve Hedley spoke about the disgraceful actions of Tower Hamlets Labour council who are sacking workers and taking them back on worse conditions. He said he hoped the TUC congress would give a fighting lead, but if that doesn't happen, there needs to be a "coalition of the willing" of unions who will take coordinated action to defend living standards.
Unite assistant general secretary Howard Beckett spoke about the struggle in British Airways where management is using the same tactics as Tower Hamlets council to try and slash pay. This is despite making £1.92 billion profit last year! Action by ground staff has already given the company pause for thought.
He spoke of the scandal of companies taking taxpayer subsidies while attacking their workers and still paying dividends to shareholders. He said we should not talk of the inevitability of redundancies but fight them with the threat of coordinated, mass industrial action.
The rally was an inspiration, but we were left in no doubt that fighting words must be turned into action. The NSSN can play a key role in making that happen. We support all workers in struggle and push for the most powerful possible fightback. As Sarah Woolley said: "To all of you that are fighting injustice - keep going! United we are stronger. We are the 99%, don't ever forget that."
---
In this issue
---
Socialist Party news and analysis

Our lives and livelihoods at stake

Sketch: The rule of six - some guidance from your government

Johnson's brinkmanship over EU deal deepens capitalist splits

Blame politicians, not workers and young people

Capitalist profit and the race to develop a vaccine

'Covid marshalls' must be accountable to communities

Under the microscope
---
NHS

Angry health workers demand 15% now!

NHS workers: "We deserve a fair wage" - 15% now!
---
Workplace news and analysis

National Shop Stewards Network lobbying for a lead from the TUC

PCS members in DWP reject unsafe extension of hours

Ireland: Debenham's occupier speaks out

London bus drivers begin strike ballot over remote sign-on dispute

Tate workers on indefinite strike hold march and rally

Reinstate Tony Smith

Reinstate Richie Venton
---
Schools

Dispatches from the front: schools need Covid tests!
---
Public services

Covid and the third sector: for public planning, not charity stopgaps
---
Labour Party

Non-fiction: Left Out - the inside story of Labour under Corbyn
---
International socialist news and analysis

Egypt: Support for al-Sisi dwindles as his regime increases repression

Nigerian police repress peaceful anti-government protest
---
Socialist Party reports and campaigns

Two weeks to donate: we need your help

Coventry: scrap 'profit before people' hospital parking charges

Covid generation says 'fund our future'

Why I joined the Socialist Party: Tories and Blairites only care about corporate greed

Selling the Socialist
---
Home | The Socialist 16 September 2020 | Join the Socialist Party