The Socialist 7 October 2020
Tories put profit first: Gambling with our jobs and lives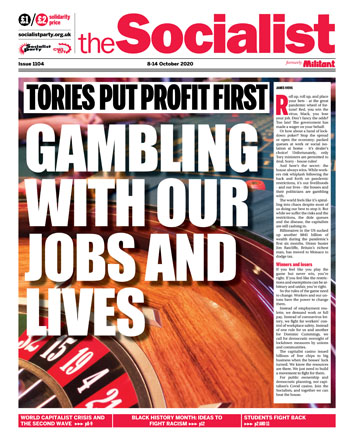 ---
Tories put profit first: Gambling with our jobs and lives
Massive testing 'glitch' caused by privatised fragmentation
Contact tracer speaks out: privatised system 'in chaos'
---
Unison: Hugo Pierre's fighting programme to transform the union
Equity 'Panto Parade' demands more support for arts workers
---
Fight for jobs and homes for all - defend the right to asylum
Spooks step up surveillance of left
Probation Service: 'angry, frustrated' staff need fighting lead
---
Cardiff student protest demands: 'refund our fees!'
Southampton students oppose unjust collective punishment
---
Non-fiction: 'Why I no longer talk to white people about race'
---
Worldwide capitalist crisis deepens - step up the fight for socialism
'Frozen conflict' reignites in Nagorno-Karabakh enclave
Germany: "Heroes" strike to demand a pay rise
---
£9,000 for education by Netflix
Leicester: Don't let them close our hospital
Waltham Forest: Council picks over 60 sites for mass gentrification
Say no to finance capital-backed luxury tower block in Enfield
Socialist Party: Campaigning for the NHS
Final total: £73,586 raised - now let's do it again
Defend Bracknell Community Services
---
Film: 'Sick' - 'They've got people looking in the wrong direction'
PO Box 1398, Enfield EN1 9GT
020 8988 8777

Link to this page: https://www.socialistparty.org.uk/issue/1104/31430
Home | The Socialist 7 October 2020 | Join the Socialist Party
Subscribe | Donate | Audio | PDF | ebook
Under the microscope
Tory areas dodge lockdown
Wealthy areas and Tory seats are avoiding local lockdown, according to health officials' emails leaked to the Times. Matt Hancock, the health secretary, decides which areas should go into lockdown during a weekly meeting. But there is no threshold for Covid-19 infection rates to trigger this.
Richmondshire in North Yorkshire, which includes Rishi Sunak's constituency and is among the least deprived areas in Britain, has avoided lockdown despite an infection rate of 73 new cases for every 100,000 people. This is a higher rate than Wolverhampton, Chorley, Lancaster, and Oadby and Wigston, which all remain under local lockdown.
One-third of bosses plan lay-offs
Over a third of UK employers plan redundancies in the next three months, according to a YouGov poll of managers. This is evidence that the government's so-called 'Job Support Scheme' isn't working. Then again, Sunak himself said "I can't save every job."
It's not too late to extend furlough and this is what unions should be fighting for. It's not too late to save jobs! Nationalise those firms threatening redundancy under democratic workers' control.
20,000 cases at Amazon
19,816 Amazon workers in the US have contracted Covid-19 since March, the company reports. At the same time, Amazon's profits have soared. Last quarter they achieved record profits of $5.2 billion.
Vaccination - don't get your hopes up
Less than half of the UK will get a Covid-19 vaccination. Many of us, encouraged by the government, have been 'holding out for a vaccine'. The head of the government's Vaccine Taskforce says that hope for the whole population to be vaccinated is "misguided."
She also says there will be no vaccines for people under 18 - only for those over 50, health and care workers, and the vulnerable. Big pharma has huge resources and fat profits. Nationalise it to guarantee vaccines for all. Distribute them under democratic working-class control.
Tory NHS disruption hypocrisy
"We could be looking at tens of thousands of avoidable deaths within a year" - these are the words of the Tory former health secretary, Jeremy Hunt. The NHS that he - until recently - presided over, has found itself overwhelmed and unable to cope during the pandemic.
Despite promises to introduce weekly testing across Britain - for NHS staff - this has not happened. "Failure to do so creates a real risk that the NHS will be forced to retreat into being a largely Covid-only service during a second spike," Hunt says.
If the NHS hadn't faced years and years of austerity and privatisation, it would be much better placed to cope. Renationalise it, fully fund it, and give the staff a 15% rise!
---
In this issue
---
Coronavirus news

Tories put profit first: Gambling with our jobs and lives

Massive testing 'glitch' caused by privatised fragmentation

Contact tracer speaks out: privatised system 'in chaos'

Under the microscope
---
Workplace news

Unison: Hugo Pierre's fighting programme to transform the union

Equity 'Panto Parade' demands more support for arts workers

Tate strike suspended

Ikea day of action

York couriers' strike
---
News

Fight for jobs and homes for all - defend the right to asylum

Spooks step up surveillance of left

Probation Service: 'angry, frustrated' staff need fighting lead
---
Students

Cardiff student protest demands: 'refund our fees!'

Southampton students oppose unjust collective punishment
---
Black History Month

Non-fiction: 'Why I no longer talk to white people about race'
---
International

Worldwide capitalist crisis deepens - step up the fight for socialism

'Frozen conflict' reignites in Nagorno-Karabakh enclave

Germany: "Heroes" strike to demand a pay rise
---
Campaigns

£9,000 for education by Netflix

Free Siyanda Mngaza

Leicester: Don't let them close our hospital

Waltham Forest: Council picks over 60 sites for mass gentrification

Say no to finance capital-backed luxury tower block in Enfield

Socialist Party: Campaigning for the NHS

Final total: £73,586 raised - now let's do it again

Defend Bracknell Community Services
---
Readers' opinion

Film: 'Sick' - 'They've got people looking in the wrong direction'

The Socialist Inbox
---
Home | The Socialist 7 October 2020 | Join the Socialist Party