The Socialist 7 October 2020
Tories put profit first: Gambling with our jobs and lives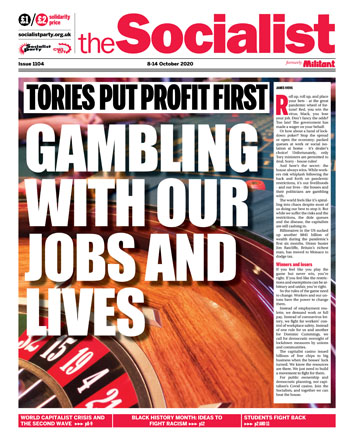 ---
Tories put profit first: Gambling with our jobs and lives
Massive testing 'glitch' caused by privatised fragmentation
Contact tracer speaks out: privatised system 'in chaos'
---
Unison: Hugo Pierre's fighting programme to transform the union
Equity 'Panto Parade' demands more support for arts workers
---
Fight for jobs and homes for all - defend the right to asylum
Spooks step up surveillance of left
Probation Service: 'angry, frustrated' staff need fighting lead
---
Cardiff student protest demands: 'refund our fees!'
Southampton students oppose unjust collective punishment
---
Non-fiction: 'Why I no longer talk to white people about race'
---
Worldwide capitalist crisis deepens - step up the fight for socialism
'Frozen conflict' reignites in Nagorno-Karabakh enclave
Germany: "Heroes" strike to demand a pay rise
---
£9,000 for education by Netflix
Leicester: Don't let them close our hospital
Waltham Forest: Council picks over 60 sites for mass gentrification
Say no to finance capital-backed luxury tower block in Enfield
Socialist Party: Campaigning for the NHS
Final total: £73,586 raised - now let's do it again
Defend Bracknell Community Services
---
Film: 'Sick' - 'They've got people looking in the wrong direction'
PO Box 1398, Enfield EN1 9GT
020 8988 8777

Link to this page: https://www.socialistparty.org.uk/issue/1104/31437
Home | The Socialist 7 October 2020 | Join the Socialist Party
Subscribe | Donate | Audio | PDF | ebook
Equity 'Panto Parade' demands more support for arts workers
James Ivens, assistant secretary, Equity union North and East London General Branch (personal capacity)
A parade of pantomime dames and theatre workers marched through London on 30 September to demand emergency funding for the arts. The entire live performance sector has closed with little or no support.
Actors, designers, directors, stage managers, technicians, and more pounded through the West End to show tunes. One protester's placard read: "22 years a stage manager - it's not just my job, it's my life!"
Dames lifted their fists at Trafalgar Square and Downing Street. Marchers chanted: "Theatres should stay shut! / Oh no they shouldn't! / Oh yes they should!" - you get the picture.
Performing arts union Equity and technicians' union Bectu called the demonstration, alongside industry group #WeMakeEvents and campaign group ExcludedUK. The National Shop Stewards Network was among supporters, marching in solidarity with a banner. The core demands of the 'Panto Parade' were:
Extend furlough and the 'Self-Employment Income Support Scheme' to next year
Give access to those who haven't been eligible - an Equity survey found under 40% of members have received government support
Government-backed insurance for theatre and live events
Subsidies for theatre tickets while social distancing remains
Socialist Party members in Equity agree with these demands. We would add that the spasmodic, dysfunctional character of the pandemic market means many arts organisations are already doomed. The only way to save and rebuild the industry is by extending public ownership - a model which already exists in the union's 'Performance for All' policy document.
This is the first independent action Equity has called in recent memory, and a very good first step. It should signal a change in approach to more combative campaigning by the union.
Equity's general secretary-elect, Paul Fleming, gave an energetic speech which asked: "Who do we as a society think should be an artist? All we're saying right now is: people who can afford to do it."
He was, however, followed by a major theatre producer who praised the campaign's "unity" between employers and unions. Our interests happen to coincide on this issue - but this temporary "unity" must not set the tone. The impresarios' profits are based on poor pay, conditions and job security for most workers.
---
In this issue
---
Coronavirus news

Tories put profit first: Gambling with our jobs and lives

Massive testing 'glitch' caused by privatised fragmentation

Contact tracer speaks out: privatised system 'in chaos'

Under the microscope
---
Workplace news

Unison: Hugo Pierre's fighting programme to transform the union

Equity 'Panto Parade' demands more support for arts workers

Tate strike suspended

Ikea day of action

York couriers' strike
---
News

Fight for jobs and homes for all - defend the right to asylum

Spooks step up surveillance of left

Probation Service: 'angry, frustrated' staff need fighting lead
---
Students

Cardiff student protest demands: 'refund our fees!'

Southampton students oppose unjust collective punishment
---
Black History Month

Non-fiction: 'Why I no longer talk to white people about race'
---
International

Worldwide capitalist crisis deepens - step up the fight for socialism

'Frozen conflict' reignites in Nagorno-Karabakh enclave

Germany: "Heroes" strike to demand a pay rise
---
Campaigns

£9,000 for education by Netflix

Free Siyanda Mngaza

Leicester: Don't let them close our hospital

Waltham Forest: Council picks over 60 sites for mass gentrification

Say no to finance capital-backed luxury tower block in Enfield

Socialist Party: Campaigning for the NHS

Final total: £73,586 raised - now let's do it again

Defend Bracknell Community Services
---
Readers' opinion

Film: 'Sick' - 'They've got people looking in the wrong direction'

The Socialist Inbox
---
Home | The Socialist 7 October 2020 | Join the Socialist Party