The Socialist 7 October 2020
Tories put profit first: Gambling with our jobs and lives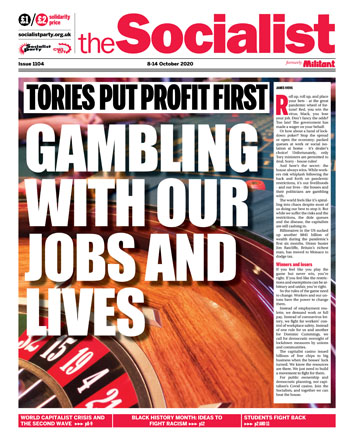 ---
Tories put profit first: Gambling with our jobs and lives
Massive testing 'glitch' caused by privatised fragmentation
Contact tracer speaks out: privatised system 'in chaos'
---
Unison: Hugo Pierre's fighting programme to transform the union
Equity 'Panto Parade' demands more support for arts workers
---
Fight for jobs and homes for all - defend the right to asylum
Spooks step up surveillance of left
Probation Service: 'angry, frustrated' staff need fighting lead
---
Cardiff student protest demands: 'refund our fees!'
Southampton students oppose unjust collective punishment
---
Non-fiction: 'Why I no longer talk to white people about race'
---
Worldwide capitalist crisis deepens - step up the fight for socialism
'Frozen conflict' reignites in Nagorno-Karabakh enclave
Germany: "Heroes" strike to demand a pay rise
---
£9,000 for education by Netflix
Leicester: Don't let them close our hospital
Waltham Forest: Council picks over 60 sites for mass gentrification
Say no to finance capital-backed luxury tower block in Enfield
Socialist Party: Campaigning for the NHS
Final total: £73,586 raised - now let's do it again
Defend Bracknell Community Services
---
Film: 'Sick' - 'They've got people looking in the wrong direction'
PO Box 1398, Enfield EN1 9GT
020 8988 8777

Link to this page: https://www.socialistparty.org.uk/issue/1104/31441
Home | The Socialist 7 October 2020 | Join the Socialist Party
Subscribe | Donate | Audio | PDF | ebook
York couriers' strike
Deliveroo riders in York have demonstrated outside restaurants to protest pay rates.
The couriers have also not been accepting deliveries on a number of days saying they can be kept waiting for up to 40 minutes to collect the food - which they don't get paid for.
Speaking outside restaurant chain Five Guys, one Deliveroo courier said: "We are not paid our waiting times - and that is not good enough.
In some cases riders will only be making one order in an hour and earning less than £4. How are you supposed to raise your children or pay your rent on that kind of money?"
The workers are members of the IWGB union's couriers and logistics York branch, which said it has tried negotiating with regional managers, and has sent a letter to the Five Guys CEO "to no avail".
---
In this issue
---
Coronavirus news

Tories put profit first: Gambling with our jobs and lives

Massive testing 'glitch' caused by privatised fragmentation

Contact tracer speaks out: privatised system 'in chaos'

Under the microscope
---
Workplace news

Unison: Hugo Pierre's fighting programme to transform the union

Equity 'Panto Parade' demands more support for arts workers

Tate strike suspended

Ikea day of action

York couriers' strike
---
News

Fight for jobs and homes for all - defend the right to asylum

Spooks step up surveillance of left

Probation Service: 'angry, frustrated' staff need fighting lead
---
Students

Cardiff student protest demands: 'refund our fees!'

Southampton students oppose unjust collective punishment
---
Black History Month

Non-fiction: 'Why I no longer talk to white people about race'
---
International

Worldwide capitalist crisis deepens - step up the fight for socialism

'Frozen conflict' reignites in Nagorno-Karabakh enclave

Germany: "Heroes" strike to demand a pay rise
---
Campaigns

£9,000 for education by Netflix

Free Siyanda Mngaza

Leicester: Don't let them close our hospital

Waltham Forest: Council picks over 60 sites for mass gentrification

Say no to finance capital-backed luxury tower block in Enfield

Socialist Party: Campaigning for the NHS

Final total: £73,586 raised - now let's do it again

Defend Bracknell Community Services
---
Readers' opinion

Film: 'Sick' - 'They've got people looking in the wrong direction'

The Socialist Inbox
---
Home | The Socialist 7 October 2020 | Join the Socialist Party
Related links:

York residents demand land for local community needs

York students demand democratic control of schools

Workers strike and protest

Fighting NHS privatisation

Defying the anti-protest restrictions

Israel: Hospital ancillary workers' strike suspended

Bexley bin workers strike for better pay

Unite to fight Tory pay insults

St Mungo's strikers end 12-week strike

Tower Hamlets Labour backs Tory cuts

Further education set for industrial action over pay

'Pingdemic' exemptions

Online workers' rally: Taking fight to the bosses

York couriers call on council for protection from "fear of dismissal"

Tories and Labour fail on child poverty

Book that inspired me: God's bits of wood