The Socialist 7 October 2020
Tories put profit first: Gambling with our jobs and lives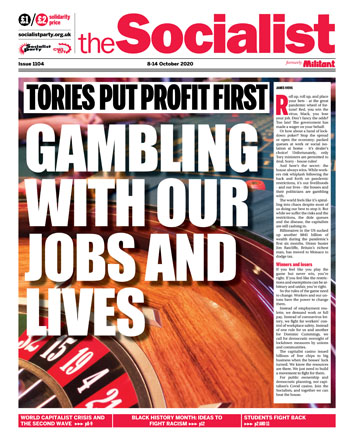 ---
Tories put profit first: Gambling with our jobs and lives
Massive testing 'glitch' caused by privatised fragmentation
Contact tracer speaks out: privatised system 'in chaos'
---
Unison: Hugo Pierre's fighting programme to transform the union
Equity 'Panto Parade' demands more support for arts workers
---
Fight for jobs and homes for all - defend the right to asylum
Spooks step up surveillance of left
Probation Service: 'angry, frustrated' staff need fighting lead
---
Cardiff student protest demands: 'refund our fees!'
Southampton students oppose unjust collective punishment
---
Non-fiction: 'Why I no longer talk to white people about race'
---
Worldwide capitalist crisis deepens - step up the fight for socialism
'Frozen conflict' reignites in Nagorno-Karabakh enclave
Germany: "Heroes" strike to demand a pay rise
---
£9,000 for education by Netflix
Leicester: Don't let them close our hospital
Waltham Forest: Council picks over 60 sites for mass gentrification
Say no to finance capital-backed luxury tower block in Enfield
Socialist Party: Campaigning for the NHS
Final total: £73,586 raised - now let's do it again
Defend Bracknell Community Services
---
Film: 'Sick' - 'They've got people looking in the wrong direction'
PO Box 1398, Enfield EN1 9GT
020 8988 8777

Link to this page: https://www.socialistparty.org.uk/issue/1104/31445
Home | The Socialist 7 October 2020 | Join the Socialist Party
Subscribe | Donate | Audio | PDF | ebook
Waltham Forest: Council picks over 60 sites for mass gentrification
Protest 24 October
Nancy Taaffe, Save Our Square chair
Our campaign in Waltham Forest, east London has been running for five years. So far we have held the developers at bay. But neoliberal politicians are exploiting the Covid crisis to drive their plans through.
The council is pressing on with their monster development in the square, so Save Our Square is organising a socially distant, open-air, public meeting on Saturday 24 October.
We believe that the council's 'consultation' - running until 14 December - will be like all the other consultations, a sham.
Over 60 different parts of Waltham Forest have been earmarked for 'redevelopment', within the next 15 years as part of this consultation, or have already been demolished and built on.
Turn up to the protest either on your own or in a group of six. Wear facemasks and bring hand sanitiser.
We will be collecting names from the different campaigns of people who want to be part of a mass stand for council elections in 2022. We are looking for names of community campaigners, trade unionists and socialists.
We are not interested in the established political parties, as where they are in power across the country they too are using this neoliberal redevelopment model.
We want the tenant whose child has lost play space on an estate. We want young adults angry that their youth club closed down.
Help us prepare for a mass challenge in 2022, because consultations are now just tick boxes.
Many of these developments won't have started by 2022. If we win councillors from the community, we will press from inside and outside the council chamber for them to stop.
If you are from the Homebase campaign, come with a sign saying that. If you are opposed to the demolition of the old Wood Street Library building, bring a sign saying that. If you are from an estate that has been privatised or your play area has been built on, bring a sign saying the name of your estate.
Protest: Saturday 24 October, 1pm, Walthamstow Town Square
---
People stopped every time we mentioned 'class'
Nancy Taaffe had this to say when Waltham Forest Socialist Party was out campaigning on 3 October.
We just kept on about the working class suffering, paying for the crisis. We demanded full sick pay for all those zero-hour workers.
We called for Serco to be booted off the testing contract. And we called for a programme of public works to create jobs.
It felt like every time we mentioned the words 'working class' on the mic, people came to the campaign stall. And we met three people who wanted to find out more about Socialist Party.
---
In this issue
---
Coronavirus news

Tories put profit first: Gambling with our jobs and lives

Massive testing 'glitch' caused by privatised fragmentation

Contact tracer speaks out: privatised system 'in chaos'

Under the microscope
---
Workplace news

Unison: Hugo Pierre's fighting programme to transform the union

Equity 'Panto Parade' demands more support for arts workers

Tate strike suspended

Ikea day of action

York couriers' strike
---
News

Fight for jobs and homes for all - defend the right to asylum

Spooks step up surveillance of left

Probation Service: 'angry, frustrated' staff need fighting lead
---
Students

Cardiff student protest demands: 'refund our fees!'

Southampton students oppose unjust collective punishment
---
Black History Month

Non-fiction: 'Why I no longer talk to white people about race'
---
International

Worldwide capitalist crisis deepens - step up the fight for socialism

'Frozen conflict' reignites in Nagorno-Karabakh enclave

Germany: "Heroes" strike to demand a pay rise
---
Campaigns

£9,000 for education by Netflix

Free Siyanda Mngaza

Leicester: Don't let them close our hospital

Waltham Forest: Council picks over 60 sites for mass gentrification

Say no to finance capital-backed luxury tower block in Enfield

Socialist Party: Campaigning for the NHS

Final total: £73,586 raised - now let's do it again

Defend Bracknell Community Services
---
Readers' opinion

Film: 'Sick' - 'They've got people looking in the wrong direction'

The Socialist Inbox
---
Home | The Socialist 7 October 2020 | Join the Socialist Party