The Socialist 7 October 2020
Tories put profit first: Gambling with our jobs and lives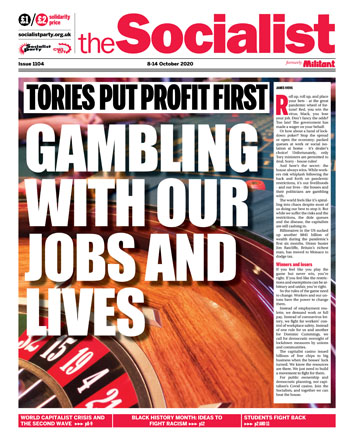 ---
Tories put profit first: Gambling with our jobs and lives
Massive testing 'glitch' caused by privatised fragmentation
Contact tracer speaks out: privatised system 'in chaos'
---
Unison: Hugo Pierre's fighting programme to transform the union
Equity 'Panto Parade' demands more support for arts workers
---
Fight for jobs and homes for all - defend the right to asylum
Spooks step up surveillance of left
Probation Service: 'angry, frustrated' staff need fighting lead
---
Cardiff student protest demands: 'refund our fees!'
Southampton students oppose unjust collective punishment
---
Non-fiction: 'Why I no longer talk to white people about race'
---
Worldwide capitalist crisis deepens - step up the fight for socialism
'Frozen conflict' reignites in Nagorno-Karabakh enclave
Germany: "Heroes" strike to demand a pay rise
---
£9,000 for education by Netflix
Leicester: Don't let them close our hospital
Waltham Forest: Council picks over 60 sites for mass gentrification
Say no to finance capital-backed luxury tower block in Enfield
Socialist Party: Campaigning for the NHS
Final total: £73,586 raised - now let's do it again
Defend Bracknell Community Services
---
Film: 'Sick' - 'They've got people looking in the wrong direction'
PO Box 1398, Enfield EN1 9GT
020 8988 8777

Link to this page: https://www.socialistparty.org.uk/issue/1104/31452
Home | The Socialist 7 October 2020 | Join the Socialist Party
Subscribe | Donate | Audio | PDF | ebook
The Socialist Inbox
Do you have something to say?
Send your news, views and criticism, in not more than 150 words, to [email protected] - or if you're not online, PO Box 1398, Enfield EN1 9GT
We reserve the right to shorten and edit letters. For legal reasons, we need your full name, address and phone number - but confidentiality will be respected if requested
All the president's doctors
What a marvellous healthcare system is in place in the US! At least six doctors to the patient, cutting-edge medicines, and when you're discharged you go home to 24/7 professional health care. Oh wait! This first-rate care isn't even available to those who are able to fork out for health insurance.
Elaine Brunskill, Gateshead
Test-and-Trace payment when?
The Tories may have announced Test-and-Trace support payments from 28 September but don't think you can actually get a payment. The Tories have dumped the responsibility for payment onto under-resourced local authorities which were not prepared. In some areas, don't expect to even be able to apply before mid-October.
A local authority worker
Pandemic pandemonium
I was hoping for leadership from our government during the pandemic, but this did not happen and many people died who could have been saved.
My children were at home with me, which we liked, but there was and always is, the fear of being infected.
I'm recovering from brain surgery and have not been able to have face-to-face meetings with support services or even my GP. Everything is done over the phone, which is better than nothing, and needs must.
I'm very worried that one of my daughters is back at college, which has cases of Covid, and another is back at work and doesn't feel safe. Management has asked for meetings and feedback, but ignores what staff say.
We are all worried about the economy and whether my youngest daughters will even be able to attend uni. The exam fiasco is such a mess and will most likely have ripple effects for years to come.
I feel that my daughters may need to live with me forever as I'm not sure how anyone can earn enough to privately rent.
Janine Hill, Teesside
Youth to blame?
I won't blame the young people who were told to go to work.
I won't blame the young people who were told to go to school.
I won't blame the young people who were told to get the bus but stay safe.
I won't blame the young people who were told to eat out and go to the pub.
I won't blame the young people who were told to go to the zoo and theme parks.
The government has the audacity to tell the young to think of their grannies after the care home fiasco.
Rachel Laverick, Blyth
It's absolutely appalling that students and young people generally are being blamed for the increase in Covid. It's mostly young working-class people working in the service industry, forced by extreme economic hardship to work or starve in many cases.
And work has the most minimum of health and safety measures in place or checked - apart from some strong union-organised sites. And often they live in more cramped conditions, more at risk in a number of ways.
So little is said about the unsafe opening of schools and the impact of over 60% back in workplaces.
We could have been back to a mentally and physically safer way of living, which I'm also desperate for. But this government - in cohoots with some of the too-silent, and accepting union leaders - is doing deals with useless private companies that are pissing away our money, and literally killing us.
There are ways to organise or back up campaigns and fight for our future.
For students or education workers to work together with parents and carers and get people safe, collaborate and organise for the best of our lives. Not this.
We can live better, be better and create better. But not alone. Wherever you are, you have more power than you think. We have more power acting together.
Arti, London
---
In this issue
---
Coronavirus news

Tories put profit first: Gambling with our jobs and lives

Massive testing 'glitch' caused by privatised fragmentation

Contact tracer speaks out: privatised system 'in chaos'

Under the microscope
---
Workplace news

Unison: Hugo Pierre's fighting programme to transform the union

Equity 'Panto Parade' demands more support for arts workers

Tate strike suspended

Ikea day of action

York couriers' strike
---
News

Fight for jobs and homes for all - defend the right to asylum

Spooks step up surveillance of left

Probation Service: 'angry, frustrated' staff need fighting lead
---
Students

Cardiff student protest demands: 'refund our fees!'

Southampton students oppose unjust collective punishment
---
Black History Month

Non-fiction: 'Why I no longer talk to white people about race'
---
International

Worldwide capitalist crisis deepens - step up the fight for socialism

'Frozen conflict' reignites in Nagorno-Karabakh enclave

Germany: "Heroes" strike to demand a pay rise
---
Campaigns

£9,000 for education by Netflix

Free Siyanda Mngaza

Leicester: Don't let them close our hospital

Waltham Forest: Council picks over 60 sites for mass gentrification

Say no to finance capital-backed luxury tower block in Enfield

Socialist Party: Campaigning for the NHS

Final total: £73,586 raised - now let's do it again

Defend Bracknell Community Services
---
Readers' opinion

Film: 'Sick' - 'They've got people looking in the wrong direction'

The Socialist Inbox
---
Home | The Socialist 7 October 2020 | Join the Socialist Party
Related links:

The Socialist Inbox

The Socialist Inbox

The Socialist Inbox

The Socialist Inbox

The Socialist Inbox

Selling the Socialist

Why I joined the Socialist Party

We cannot trust this government over Covid

Why did I choose the Socialist Party?

Cumbria Socialist Party: Socialism - from Utopian to Scientific

Waltham Forest Socialist Party: Flooding, homelessness, cuts... Walthamstow needs a re-set - what's the socialist plan?

East London Socialist Party: Cuba protests - what do they represent?

Right-wing study concludes youth like socialism

Youth Fight for Jobs is back

TV Review: Stateless blames mismanagement rather than system

Tories and Labour fail on child poverty

'Pingdemic' exemptions