The Socialist 14 October 2020
Locked down, hard up, fight back!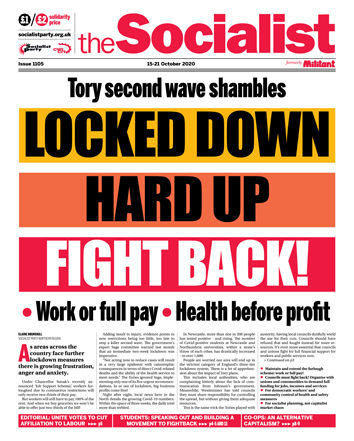 ---
Locked down, hard up, fight back!
As school cases soar - is contact tracing 'near breaking point'?
Even more delay in stopping school transmission?
National Education Union must launch action now
Nottingham Covid surge caused by Tory mismanagement
---
Students not to blame for unsafe uni conditions
"It's not fair" - lockdown students demand free education
Students speak out: isolation and uncertainty reign
Building a movement to fight for free education
---
Unite votes to cut affiliation fee to Labour
---
Usdaw elections: the battle for a fighting union
NEU Special Conference: A fight for safety in schools is urgently needed
Napo AGM 2020: Celebrating probation victory and preparing for challenges ahead
University workers ballot for action against in-person teaching
Stop Royal Mail's profit-driven plans to force postal workers to share vans
Unison: The Socialist is backing Hugo Pierre - for a fighting socialist general secretary!
---
Are cooperatives the answer to a failing capitalist system?
---
Transport for London funding crunch
Oliver Campbell - Still fighting for justice
Fighting Fund - we're off to a good start
---
Obituary: Raph Parkinson 1958-2020
---
Greek workers and socialists celebrate convictions of Golden Dawn fascists
Nigeria: Mass protests force government to disband killer cop unit
---
Non-fiction: This Land - the story of a movement
PO Box 1398, Enfield EN1 9GT
020 8988 8777
editors@socialistparty.org.uk